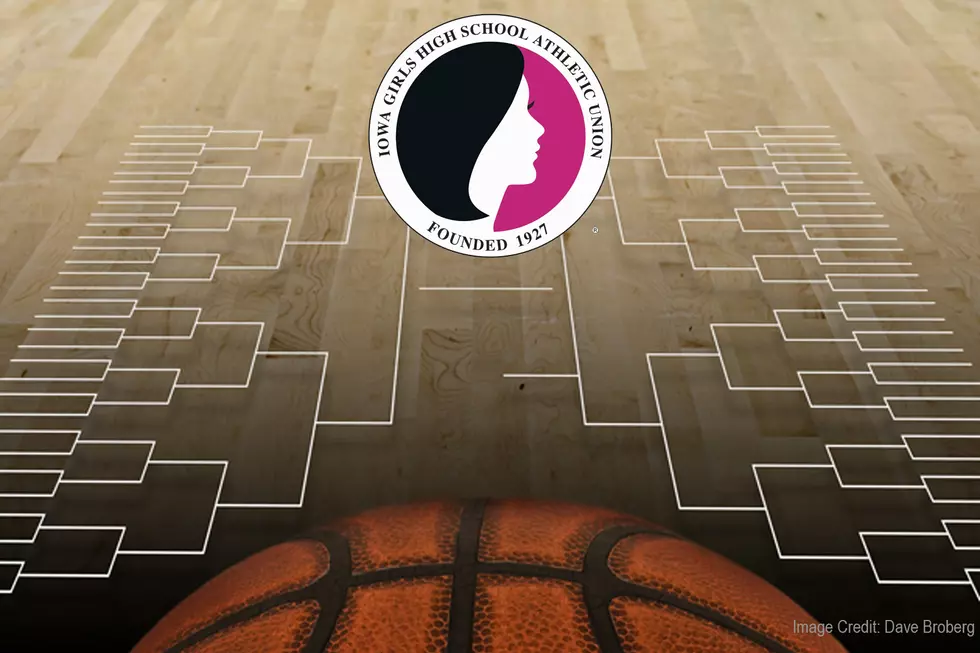 2021 Iowa High School Girls State Basketball Tournament
Image Credit: Dave Broberg & IGHSAU
Keep up with the latest information on the 2021 Iowa High School Girls State Basketball Tournament here.
The road to state began with regional games on Feb. 11, with qualifiers being determined on Feb. 20 (Class 3A), Feb. 23 (4A and 5A) and Feb. 24 (1A and 2A).
The state tournament runs March 1-6 at Wells Fargo Arena in Des Moines.
2021 Iowa High School Girls State Basketball Tournament
CLASS 5A State Tournament Bracket & Results - **CHAMPION CROWNED**
CLASS 4A State Tournament Bracket & Results - **CHAMPION CROWNED**
CLASS 3A State Tournament Bracket & Results - **CHAMPION CROWNED**
CLASS 2A State Tournament Bracket & Results - **CHAMPION CROWNED**
CLASS 1A State Tournament Bracket & Results - **CHAMPION CROWNED**
STATE CHAMPIONSHIP GAME SUMMARIES
Saturday, March 6, 2021
1A: #2 Newell-Fonda (25-1) - 66, #2 Bishop Garrigan (25-1) - 52 FINAL [All-Tournament Team]
2A: #2 Dike-New Hartford (25-0) - 47, #1 Maquoketa Valley (25-0) - 42 FINAL [All-Tournament Team] [PHOTOS]
4A: #2 Ballard (23-1) - 47, #1 Glenwood - 45 FINAL [All-Tournament Team]
3A: Unity Christian (24-2) - 48, West Lyon (24-1) - 31 FINAL [All-Tournament Team]
Friday, March 5, 2021
5A: #1 Waukee (12-1) - 71, Johnston (17-1) - 43 FINAL [All-Tournament Team]
STATE SEMIFINAL GAME SUMMARIES
Friday, March 5, 2021
1A: #2 Newell-Fonda (24-1) - 73, #6 Montezuma (23-1) - 34 FINAL
1A: #1 Bishop Garrigan (24-1) - 57, #4 Exira-Elk Horn-Kimballton (24-0) - 35 FINAL
2A: #2 Dike-New Hartford (24-0) - 57, #3 West Branch (21-1) - 47 FINAL
2A: # 1 Maquoketa Valley (24-0) - 47, #4 - Nodaway Valley (24-0) - 45 FINAL (Box Score)
Thursday, March 4, 2021
4A: #2 Ballard (22-1) - 32, #3 Dallas Center-Grimes (21-2) - 26 FINAL
4A: #1 Glenwood (20-3) - 61, #5 North Scott (16-2) - 49 FINAL
3A: #3 Unity Christian (23-2) - 58, #2 Clear Lake (19-1) - 42 FINAL
3A: #4 West Lyon (23-10) - 52, #1 Cherokee (23-0) - 39 FINAL
5A: #2 Johnston (17-1) - 52, #6 Iowa City West (14-3) - 47 FINAL
5A: #1 Waukee (11-1) - 50, #5 Ankeny Centennial (16-2) - 29 FINAL
STATE QUARTERFINAL GAME SUMMARIES
Wednesday, March 3, 2021
1A: #6 Montezuma (22-1) - 50, #3 Saint Ansgar (22-1) - 45 FINAL
1A: #2 Newell-Fonda (23-1) - 88, #7 Kingsley-Pierson (23-1) - 47 FINAL
1A: #4 Exira-Elk Horn-Kimballton (23-0) - 60, #5 MMCRU (21-2) - 55 FINAL
1A: #1 Bishop Garrigan (23-1) - 48, #8 Springville(21-4) - 42 FINAL
2A: #3 West Branch (20-1) - 49, #6 Grundy Center (19-3) - 33 FINAL [PHOTOS]
2A: #2 Dike-New Hartford (23-0) - 44, #7 Treynor (20-4) - 36 FINAL [PHOTOS]
Tuesday, March 2, 2021
2A: #4 Nodaway Valley (23-0) - 53 vs. #5 North Linn (21-2) - 47 FINAL
2A: #1 Maquoketa Valley (23-0) - 51, #8 Rock Valley (16-9) - 45 FINAL
4A: #3 Dallas Center-Grimes (20-2) - 43, #6 Bondurant-Farrar (15-5) - 32 FINAL
4A: #2 Ballard (21-1) - 38, #7 Harlan (17-5) - 27 FINAL
4A: #5 North Scott (15-2) - 59, #4 Central DeWitt (16-2) - 45 FINAL
4A: #1 Glenwood 79 vs. #8 Wahlert Catholic 57 FINAL
3A: #3 Unity Christian (22-2) - 70, vs. #6 Roland-Story (17-4) - 42 FINAL
Monday, March 1, 2021
3A: #2 Clear Lake (18-1) - 45, #7 Waukon (19-4) - 24 FINAL
3A: #4 West Lyon (22-1) - 52, #5 West Burlington (21-1) - 30 FINAL
 3A: #1 Cherokee (22-0) - 63, #8 Davenport Assumption (8-11) - 43 FINAL
5A: #6 Iowa City West (13-3) - 65, #3 Waterloo West (19-1) - 63 FINAL [PHOTOS]
5A: #2 Johnston (16-1) - 71, #7 Cedar Falls (17-3) - 64 FINAL [PHOTOS]
5A: #5 Ankeny Centennial (15-2) - 47, #4 Southeast Polk (15-3) - 47 FINAL
5A: #1 Waukee (10-1) - 60, #8 Dowling Catholic (11-6) - 37 FINAL
2021 Girls Basketball Regional Tournaments
CLASS 1A Regional Bracket & Results - **Complete On 2/24**
CLASS 2A Regional Bracket & Results - **Complete On 02/24**
CLASS 3A Regional Bracket & Results - **Complete On 02/20**
CLASS 4A Regional Bracket & Results - **Complete On 02/23**
CLASS 5A Regional Bracket & Results - **Complete On 02/23**

Enter your number to get our free mobile app