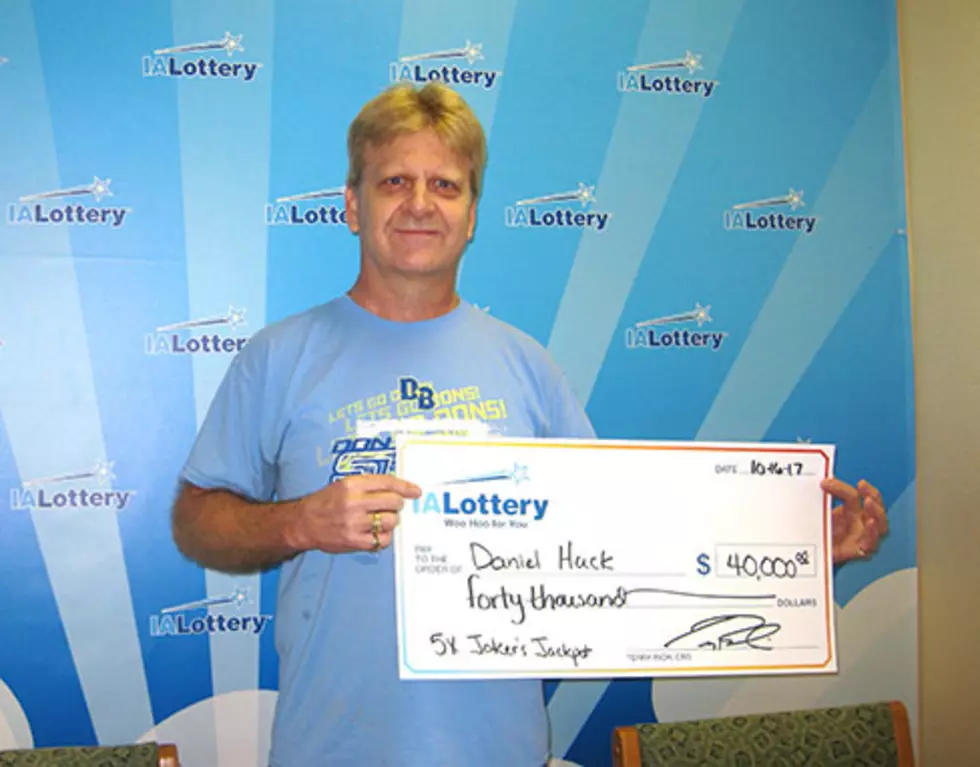 Friday the 13th Was Very Lucky For A Waterloo Man
Daniel Huck - Iowa Lottery
Friday the 13th turned out to be a very lucky day for a Waterloo man as he won $40,000 playing the lottery.
Daniel Huck claimed the fourth of eight top prizes of $40,000 available in the Iowa Lottery's "Joker's Jackpot 5X" scratch game.
The 52-year-old said he bought his winning ticket Friday, Oct. 13 at Prime Mart, 1008 La Porte Road in Waterloo. He said he scratched off his ticket right away and knew that he'd won.
"I had to go back in and show them and say, 'Is this real?' It saves me because I'm ready to get a work truck anyway" -  Huck said to lottery employees Monday as he claimed his prize at the lottery's regional office in Cedar Rapids.
Huck had a store clerk double-check his work by scanning his ticket on the lottery machine and sure enough, he'd won the game's top prize.
Huck, who owns his own garage door business, said he already has plans for a majority of his winnings.
"It saves me because I'm ready to get a work truck anyway," he said.
Joker's Jackpot 5X is a $5 scratch game. More details about how to play this game, and number of prizes still up for grabs in it can be found on the Iowa Lottery's website, www.ialottery.com.