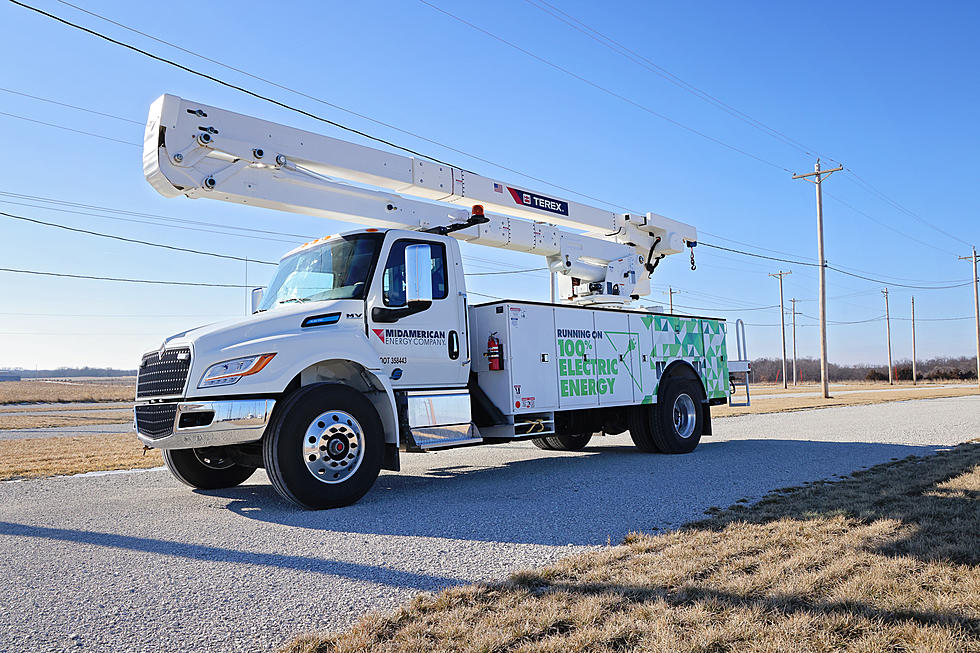 First In Iowa Work Truck Hits The Road
MidAmerican Energy Company
Americans have been taking all kinds of different steps towards reducing emissions, especially with their cars. Some are urging drivers to use ethanol blends of gasoline; others are making to switch to electric vehicles.
Here in Iowa, we are no strangers to ethanol. In fact, it's not uncommon to see state vehicles advertising they run on biofuels.
Now, Iowa is starting to see electric vehicles take to the roads in a new way.
MidAmerican Energy is taking steps towards electrifying its heavy-duty service fleet by rolling out three all-electric utility bucket trucks. The company says this would make MidAmerican Energy the first utility in the state to take this step.
These all-electric trucks would be able to drive up to 135 miles on a full charge and operate hydraulic equipment for a full day's worth of work.
In a Radio Iowa report, company spokesman Geoff Greenwood says "these trucks have two different batteries on board — one powers the vehicle and allows it to travel — and then the other battery allows the crews to do their work when they get to that location."
The truck will be able to lift crews and equipment up to 55 feet for line repair, maintenance, and construction work.
These all-electric bucket lift trucks are being added to MidAmerican's fleet of 100 vehicles that are partially or totally electric.
MidAmerican will place its first all-electric trucks in its Sioux City, Quad City, and Adel operations centers.
"Our goal is to see how they work, see how they operate in real-world conditions, all kinds of weather conditions, all kinds of terrain. And let's test them out, let's see how they work," Greenwood says.
These trucks are part of the company's pilot program to test the performance of electric utility trucks in the field.
Photo Tour Through Red Rock Farms
Fall Fest is less than one month away at Red Rock Farms. Here's a behind the scene look at what visitors can expect!
$700K in Northeast Iowa vs LA
It's no secret the cost to live in Iowa is much lower than in California. But if you have $700,000 you want to spend on a house, let's see what it can get you in Iowa vs California