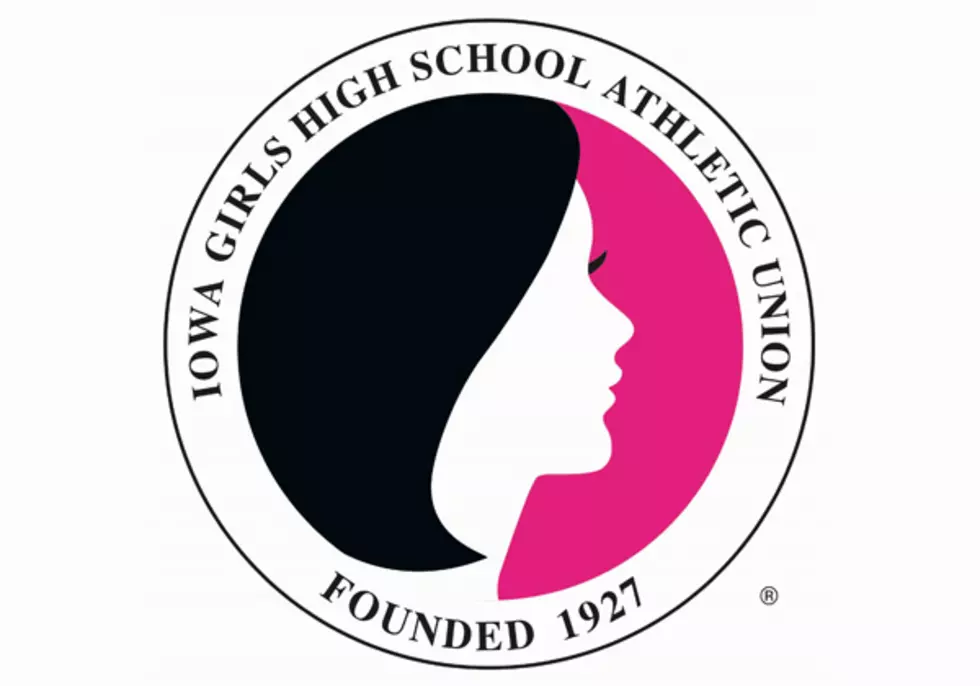 Pocahontas Area Gets Chance To Defend Championship
Source: Iowa Girls High School Athletic Union
More records for Elle Ruffridge, another victory for Pocahontas Area.
The good times just keep rolling for Ruffridge and her teammates.
The 5-foot-3 dynamo set state tournament records of 48 points and eight 3-pointers as Pocahontas, the defending state champion, beat Center Point-Urbana 80-59 to reach the Class 3A title game for the third straight year at the Iowa High School Girls State Basketball Tournament in Des Moines.
The eight 3s give Ruffridge 151 for the season. That's also a state record.
The old tournament scoring record was 46 by Alexis Conaway of MOC-Floyd Valley in 2014. Five players shared the old record of seven 3-pointers in a state tournament game. It was done most recently by Turkey Valley's Emily Busta in last year's tournament.
Rock Valley's Deb Remmerde held the old record of 144 3-pointers in a season in 2002-03.
Ruffridge, who has signed with Missouri State, made 12 of 20 shots, including eight of 12 from 3-point range. She made all 16 of her free throws, grabbed seven rebounds and handed out three assists.
Ruffridge broke the state's career scoring record earlier this season and became the state's career leader in assists in a first-round victory over Clear Lake. Her career totals now stand at 2,929 points, 798 assists and 460 3-pointers. That last figure also is a state record.
Peyton Hjerleid added 11 points and five steals for second-ranked Pocahontas, which will take a 26-1 record against top-ranked Sioux Center in the title game at 4 p.m. Saturday. Pocahontas beat Nevada in last year's championship game after losing to Nevada in the 2015 finals.
Allison Wooldridge led Center Point-Urbana with 18 points and 11 rebounds. Callyn Fox added 14 points and LaMia Sisk added 10 for the Pointers, who have no seniors and finished 22-4.
---

Pocahontas Area vs Center Point-Urbana
3/2/17 6:45 p.m. at Wells Fargo Arena, Des Moines, Iowa


--------------------------------------------------------------------------------
VISITORS: Pocahontas Area 26-1
                          TOT-FG  3-PT         REBOUNDS
## Player Name            FG-FGA FG-FGA FT-FTA OF DE TOT PF  TP  A TO BLK S MIN
03 Meyer, Faith........ *  2-5    0-0    1-2    1  5  6   2   5  3  1  0  2  30
04 Hjerleid, Payton.... *  4-9    1-3    2-4    0  2  2   2  11  0  2  0  5  30
05 Ruffridge, Elle..... * 12-20   8-12  16-16   2  5  7   2  48  3  6  0  1  29
10 Meyer, Grace........ *  1-5    1-3    0-0    1  3  4   3   3  4  0  1  2  22
25 Ahlers, Olivia...... *  2-5    0-0    0-0    2  4  6   1   4  2  1  0  0  24
11 Berte, Katie........    0-0    0-0    0-0    0  0  0   0   0  0  0  0  0   2
12 Weidauer, Ashlyn....    1-1    1-1    0-0    0  0  0   2   3  0  0  0  0  11
14 Johnson, Jocelyn....    0-1    0-1    0-0    0  1  1   0   0  1  0  0  0   3
15 Neumann, Danielle...    0-2    0-2    0-0    0  0  0   0   0  0  0  0  0   1
20 Vainreb, Bailey.....    0-0    0-0    0-0    0  0  0   0   0  0  0  0  0   2
23 Aljets, Leah........    0-0    0-0    0-0    0  0  0   0   0  0  0  0  0   1
32 Vonnahme, Jill......    0-0    0-0    0-0    0  0  0   0   0  0  1  0  0   1
35 Shivers, Kaylee.....    1-1    0-0    0-0    0  0  0   0   2  0  0  0  1  0+
40 Ricke, Elizabeth....    0-0    0-0    0-0    0  0  0   0   0  0  0  0  0   1
45 Sullivan, Kenzie....    2-2    0-0    0-1    1  0  1   0   4  0  0  0  0   3
   TEAM................                         4  2  6             1
   Totals..............   25-51  11-22  19-23  11 22 33  12  80 13 12  1 11 160

TOTAL FG% 1st Half: 15-30 50.0%   2nd Half: 10-21 47.6%   Game: 49.0%  DEADB
3-Pt. FG% 1st Half:  9-16 56.3%   2nd Half:  2-6  33.3%   Game: 50.0%   REBS
F Throw % 1st Half:  4-5  80.0%   2nd Half: 15-18 83.3%   Game: 82.6%    2


--------------------------------------------------------------------------------
HOME TEAM: Center Point-Urbana 22-4
                          TOT-FG  3-PT         REBOUNDS
## Player Name            FG-FGA FG-FGA FT-FTA OF DE TOT PF  TP  A TO BLK S MIN
04 Katcher, Adrianna... *  2-6    0-3    1-2    4  2  6   3   5  0  1  0  1  21
23 Sisk, LaMia......... *  4-10   0-1    2-2    1  0  1   5  10  1  3  0  2  18
25 Brecht, Olivia...... *  1-5    0-2    0-0    2  0  2   5   2  3  2  0  0  15
34 Wooldridge, Allison. *  6-13   1-3    5-7    3  8 11   2  18  1  4  1  2  26
44 Fox, Callyn......... *  6-12   0-2    2-2    5  1  6   1  14  1  0  2  0  22
03 Droste, Emily.......    0-3    0-2    0-0    0  0  0   0   0  0  0  0  1   4
05 Millikin, Karly.....    0-0    0-0    0-0    1  1  2   1   0  1  0  0  0  14
10 Dufoe, Raegan.......    2-2    0-0    0-0    1  1  2   1   4  0  0  0  0   9
11 Clark, Rylee........    2-3    0-1    0-0    1  0  1   0   4  0  0  0  0   3
13 Neighbor, Chloe.....    0-0    0-0    0-0    0  1  1   1   0  0  1  0  0   1
15 Hadsall, Bryn.......    0-0    0-0    0-0    0  0  0   0   0  0  0  0  0   1
20 Kriegel, Peyton.....    0-0    0-0    0-0    0  0  0   0   0  0  0  0  0   1
22 Willson, Madie......    0-6    0-1    0-2    0  0  0   2   0  0  3  0  0  11
32 Boevers, Sydney.....    1-4    0-2    0-0    2  0  2   1   2  1  0  0  0  13
50 Simon, Sara.........    0-0    0-0    0-0    0  0  0   0   0  1  0  0  0   1
   TEAM................                         1  2  3
   Totals..............   24-64   1-17  10-15  21 16 37  22  59  9 14  3  6 160

TOTAL FG% 1st Half: 10-25 40.0%   2nd Half: 14-39 35.9%   Game: 37.5%  DEADB
3-Pt. FG% 1st Half:  1-10 10.0%   2nd Half:  0-7   0.0%   Game:  5.9%   REBS
F Throw % 1st Half:  4-8  50.0%   2nd Half:  6-7  85.7%   Game: 66.7%   2,1


--------------------------------------------------------------------------------
Officials: Todd Thompson, Kurt Walderbach, Ben Hauge
Technical fouls: Pocahontas Area-None. Center Point-Urbana-None.
Attendance:
Score by Periods                1st  2nd  3rd  4th   Total
Pocahontas Area...............   17   26   19   18  -   80
Center Point-Urbana...........   12   13   14   20  -   59
Fouled Out: CPU: #23 Sisk @ 4:43 (4th); #25 Brecht @ 3:28 (4th)