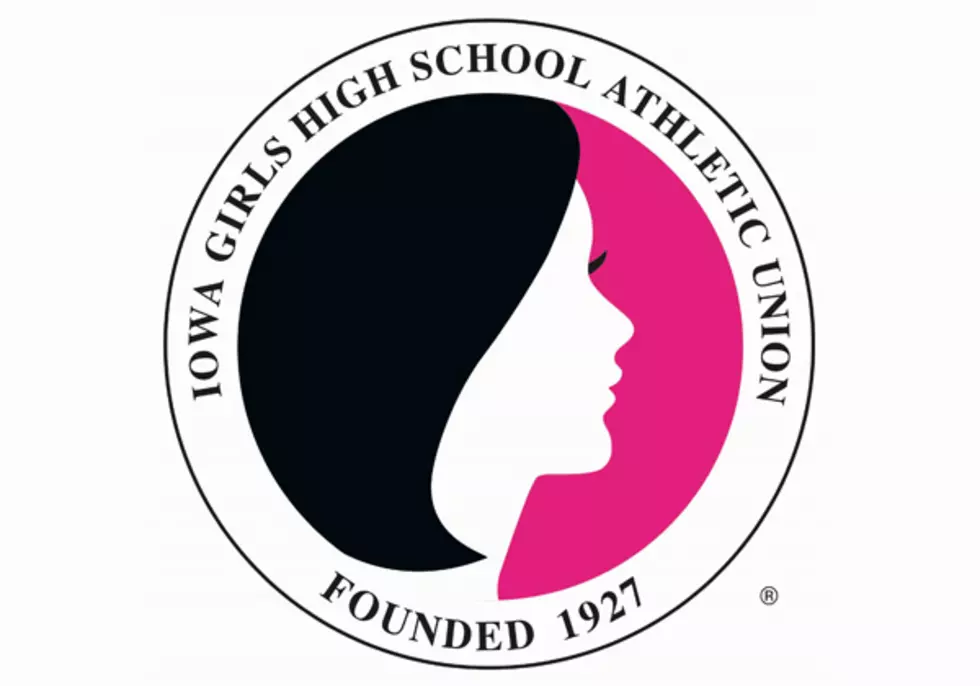 Pocahontas Area Returning To Semifinals Again
Source: Iowa Girls High School Athletic Union
Chalk up another record for Elle Ruffridge.
The Pocahontas Area star became Iowa's career leader in assists in the Indians' Class 3A quarterfinal game at the 2017 Iowa High School Girls State Basketball Tournament, and while she didn't score at her usual pace, it didn't matter. The defending state champs found enough scoring elsewhere and beat Clear Lake 46-22 to advance to the semifinal round for the third straight year.
Ruffridge, also the state's career scoring leader, handed out two assists to run her total to 795. Wapsie Valley's Jamie Sickles held the old record of 793, a total compiled from 2002 through 2006.
Jean Berger, executive director of the Iowa Girls High School Athletic Union, presented Ruffridge with the game ball afterward. Ruffridge finished with 11 points to run her career total to 2,881 and led her team with seven rebounds.
Grace Meyer led the second-ranked Indians with 16 points, including four 3-pointers, while Faith Meyer scored nine.
Jordyn Barragy led eighth-ranked Clear Lake with seven points and Jessica Faber scored five.
The Lions face guarded Ruffridge and trapped her when they could and she ended up with only one field goal, a 3-pointer with 2:31 left in the third quarter. But the Indians were solid defensively throughout and outscored Clear Lake 21-5 in the second half to win handily.
Pocahontas Area, the state runner-up two years ago, takes a 25-1 record into a semifinal game against third-ranked Center Point-Urbana at 6:45 p.m. Thursday.
Clear Lake made it to state for the third time in four years despite losing top scorer Emily Snelling to an injury after 14 games. Snelling had been averaging 19.4 points. The Lions finish with a 21-4 record.
---

Clear Lake vs Pocahontas Area
02/28/17 5:00 pm at Wells-Fargo Arena, Des Moines, Iowa


--------------------------------------------------------------------------------
VISITORS: Clear Lake 21-4
                          TOT-FG  3-PT         REBOUNDS
## Player Name            FG-FGA FG-FGA FT-FTA OF DE TOT PF  TP  A TO BLK S MIN
05 Faber, Sara......... *  1-8    0-0    2-2    0  3  3   5   4  1  7  0  1  20
13 Mueller, Chloe...... *  0-3    0-1    0-0    1  2  3   3   0  1  2  1  0  26
15 Jones, Gretchen..... *  1-4    1-2    0-0    0  2  2   1   3  0  1  0  0  30
25 Faber, Jessica...... *  2-8    1-6    0-0    0  5  5   0   5  0  1  0  2  30
41 Barragy, Jordyn..... *  3-4    1-2    0-0    2  3  5   4   7  0  1  0  0  25
11 Merfeld, Julia......    0-3    0-2    0-0    0  1  1   0   0  1  0  0  0  14
21 Backhaus, Mckenna...    0-0    0-0    0-0    0  0  0   0   0  1  0  0  0   5
31 Jandebeur, Emilie...    0-1    0-1    0-0    0  0  0   0   0  0  0  0  0   2
33 Leisure, Mallory....    0-0    0-0    0-0    0  0  0   1   0  0  1  0  0   1
35 Baalson, Kiersten...    0-0    0-0    0-0    0  0  0   0   0  0  0  0  0   2
43 Fasbender, Lexi.....    0-0    0-0    0-0    0  0  0   0   0  0  0  0  0   1
45 Krull, Taylor.......    0-0    0-0    0-0    0  0  0   0   0  0  0  0  0   1
51 Vanderploeg, Mikayla    0-1    0-0    0-0    1  0  1   0   0  0  0  0  0   2
53 Fread, Rowan........    1-2    1-2    0-0    0  0  0   0   3  0  0  0  0   1
   TEAM................                            1  1
   Totals..............    8-34   4-16   2-2    4 17 21  14  22  4 13  1  3 160

TOTAL FG% 1st Half:  6-15 40.0%   2nd Half:  2-19 10.5%   Game: 23.5%  DEADB
3-Pt. FG% 1st Half:  3-7  42.9%   2nd Half:  1-9  11.1%   Game: 25.0%   REBS
F Throw % 1st Half:  2-2  100 %   2nd Half:  0-0   0.0%   Game: 100 %    0


--------------------------------------------------------------------------------
HOME TEAM: Pocahontas Area 25-1
                          TOT-FG  3-PT         REBOUNDS
## Player Name            FG-FGA FG-FGA FT-FTA OF DE TOT PF  TP  A TO BLK S MIN
03 Meyer, Faith........ *  3-7    1-4    2-2    1  4  5   0   9  3  0  0  1  31
04 Hjerleid, Payton.... *  2-10   0-6    1-1    0  3  3   2   5  2  2  0  1  31
05 Ruffridge, Elle..... *  1-4    1-3    8-8    3  4  7   1  11  2  1  0  1  31
10 Meyer, Grace........ *  6-10   4-8    0-0    0  4  4   2  16  1  2  0  3  28
25 Ahlers, Olivia...... *  1-1    0-0    0-0    1  1  2   1   2  0  0  0  0   9
11 Berte, Katie........    0-0    0-0    0-0    0  0  0   0   0  0  0  0  0  0+
12 Weidauer, Ashlyn....    1-4    1-4    0-0    1  3  4   0   3  0  1  0  0  20
14 Johnson, Jocelyn....    0-1    0-1    0-0    0  1  1   1   0  0  0  0  0   5
15 Neumann, Danielle...    0-0    0-0    0-0    0  0  0   0   0  0  1  0  0   1
20 Vainreb, Bailey.....    0-0    0-0    0-0    0  1  1   0   0  0  0  0  0   1
23 Aljets, Leah........    0-0    0-0    0-0    0  0  0   0   0  0  0  0  0  0+
32 Vonnahme, Jill......    0-0    0-0    0-0    0  0  0   0   0  0  0  0  0   1
35 Shivers, Kaylee.....    0-0    0-0    0-0    0  1  1   0   0  0  0  0  0  0+
40 Ricke, Elizabeth....    0-0    0-0    0-0    0  0  0   0   0  0  0  0  0   1
45 Sullivan, Kenzie....    0-0    0-0    0-0    0  0  0   0   0  0  0  0  0   1
   Totals..............   14-37   7-26  11-11   6 22 28   7  46  8  7  0  6 160

TOTAL FG% 1st Half:  8-16 50.0%   2nd Half:  6-21 28.6%   Game: 37.8%  DEADB
3-Pt. FG% 1st Half:  5-12 41.7%   2nd Half:  2-14 14.3%   Game: 26.9%   REBS
F Throw % 1st Half:  4-4  100 %   2nd Half:  7-7  100 %   Game: 100 %    0


--------------------------------------------------------------------------------
Officials: Ryan Eklund, Justin Stockdale, John Conlon
Technical fouls: Clear Lake-None. Pocahontas Area-None.
Attendance:
Score by Periods                1st  2nd  3rd  4th   Total
Clear Lake....................    2   15    2    3  -   22
Pocahontas Area...............   10   15   15    6  -   46
FOULED OUT: CL #5 S. Faber at 6:49 in the 4th