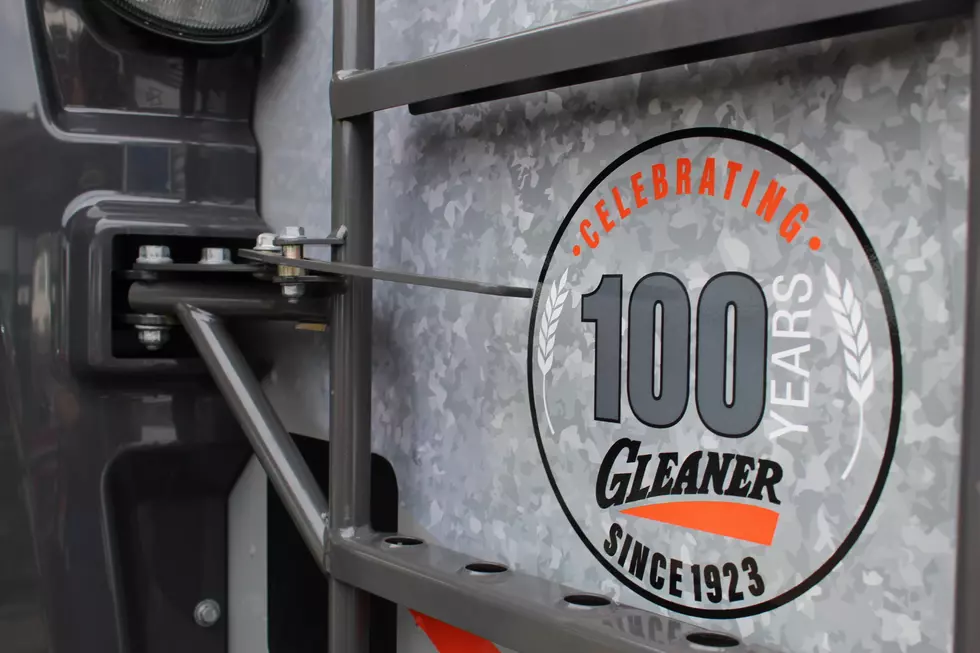 Combine Gives Iowans A Taste Of Its 100 Year Celebration [PHOTOS]
Townsquare Media; Kailey Foster
2023 is about to be a big year for one farm machinery company.
In 1923, Gleaner Combine began making dependable farm machinery that farmers could use to cut back on labor and be more efficient in the fields, says Aaron Beyer with Gleaner Combines.
Back when the Baldwin brothers developed the first self-propelled machine 100 years ago, they wanted to make sure that it was as long-lasting as a generational combine.
One thing that people can look for in this 100-year celebration package it the tribute to the roots the combine planted 100 years ago, whether it be with the original logo, fonts, or that galvanized look.
[The Baldwin Brothers] wanted to make sure that the machines didn't rust in the elements and any of the paint that  other competitive machines would use would wear off, so the galvanized made sure the machine didn't rust.
So, what makes the Gleaner Combine stand out against its competitors?
Beyer explains its transversal rotor machine (natural flow), whereas the competition uses axial flow.
The heart of the Gleaner is that natural flow processor that uses a lot more, giving you a lot more productivity while using less fuel, fewer input costs, and getting you a better sample than the competition.
And as the saying goes, there is "nothing cleaner than a Gleaner" and that's because of that transverse rotor says Beyer.
It's all derived from that transverse rotor and our dual stream of airs on our cleaning shoe to be able to clean the product before it even touches the cleaning shoe and then make that final cleaning before it goes into the grain tank again, less cracks and splits.
The centennial decal package will be on all of Gleaners' model year 23 machines. And if you missed seeing it this year at the 2022 Farm Progress Show, there is still a chance to celebrate with Gleaner.
Gleaner will be celebrating its 100-year anniversary at the 2023 Farm Progress Show in Decatur Illinois in the same way Massey Ferguson did this year.
Listen and learn more about the 100 years of Gleaner Combines:
See The Gleaner Centennial Combine
2023 marks 100 years for the Gleaner combine and to celebrate, Gleaner is sticking with its roots.