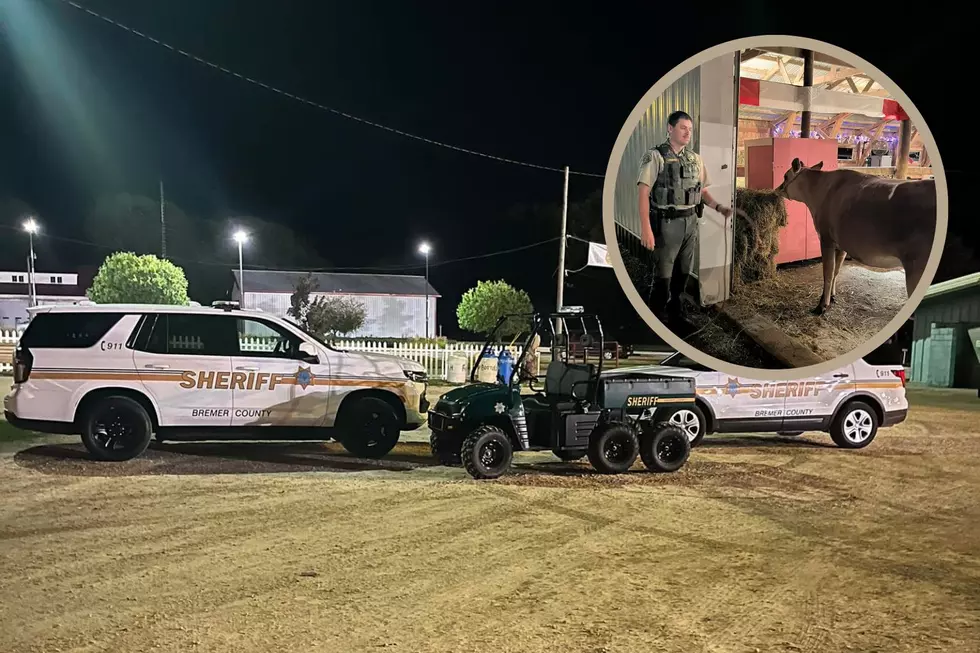 Bremer County Officers Wrangle Lost Cow At The County Fair
Bremer County Sheriff's Office via Facebook
If you have ever watched any of those western sheriffs shows, a lot of times the sheriff doubles as a cowboy. While that may not be the case here in Northeast Iowa, they sure do their best.
Over at the Bremer County Fair, security serves a few different roles. Protect the people… and the livestock and last night they put the latter to the test.
As the Bremer County Sheriff's Office posted on Facebook early Tuesday, July 26, 2022;
Every fair year we have animals that get loose overnight and our Deputies make an attempt to act like cowboys and wrangle livestock.
So, what happened last night? Just a case of the runaway calf.
As someone who grew up showing cows, I can appreciate the work these officers did. I remember one year at my county fair; we had a cow get loose but no one was there to catch her and she ended up missing for months.
The officers warned and apologized in advance on their Facebook page that the cow may not be in the right stall after, or that they may not know how to tie the proper livestock knot- but hey at least she is safe.
People on Facebook tried using their detective skills to find out whose calf got lost. However, the mystery of the runaway calf was solved when her owner took to the comment section, officially introducing the calf as Scarlet.
The department joked that they are siting the calf for "failure to stop at a stop sign and interference with official acts."
Preparing For Power Outages On The Farm
Power outages always seem to happen when you're busy on the farm and with this summer's predicted blackouts, farmers need to start thinking about how they will adjust their operations to manage it.
Yep, You Can Stay in an Actual Iowa Grain Bin!
This Airbnb is so totally Iowa! Stay in a real grain bin converted into a pretty luxurious, cozy rental.