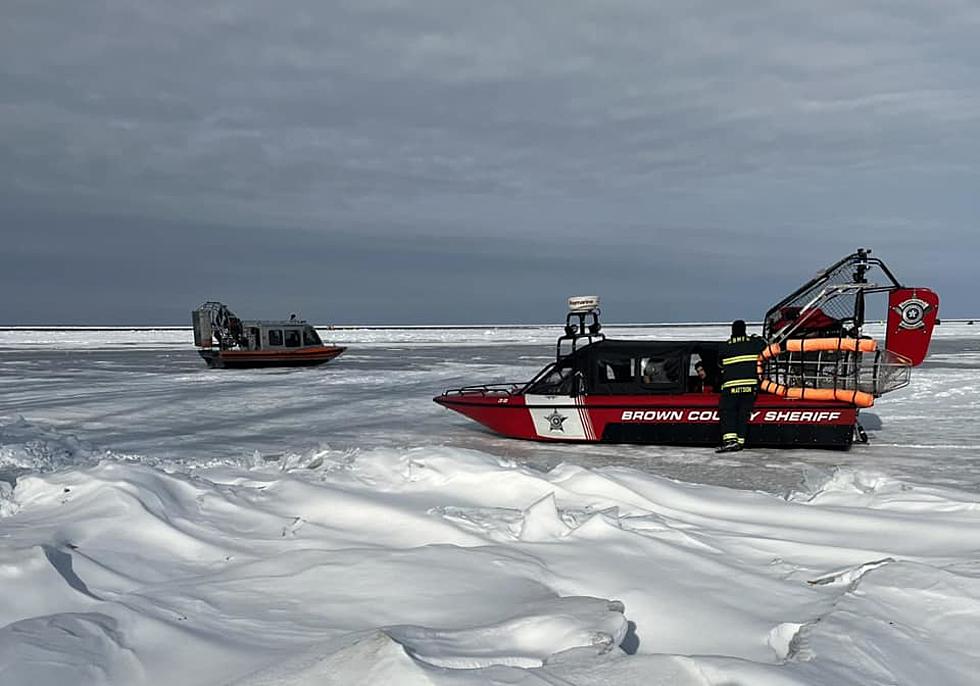 34 People Stranded On Floating Chunk of Ice in Green Bay, WI
Brown County WI Sheriff's Office / Facebook
They needed to be rescued while stranded on a massive chunk of ice in northeastern Wisconsin over the weekend.
Here in Minnesota, we know Green Bay as the home of the NFL's Packers, but it's also an actual bay on Lake Michigan. And over the weekend, first responders from the various agencies in northeast Wisconsin had to rescue a group of 34 people who became stranded on a wayward piece of ice.
According to this Fox-11/Wisconsin story, the harrowing adventure took place Saturday, January 8th near Point Comfort, a little northeast of Green Bay (just under 300 miles northeast of Rochester.) The area is apparently a popular place to ice fish, and a group of people was doing just that when the big piece of ice they were on separated from the main shoreline and started floating away.
After receiving several calls for help, the Brown County Sheriff's Office, New Franken Fire Department, Green Bay Metro Fire Department, Wisconsin Department of Natural Resources and the U.S. Coast Guard all responded to the incident.
Officials with the Brown County Sheriff's Office think the ice floe might have become dislodged when a passing barge moved through the area. It was already floating out in the bay, about 2,000 feet from where it broke off from shore when first responders arrived on-scene, the story noted.
The story said it took several trips to get everyone back on solid ground, and that the group was trapped on the ice for about an hour and a half. Thankfully, nobody was injured during the incident. And, also thankfully, temperatures were in the mid-20's Saturday, instead of the bitter cold that we were experiencing here in southeast Minnesota over the weekend!
Of course, SOME ice features are those you WANT to check out-- like this Minnesota attraction that is now open, a little over an hour and 20 minutes from Rochester! Keep scrolling to check it out!
Listen to Curt St. John in the Morning
weekdays from 6 to 10 a.m. on Quick Country 96.5
Minnesota's Breathtaking Frozen Attraction Is 1 of Only 6 In All of North America
The Ice Castles are returning to Minnesota in 2022. Your family will love exploring this frozen attraction which is located just north of St. Paul. The attraction has a new location this year. Read about that and learn about the COVID safety protocols below.