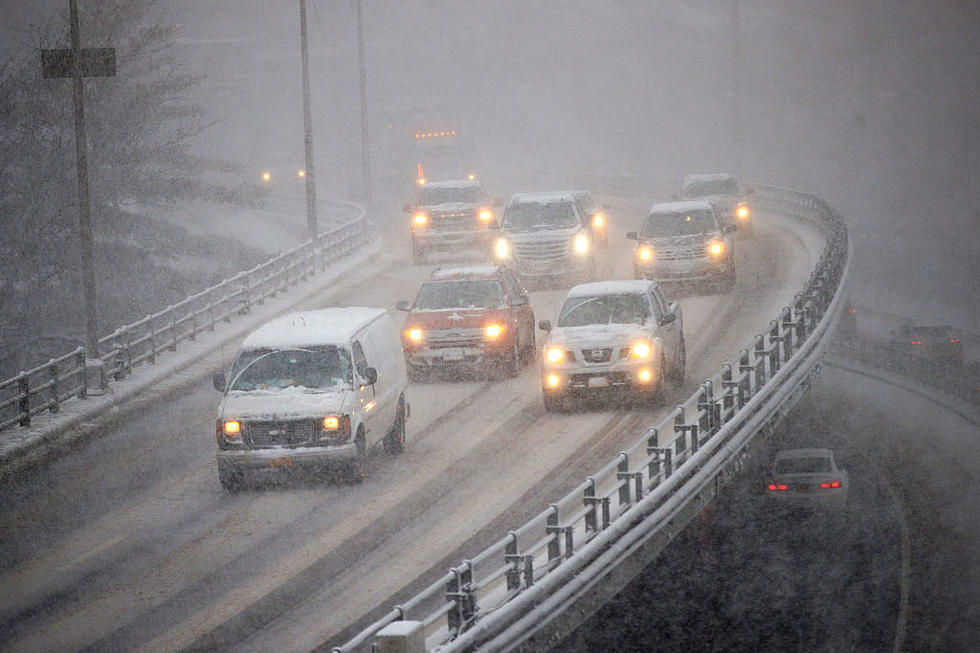 [UPDATED] Much of Iowa Now Under Winter Storm Warning
Getty Images
Here we go again.

[UPDATE JANUARY 14 7:30 AM]
Linn and Johnson counties, including both Cedar Rapids and Iowa City, are now in a Winter Storm Warning with the areas expecting to see the heaviest snow expanding slightly to the east.
Areas of northern-central and northwest Iowa could now see up to a foot of snow, with Waterloo expecting up to 9. Our weather partner, KCRG, forecasts the Cedar Rapids-Iowa City area to receive 3-6 inches of snow. However, just to the west is an area of 6 to 9 inches. The track of the storm has shifted just enough to the east to cause areas along the Mississippi River, which previously were expected to see an inch or less, could now see up to 3 inches of snow.
The winter storm will be dropping the heaviest snow across the area this afternoon and this evening, before diminishing overnight.
[UPDATE JANUARY 13 3:30 PM]
The winter storm we've been expecting for several days is almost here with well over half of Iowa under a Winter Storm Warning on Friday. Every remaining county is under a Winter Weather Advisory. Here's what to expect.
Central Iowa is Under the Gun
The central part of the state is under a Winter Storm Warning on Friday. The northern part of the state sees the warning start at 6 a.m. with extreme southern Iowa going under the warning at 11 a.m. It continues until 3 a.m. Saturday in the northern counties and 6 a.m. Saturday in the south. The forecast for the large number of Iowa counties in pink that are under the Winter Storm Warning calls for anywhere from 5 to 10 inches, depending on the specific location. Regardless, a lot of snow is coming to that area.
All the purple counties are now under a Winter Weather Advisory. Three to six inches of snow are forecast for those areas from 6 a.m. Friday ending during the overnight in the early hours of Saturday morning.
[LAST UPDATE JANUARY 13 8 AM] 2022 started with snow but, after an almost two-week respite from the white stuff, another major winter storm is on its way to Iowa.
On January 1, Cedar Rapids got 6 inches of snow and Iowa City saw up to 7.5 inches, according to our weather partner, KCRG. Waterloo got under a half-inch of snow that day. So what's in store this time?
Granted snowstorms are always hard to forecast but TV-9 meteorologist Kaj O'Mara joined us on the air this morning and talked about what makes this storm such a challenge. He told us,
It starts up in the Dakotas and, instead of moving east, it hits a brick wall with a high pressure system over Canada. So it's going to start moving straight south. Historically, when we have systems do this, you get the heaviest snow in central and western Iowa and then some lighter snows in eastern Iowa.
TV 9 currently expects "a band of 3-6 inches roughly including Waterloo, Cedar Rapids, Iowa City, and areas west. A sharp gradient will exist north and east of this line with the Dubuque area likely getting a trace to 1-inch. The track of this system is still rather volatile and will alter these totals."
Wednesday afternoon, a Winter Storm Watch was expanded to include both Cedar Rapids and Waterloo from noon Friday through 6 a.m. Saturday morning. In western and central Iowa, it is in effect from Friday morning through 6 a.m. Saturday. The National Weather Service forecasts 5 to 10 inches of snow for areas in central and western parts of the Winter Storm Watch, with locally higher amounts possible. In the east-central and southeast parts of the state, up to 6 inches are possible.
Like I said, here we go again.
KEEP READING: Get answers to 51 of the most frequently asked weather questions...
TIPS: Here's how you can prepare for power outages