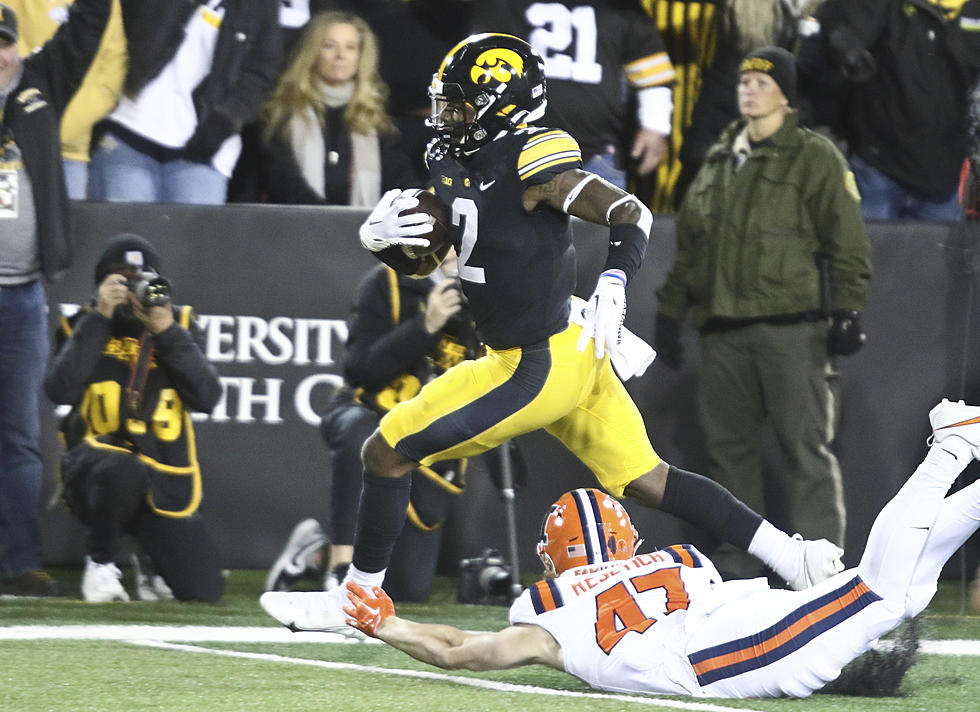 Warts And All, Why We Still Love This Iowa Football Team [WATCH]
Getty Images
Several weeks ago, Hawkeye nation was up in arms. The offense put up its worst performance of the year in a home loss to Minnesota. The refs had botched a Cooper DeJean punt return. It seemed as if the entire nation was laughing at Iowa football. Many fans, including myself, were tired of being the joke of college football. Do you know who DIDN'T care about the outside noise? The 2023 Iowa Hawkeye football team.
The Hawkeyes followed up the Gopher loss with three straight wins over Northwestern, Rutgers, and on Saturday, Illinois. The school also announced that offensive coordinator Brian Ferentz would not be returning in any capacity next season. What you saw was an Iowa team huddle together and ignore the outside noise. They embraced the scrutiny. Suddenly it was 'Iowa vs. the college football world.' The Hawkeyes played with heart, grit, and determination. Something that fans in this hard-working state appreciate.
Saturday was another nail-biter. Illinois led late in the 4th quarter. The Iowa offense was again struggling to put long drives together. The Hawkeyes were playing their first game without star defender Cooper DeJean. Yet once again, when everything was on the line, this Iowa team got it done. Running back Kaleb Johnson broke a 30-yard touchdown run, and Iowa held on for the 15-13 win. Kinnick Stadium went nuts, and why not? Despite the injuries, ineptitude, and outside noise, the Iowa Hawkeyes were champions of the Big Ten West and would play in the Big Ten Championship game.
Why do we love Iowa football? I can only tell you my feelings. I love a team that plays hard on every play. This Iowa team does. I love a team that never gives up. This Iowa team didn't. I love a team that rallies around each other during adversity. This Iowa team did that. Saturday was senior day in Iowa City. It was also the last game at Kinnick for Brian Ferentz. Say what you will about his coaching style or ability, the players love him. When the Hawkeyes won the game, they didn't dump Gatorade on Kirk. They dumped two jugs of it on Brian Ferentz.
It had to be an emotional time in the Iowa locker room. Father and son celebrating a win at home for the final time together. It was also a milestone win for Kirk Ferentz, as he passed Michigan legend Bo Schembechler for third most Big Ten wins in conference history. He was presented with the game ball from defensive coordinator Phil Parker. Tears were shed. I love a team that loves each other. This Iowa team certainly does.
As fans, we aren't always going to love everything that goes on with our favorite team. We get frustrated and angry. We say things like 'I'm done watching this team." Yep...I'm guilty of it too. But think about everything this Iowa football team has overcome this season. And then look at where we stand today. Yes, the college football world is still laughing. But this Iowa team is 9-2 going into Friday's game at Nebraska. We'll play in Indianapolis against either Michigan or Ohio State. Despite all the warts, this will go down as an Iowa team for the ages. Just not for the reasons we thought at the start of the season.
Grit. Determination. Next man up. Never give up. That isn't just Iowa football. That is IOWA.
Highlights of Iowa's 2023 Opening Victory Over Utah State
Iowa won the opener 24-14 on Saturday, September 2.
Gallery Credit: Getty Images
University of Iowa ANF Wall of Honor Members
The University of Iowa's has now announced 10 members of the America Needs Farmers Wall of Honor at Kinnick Stadium.
Gallery Credit: HawkeyeSports.com/Getty Images