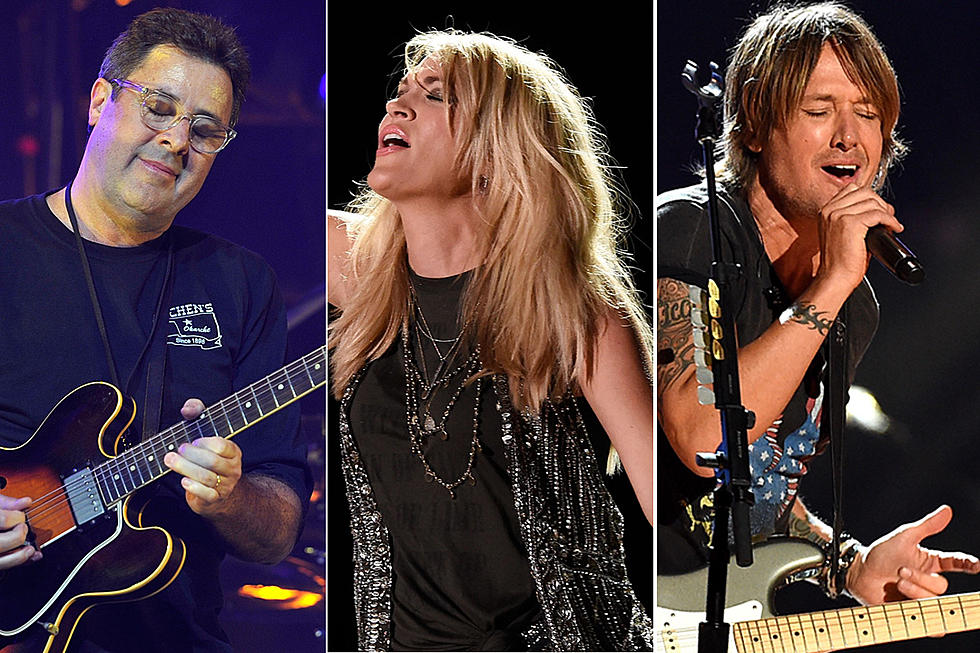 20 Best Christian Country Songs
Frederick Breedon IV / Rick Diamond / Mike Windle, Getty Images
20 Best Christian Country Songs
While not every successful country singer releases Christian songs, those who've ignored Christian values haven't gotten very far.
Some, like Josh Turner and Randy Travis, are able to weave their faith into the music a little more comfortably than others. Country listeners know when a performance lacks sincerity, and more than a few songs have been written that were swatted away like a mosquito. When done right, nothing sticks to one's soul stronger than a song that inspires.
It wasn't easy, but we whittled down every country song written about God and Christian values to a list of 20 of our favorites. Chances are one has caused you tear up.
Listen to the Top 20 Christian Country Songs
20

Josh Turner is one of a few artists to make this list of the Top 20 Christian Songs twice. "Me and God," featuring Ralph Stanley, is a fun look at how friendly one's relationship with the Big Man can be. Stanley's weathered voice forces one to do a double take at the stereo every time. Turner has won numerous Dove Awards for his inspirational music, and is never shy about discussing his family's strong faith.

19

'The Little Girl'

John Michael Montgomery

This No. 1 hit for John Michael Montgomery still surprises fans who may have missed the message when it was released in 2000. Jesus comes down from the cross to protect the little girl from her parents' abuse and violence. Years later, when she is with a family who loves her, she becomes aware of the miracle. The song works as an inspirational Christian song, but it's also capable of touching those of other faiths. It's just a dang good story.

18

'God Must Really Love Me'

Craig Morgan

Craig Morgan's music is full of themes of God, family and country. The Army veteran often espouses those basic, good old-fashioned values in his music, and "God Must Really Love Me" is a prime example. The second single from Morgan's That's Why album is a rumination about the nature of God's mercy and forgiveness.

17

'New Again'

Sara Evans Feat. Brad Paisley

Sara Evans and Brad Paisley are both very open about their Christian faith, and they've both recorded various gospel-themed songs over the years. They teamed up for "New Again," which appeared on the soundtrack to The Passion of the Christ. Evans and Paisley voice the roles of Mary and Jesus in the emotionally-charged song.

16

'The Old Rugged Cross'

Johnny Cash

What a fantastic combination of a classic hymn and a classic voice. Johnny Cash was never afraid to share his faith in song, and he loved "The Old Rugged Cross" so much that he included it on three different albums over the course of his career.

15

'You're Not My God'

Keith Urban

Keith Urban doesn't talk about faith in public much, but he sure knows how to sing about it. "You're Not My God" isn't a worship song; instead, it's a sharp rebuke to the temptations of the mortal world, including money and drugs, with Urban telling all of those vices, "You're not my god / You're not my friend / You're not the one that I will walk with in the end."

14

'Thy Will'

Hillary Scott and the Scott Family

Hillary Scott says "Thy Will" was inspired by a personal, private heartbreak that she will eventually share with her fans. The song is about keeping faith even in times of struggle, a message that no doubt resonates with Christians everywhere. The moving ballad is from a family gospel project she recorded outside of Lady Antebellum, and it's about "letting go and letting God."

13

'There Will Come a Day'

Faith Hill

Faith Hill scored one of the biggest hits of her career with her Breathe album in 1999, and among secular hits like the title song and "The Way You Love Me," she chose to close out the album with a contemporary gospel song. "There Will Come a Day." The lyrics talk about holding on through the trials and tribulations of the world, because "There's a better place where our Father waits ... there will come a day."

12

'Something in the Water'

Carrie Underwood

Carrie Underwood is one of the most open stars in country music when it comes to sharing her faith. She took it to a new level with "Something in the Water," a song that exalts the benefits of getting saved through being baptized. Underwood even included a passage from "Amazing Grace" at the end to help drive the song's Christian message home.

11

'Family Bible'

George Jones

Like Johnny Cash, George Jones struggled with his own private demons both publicly and privately throughout most of his life. He was also a man of faith, and in "Family Bible," he recalls how "Dad would read to us from the family Bible / And we'd count our many blessings one by one." The song appears on his 1960 album Cup of Loneliness.

10

'I Saw God Today'

George Strait

George Strait scored one of his biggest hits with "I Saw God Today," from his 2008 album Troubadour. The lyrics talk about the everyday miracles we all see each day and don't notice, like a flower growing, the colors of the sunset or a couple expecting a baby, using each as an example of God's presence in our lives even when we don't always realize. The song reached No. 1 and won a CMA award for Single of the Year.

9

This song was originally released as a Christmas single in 1993, but the overwhelming response makes it possible to hear it at any time of year. Alabama's Randy Owen says it's one fans ask him about most often. One could argue it's a precursor to Underwood's "Jesus Take the Wheel." Both Christian songs are about letting God take over in troubled times.

8

'Holes in the Floor of Heaven'

Steve Wariner

Some of the best Christian songs in country music lead families through tragedy. Steve Wariner's 1998 hit would bring a stone to tears. Anyone who's ever lost a spouse, parent or child can relate to this hopeful song about what awaits us all after we pass. "Holes in the Floor of Heaven" is a popular funeral song, even 13 years later.

7

'When I Get Where I'm Going'

Brad Paisley Feat. Dolly Parton

This award-winning No. 1 hit for Brad Paisley was brought to life by his selfless invitation to Dolly Parton. Parton provides the angel wings that this song rides upon. Paisley often includes Christian themed songs on his albums, but this is the only one that's ever been released as a single. "When I Get Where I'm Going" was an easy choice for this Top 20 Christian Songs list.

6

'Bless the Broken Road'

Rascal Flatts

"Bless the Broken Road" is a song about trusting in God's time, not ours. The lyrics talks about the series of ups and downs and disappointments that we all face as part of the cost of living, with a twist that shows how all of those trials are simply part of God's plan. The song traveled a broken road of its own; it was recorded by the Nitty Gritty Dirt Band and Marcus Hummon before Rascal Flatts took it to No. 1 in 2005. Their recording also won a Grammy for Best Country Song.

5

'Three Wooden Crosses'

Randy Travis

"Three Wooden Crosses" is the ultimate redemption story, and Randy Travis is the perfect person to tell it as he has his own story to rely on for inspiration. The hook at the end of the song takes your breath away. There's no doubt this Christian song changed lives when it was released in 2003, and continues to inspire listeners today.

4

'Go Rest High on That Mountain'

Vince Gill

There is not a more popular song for funerals than Vince Gill's somber yet uplifting afterlife ballad. Gill's vocal performance is extraordinary on "Go Rest High on That Mountain." His patience on this over five-minute ballad pays off in a big way. Gill began writing this song after Keith Whitley's death in 1989, but didn't finish it until the death of his brother four years later. It makes our list of the all-time Top 20 Christian Songs, but surprisingly, it was only a Top 20 single for Gill in 1995.

3

'Long Black Train'

Josh Turner

The debut single from Josh Turner makes our list of the Top 10 Christian Songs and sets the tone for a career that would rack up Dove Awards faster than dollars in the offering dish. Some may remember this song's controversial video, which had some parental groups arguing that it encouraged suicide. That all seems silly now. To be honest, it did then, too. Turner's metaphor for temptation is sharp and effective. He has never used his music as a conversion club.

2

'Jesus Take the Wheel'

Carrie Underwood

This is the song that launched Carrie Underwood's country career, as there was a lukewarm response to "Inside Your Heaven" on non-pop stations. CMT recently named "Jesus Take the Wheel" as the fourth best song of the decade. Underwood has since proven herself to be a very strong Christian capable of carrying a song of faith, including "Temporary Home" and "Something in the Water."

1

The song that lands at No. 1 on our list of the Top 20 Christian Songs has it all: a great story, an inspirational message and a brilliant vocal performance. Ronnie Dunn builds up the final chorus like a movie director working toward a film's climax; it's a goosebump moment at live shows. Dunn hadn't written or performed a great Christian song prior to (or after) this 2005 hit. It's as if he spent himself on this one song.