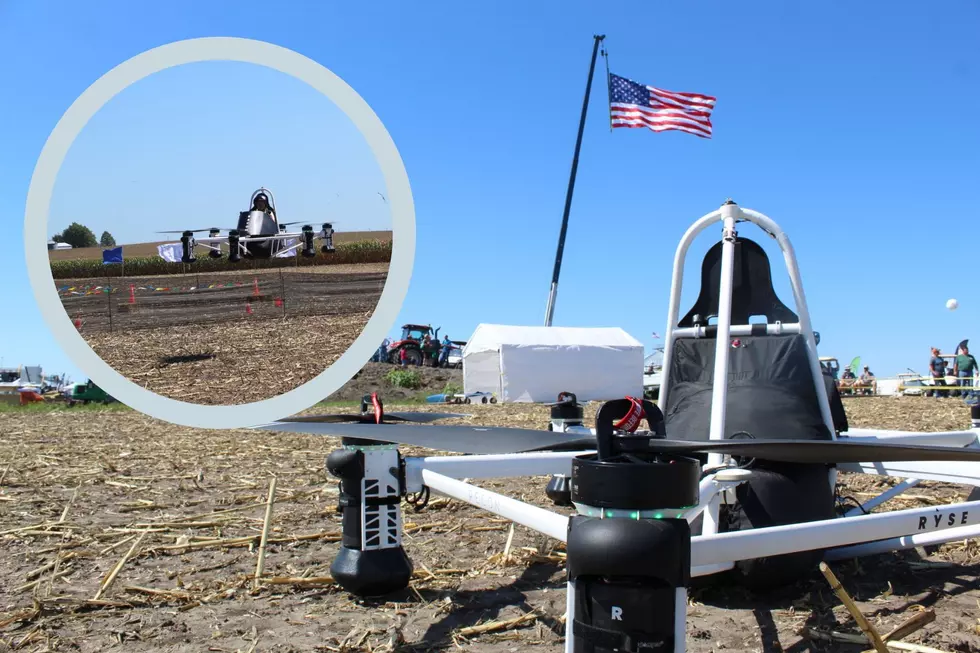 Iowans Can Soon Ditch ATVS To Fly Across Their Farms [VIDEO]
Townsquare Media; Kailey Foster
Is it a drone? Is it a plane?

Those were some of the questions I asked myself as I watched a man defy gravity in what I thought was going to be a drone demonstration at the Farm Progress Show.
But it is actually neither says Mick Kowitz, CEO of Ryse Aero Technologies.
This is the Ryse Recon. This is an ultralight electric, vertical takeoff, and landing vehicle. So, a little bit of drone, a little bit of airplane, but it's more airplane and more ATV really than anything.
As Kowitz says, the Ryse Recon is more of a flying ATV which means it's not really a machine you would use for big spraying but it can be used for spot spraying and farmers can even put infrared sensors on it to help with field monitoring.
[video width="672" height="1232" mp4="https://townsquare.media/site/672/files/2022/09/attachment-video-f676735b-4ada-499a-bd1c-0c724b15b2c1-1662044681.mp4"][/video]
Kowits adds that this machine is an introduction to help farmers get from point A to B in less time with less compaction.
For example, we have farmers that have a lot of terrain over about 10 or 12 miles and it takes about 45 minutes for them on their side by side to get there. But with our vehicle, they can get there in about eight minutes flying 60 miles an hour.
And if you need to get some work done in water, such as in fisheries or tending to irrigation systems, it is even able to take off and land in the water.
With a drone and a plane, you typically need to go through the FAA for licensing and training before being able to fly, but that's not the case with this device.
We have put together the best team of aerospace engineers that are out there. They've worked on FAA products in the past, and even though this is ultralight and you're not required to have it certified, we've built it as such.
The flying ATV is equipped with auto take-off and land which can also be used in case of an emergency. There are 6 independent motor systems on it so that if one were to go out, the flying device would not fall out of the sky. The device is able to safely land even if two systems go out.
The Ryse Recon will be available to farmers and landowners in 2023.
Learn more about the Ryse Recon:
Photo Tour Through Red Rock Farms
Fall Fest is less than one month away at Red Rock Farms. Here's a behind the scene look at what visitors can expect!