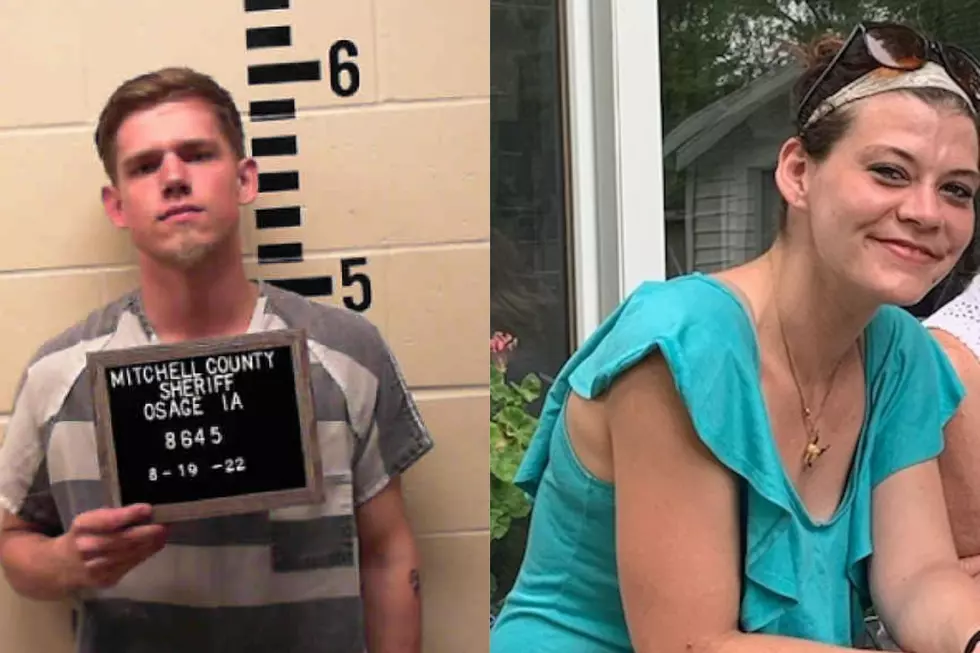 Iowa Man Charged in Murder of Woman Whose Skull Was Found on Stick
Mitchell County Sheriff & Cerro Gordo County Sheriff
Iowa authorities have made an arrest in the case of a woman whose skull was found some seven months before she was reported missing by her family.
23-year-old Nathan Gilmore (photo above) of Osage has been charged with first-degree murder in the death of Angela Bradbury of Mason City.
According to a criminal complaint, Bradbury was arrested for trespassing at a Mason City car dealership on April 5, 2021. She was released around noon on April 6 and reportedly changed clothes at a Mason City home before leaving the house with a younger white male. Other people at the home didn't know the man Bradbury was with but later told authorities that the two were headed for St. Ansgar, in Mitchell County. Investigators were later able to determine that Gilmore had been in Mason City for an arraignment at the Cero Gordo County Jail early that afternoon.
Late on the afternoon of July 12, 2021, a Mitchell County teen at Greenbelt River Trail Park south of Mitchell, Iowa noticed what the criminal report said, "appeared to be a human skull, which had been placed on a stick." The teenager's mother then called the Mitchell County Sheriff's Office and a deputy responded to the scene and retrieved the skull.
Though the Iowa Office of the State Medical Examiner was able to determine the skull was from a human, they couldn't establish the person's identity. DNA testing was able to determine it was a woman's skull.
The family of Angela Bradbury reported her missing to the Cerro Gordo County Sheriff's Office on February 2, 2022. They told authorities they'd last had contact with her in April of 2021. They provided Bradbury's dental records and DNA samples.
On February 11, 2022, the remains recovered the previous April were determined to be that of Angela Bradbury. In early April of 2022, additional remains of Bradbury were found at the Greenbelt River Trail Park.
Investigators say that Gilmore changed his story repeatedly during law enforcement interviews. His Facebook account was reportedly active in the area around Greenbelt River Trail Park on the evening of April 6, 2021. He told investigators he had gone home after work that evening and hadn't gone anywhere else.
During an August 19, 2022 search of Gilmore's home in Osage, Iowa, authorities found a whiteboard in the living room. The criminal complaint said it had a satantic goat's head and appeared to have blood spatters drawn on it, along with a series of numbers. They were "04-06", "0590", and "43.3, -92.8".
According to the criminal complaint, authorities believe this is what the numbers represent:
04-06 (April 6, the date Angela Bradbury was last seen)
590 (acronym in the urban dictionary that means "someone is tired of living"
43.3, -92.8 (abbreviated GPS coordinate for the Greenbelt River Trail Park
The Des Moines Register reports Bradbury's birthday was April 7. She would have turned 30 in 2021.
KEEP READING: Scroll to see what the big headlines were the year you were born
LOOK: What major laws were passed the year you were born?
Data for this list was acquired from trusted online sources and news outlets. Read on to discover what major law was passed the year you were born and learn its name, the vote count (where relevant), and its impact and significance.