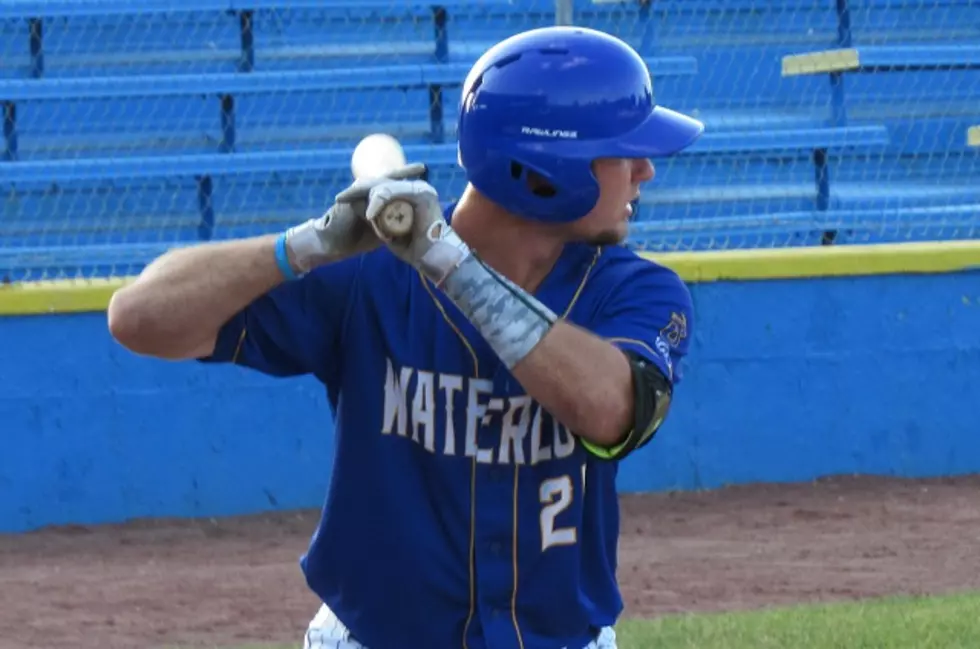 Waterloo Bucks Sweep Their Way Into Division Lead
Joe Genord / Courtesy: Waterloo Bucks
The Waterloo Bucks are in sole possession of first-place in the Northwoods League's North Division after sweeping their inaugural day-night doubleheader at Riverfront Stadium on Tuesday (June 13, 2017).
The Bucks beat the Bismarck Larks 8-4 in the nightcap after winning the late morning-early afternoon opener 2-1. A six-run second inning sparked Waterloo in game two. Starting pitcher Kyle Leahy (1-0) went the distance for the Bucks in game one.
Read the games summaries below.
UP NEXT: Following a scheduled off day on Wednesday (June 14), the Bucks return to action on Thursday at 6:35 p.m. when they open a two-game "road" series against the Thunder Bay Border Cats at Riverfront Stadium. The games are being played in Waterloo due to field renovation work being done at Port Arthur Stadium in Thunder Bay, Ont.
GAME 1 - Bucks 2, Bismarck Larks 1 (11:05 a.m.):
Kyle Leahy's complete-game victory was the first of the season for Waterloo. He gave up the one run on seven hits, while striking out three batters and walking only one in the first-ever meeting between the two teams.
The Bucks (11-4) took an early 1-0 lead by playing small ball in the first inning. Lead-off hitter Korry Howell was hit by a pitch, then stole both second and third base. He eventually scored on Keaton Presley's sacrifice fly to right field.
A pair of singles helped Bismarck (7-8) tie the game in the fifth inning, but the deadlocked score wouldn't last long.
Presley led off the sixth inning with a double. He later scored on Zach Malis' grounder to the right side of the infield.
GAME 2 - Bucks 8, Bismarck Larks 4 (6:35 p.m.):
After the Larks (7-9) took a 1-0 lead in the top of the second inning, Waterloo (12-4) sent 10 batters to plate and tallied six runs in its half of the frame. Newcomer Joe Genord (South Florida), who arrived in town just three hours prior first pitch, set the pace for the Bucks by crushing a solo home run to left-center field in his first Northwoods League at-bat. Ian Nelson also had a key hit for Waterloo, sending three runners home with a double to the gap in left-center field.
Nelson produced another run in the fourth inning while connecting on his second double of the night.
Five different pitchers saw action on the hill for the Bucks, who ran their winning streak to five games. Alec Hernandez (1-0) earned the victory after relieving starter Ryan Dunne, who tossed just three innings. Hernandez lasted 2.2 innings and did not surrender an earned run.
Bismarck squandered several scoring opportunities, leaving 15 runners on base by game's end. Four times the Larks left the bases loaded -- in the second, third, sixth and seventh innings.