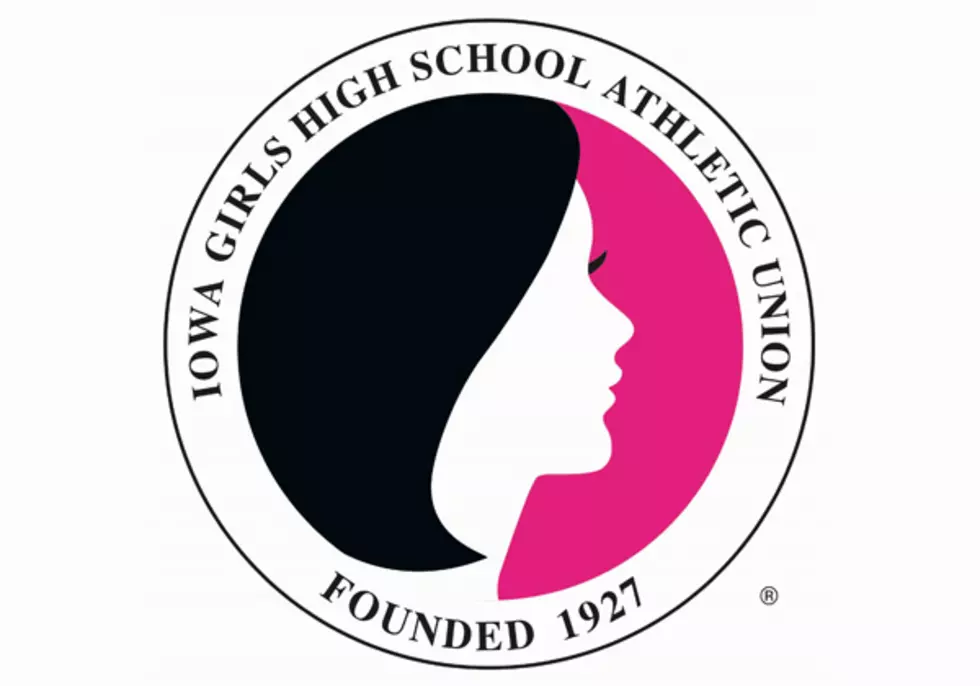 Valley Claims Bragging Rights Of West Des Moines
Source: Iowa Girls High School Athletic Union
The second-ranked Tigers set a tournament scoring record in rolling past No. 7 Dowling Catholic 87-64, the Maroons' second victory over their West Des Moines rival this season.
Valley's Zoe Young also got into the 5A record book by handing out 11 assists.
The old 5A scoring record was 72 points by Mason City in 2013. Waukee's Ellie Cavanaugh had the previous assist record of 10, set in 2015.
Five players scored in double figures for Valley, led by Jackie Feldt with 23. Freshman Alex Honold scored 16 and grabbed eight rebounds, while Young, a sophomore who is getting looks from Division I universities, added 13. Drake signee Hannah Fuller scored 12 for the Tigers, who beat Dowling 76-72 earlier this season.
Anna Wanek led Dowling with 16 points, while Josie Filer had 13 points and 11 rebounds. Freshman Caitlin Clark scored 11 for the Maroons.
Valley was sharp from the beginning. The Tigers shot 53 percent and moved the ball well, getting assists on 21 of their 34 baskets. They had a 12-point lead by late in the first quarter and kept building it with their sharp shooting and crisp passing.
Any time Dowling threatened to cut into the lead significantly, the Tigers responded with a quick burst to pull away again.
Valley is in the state tournament for the 12th time and looking for its first title. The Tigers take a 22-2 record into a semifinal game at 3:15 p.m. Friday.
Dowling, a five-time state champion, finishes 19-5.
---

Dowling Catholic vs West Des Moins Valley
3/1/17 5 p.m. at Wells Fargo Arena, Des Moines, Iowa


--------------------------------------------------------------------------------
VISITORS: Dowling Catholic 19-5
                          TOT-FG  3-PT         REBOUNDS
## Player Name            FG-FGA FG-FGA FT-FTA OF DE TOT PF  TP  A TO BLK S MIN
45 Filer, Josie........ f  3-10   0-1    7-10   7  4 11   3  13  2  4  0  1  23
03 Gaber, Emma......... g  1-3    1-2    0-0    1  0  1   3   3  0  0  0  0  14
11 Clark, Caitlin...... g  3-13   0-5    5-6    0  2  2   2  11  4  5  0  1  26
21 Cataldo, Mia........ g  2-3    2-2    0-0    1  3  4   2   6  0  2  0  2  28
23 Wanek, Anna......... g  5-10   2-5    4-4    1  0  1   1  16  1  3  0  2  28
01 Moen, Alli..........    0-1    0-0    0-0    0  0  0   0   0  0  0  0  0   2
13 Simplot, Annie......    0-0    0-0    0-0    0  0  0   0   0  0  0  0  0   1
15 Moses, Kaitlyn......    1-1    0-0    0-0    0  3  3   1   2  2  2  1  0  13
25 Ketcham, Hallie.....    0-5    0-3    0-0    0  0  0   1   0  4  2  0  1  12
31 Gaber, Grace........    1-1    0-0    0-0    0  0  0   0   2  0  0  0  0   1
35 Danner, Alexis......    0-0    0-0    0-0    1  0  1   0   0  0  0  0  0   1
41 Koethe, Jacey.......    3-4    0-0    4-4    0  3  3   4  10  0  1  0  0   9
43 Sarcone, Jessi......    0-0    0-0    0-0    0  0  0   0   0  0  0  0  1   1
51 Hittner, Allie......    0-0    0-0    1-2    1  0  1   0   1  0  0  0  0   1
55 Toang, Nyajuok......    0-0    0-0    0-1    1  0  1   0   0  0  0  0  0  0+
   TEAM................                         4     4
   Totals..............   19-51   5-18  21-27  17 15 32  17  64 13 19  1  8 160

TOTAL FG% 1st Half:  7-24 29.2%   2nd Half: 12-27 44.4%   Game: 37.3%  DEADB
3-Pt. FG% 1st Half:  1-8  12.5%   2nd Half:  4-10 40.0%   Game: 27.8%   REBS
F Throw % 1st Half: 11-12 91.7%   2nd Half: 10-15 66.7%   Game: 77.8%   2,1


--------------------------------------------------------------------------------
HOME TEAM: West Des Moins Valley 22-2
                          TOT-FG  3-PT         REBOUNDS
## Player Name            FG-FGA FG-FGA FT-FTA OF DE TOT PF  TP  A TO BLK S MIN
13 Feldt, Jackie....... f 10-17   0-0    3-4    2  4  6   3  23  0  1  1  1  23
23 Honnold, Alex....... f  7-11   0-1    2-3    6  2  8   2  16  3  2  1  2  27
25 Feldt, Jamie........ f  3-5    0-0    1-5    3  5  8   3   7  1  0  0  1  15
03 Young, Zoe.......... g  5-12   3-5    0-0    0  3  3   0  13 11  2  3  2  29
35 Fuller, Hannah...... g  5-10   2-5    0-0    3  2  5   5  12  4  2  0  2  18
01 Carr, Casey.........    1-1    0-0    2-2    0  2  2   2   4  1  1  0  0  16
05 Plummer, Grace......    0-1    0-1    0-0    0  0  0   0   0  0  0  0  1   2
11 Fuller, Shea........    3-6    3-6    3-4    2  1  3   3  12  1  2  0  2  22
15 Helverson, Libby....    0-0    0-0    0-0    0  0  0   1   0  0  0  0  1   4
21 Evans, Bethany......    0-1    0-1    0-0    0  0  0   0   0  0  0  0  0   1
31 Schoop, Sydney......    0-0    0-0    0-0    0  0  0   0   0  0  0  1  0  0+
33 Roush, Callie.......    0-0    0-0    0-0    0  0  0   0   0  0  0  0  0   1
43 Hinkle, Grace.......    0-0    0-0    0-0    0  0  0   1   0  0  0  0  0   1
45 Hall, Maggie........    0-0    0-0    0-0    0  0  0   0   0  0  0  0  0  0+
51 Morrow, Blake.......    0-0    0-0    0-0    0  0  0   0   0  0  1  0  0   1
   TEAM................                         1     1
   Totals..............   34-64   8-19  11-18  17 19 36  20  87 21 11  6 12 160

TOTAL FG% 1st Half: 17-31 54.8%   2nd Half: 17-33 51.5%   Game: 53.1%  DEADB
3-Pt. FG% 1st Half:  3-8  37.5%   2nd Half:  5-11 45.5%   Game: 42.1%   REBS
F Throw % 1st Half:  5-8  62.5%   2nd Half:  6-10 60.0%   Game: 61.1%    4


--------------------------------------------------------------------------------
Officials: Curt Strouth, Blake Reinke, Brett, Johnson
Technical fouls: Dowling Catholic-None. West Des Moins Valley-None.
Attendance:
Score by Periods                1st  2nd  3rd  4th   Total
Dowling Catholic..............   12   14   19   19  -   64
West Des Moins Valley.........   22   20   20   25  -   87