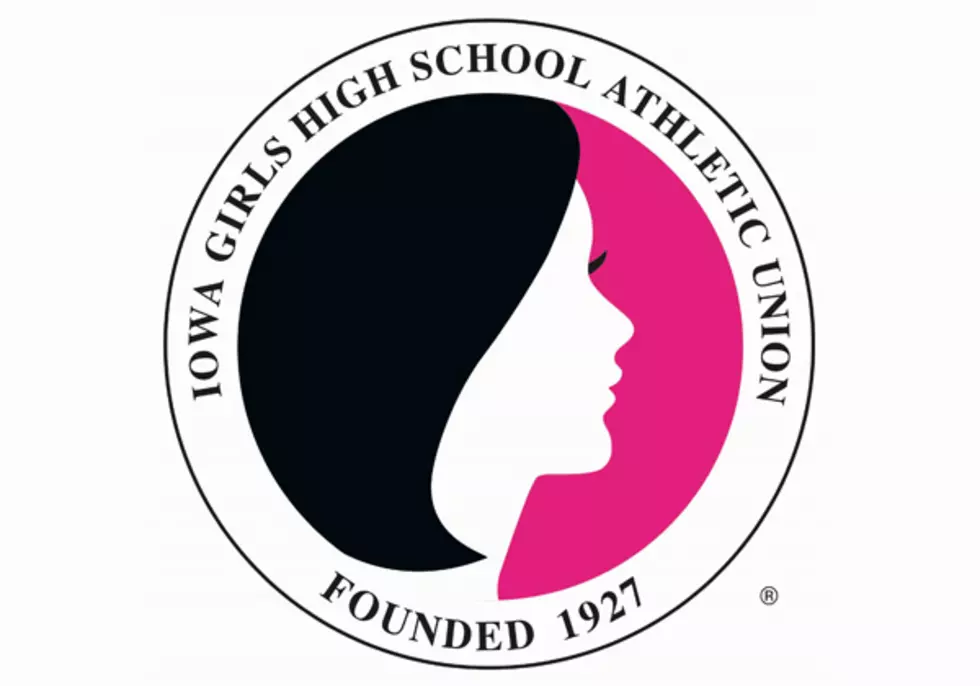 Top-Ranked Sioux Center Rolls Into 3A Semifinals
Source: Iowa Girls High School Athletic Union
The fast-breaking Warriors raced to an early 23-point lead and rolled to a 71-27 victory over PCM to remain unbeaten.
Eleven different players scored for Sioux Center and four finished in double figures, led by Jessica Harald with 16 points. Harald also had seven steals, four assists and three blocks.
Teammate Lexi Toering turned in a stat sheet-stuffing performance with 13 points, eight rebounds, seven steals and five assists. Jordyn Van Maanen also scored 13 for the Warriors and Shayla Post added 11 points.
Sioux Center finished with 21 steals in all and collected 34 points off turnovers. By constantly getting steals and pushing the pace, the Warriors often beat the Mustangs down the floor for layups.
Eleventh-ranked PCM had come in with 10 victories in its previous 11 games but never recovered after Sioux Center put together a 13-1 run to build a 34-11 lead midway through the second quarter.
Kayla Jennings led PCM with eight points, while Katie VandeWall and Regan Freland each scored six. VandeWall also pulled down seven rebounds.
Sioux Center is in the tournament for the second straight year and will take a 25-0 record into a semifinal game at 5 p.m. Thursday. PCM finishes 20-5.
---

PCM vs Sioux Center
02/28/17 11:45 am at Wells-Fargo Arena, Des Moines, Iowa

--------------------------------------------------------------------------------
VISITORS: PCM 20-5
                          TOT-FG  3-PT         REBOUNDS
## Player Name            FG-FGA FG-FGA FT-FTA OF DE TOT PF  TP  A TO BLK S MIN
13 Freland, Regan...... *  3-14   0-5    0-0    0  4  4   2   6  2  6  1  1  28
23 VandeWall, Katie.... *  2-5    0-0    2-4    2  5  7   3   6  0  3  0  0  26
25 Stafford, Rachel.... *  0-3    0-0    0-0    0  2  2   1   0  0  5  0  1  14
33 Jennings, Kayla..... *  3-11   0-3    2-2    0  3  3   1   8  1  3  0  0  28
45 Townsend, Kaylee.... *  2-5    0-0    0-0    3  1  4   5   4  0  2  1  1  19
11 Timmins, Alexis.....    1-8    1-6    0-0    1  3  4   1   3  0  1  0  2  20
21 Uhlenhopp, Morgan...    0-0    0-0    0-0    0  0  0   0   0  0  0  0  0   2
31 Bussan, Mackenzie...    0-0    0-0    0-0    0  0  0   0   0  0  0  0  0   2
35 Waddell, Abby.......    0-1    0-1    0-0    0  0  0   0   0  0  0  0  0   4
41 Hjortshoj, Sloan....    0-3    0-0    0-0    2  2  4   0   0  0  0  0  0   3
43 Brodersen, Bailey...    0-2    0-0    0-0    2  3  5   1   0  0  4  1  0  14
   TEAM................                         4  1  5
   Totals..............   11-52   1-15   4-6   14 24 38  14  27  3 24  3  5 160

TOTAL FG% 1st Half:  7-25 28.0%   2nd Half:  4-27 14.8%   Game: 21.2%  DEADB
3-Pt. FG% 1st Half:  1-7  14.3%   2nd Half:  0-8   0.0%   Game:  6.7%   REBS
F Throw % 1st Half:  3-4  75.0%   2nd Half:  1-2  50.0%   Game: 66.7%    0


--------------------------------------------------------------------------------
HOME TEAM: Sioux Center 25-0
                          TOT-FG  3-PT         REBOUNDS
## Player Name            FG-FGA FG-FGA FT-FTA OF DE TOT PF  TP  A TO BLK S MIN
04 Harald, Jessica..... *  6-9    3-3    1-3    1  2  3   2  16  4  4  3  7  18
12 Dykshorn, Hannah.... *  2-3    0-0    0-0    2  2  4   0   4  0  0  0  2  18
20 Van Maanen, Jordyn.. *  6-11   1-4    0-0    1  5  6   1  13  3  1  0  1  19
24 Post, Shayla........ *  4-7    0-3    3-7    1  0  1   2  11  1  0  0  3  18
31 Toering, Lexi....... *  5-10   0-0    3-6    1  7  8   2  13  5  0  0  7  21
02 Sandbulte, Aubrey...    0-2    0-2    0-0    2  0  2   0   0  1  1  0  0   9
03 Fritz, Lindi........    0-2    0-0    2-2    2  3  5   2   2  0  1  0  0   9
05 Verburg, Andrea.....    0-0    0-0    0-0    0  1  1   0   0  0  0  0  0   4
10 Winterfeld, Asha....    1-7    1-6    0-0    1  1  2   1   3  1  0  0  0  10
11 Bomgaars, Kayla.....    0-1    0-1    0-0    0  0  0   0   0  0  0  0  0   4
21 Harshbarger, Olivia.    0-1    0-0    0-0    1  0  1   0   0  2  0  0  1   4
22 Cleveringa, Camryn..    1-2    0-0    0-1    0  2  2   0   2  1  0  0  0  10
30 Vermeer, Aftyn......    1-1    0-0    0-0    0  1  1   0   2  0  0  0  0   3
32 Rensink, Victoria...    1-2    1-1    0-0    0  2  2   1   3  0  2  0  0  10
34 Hulshof, Kacey......    1-2    0-0    0-0    0  0  0   0   2  0  0  0  0   3
   TEAM................                         2  2  4
   Totals..............   28-60   6-20   9-19  14 28 42  11  71 18  9  3 21 160

TOTAL FG% 1st Half: 17-33 51.5%   2nd Half: 11-27 40.7%   Game: 46.7%  DEADB
3-Pt. FG% 1st Half:  2-8  25.0%   2nd Half:  4-12 33.3%   Game: 30.0%   REBS
F Throw % 1st Half:  4-13 30.8%   2nd Half:  5-6  83.3%   Game: 47.4%   4,1


--------------------------------------------------------------------------------
Officials: Grant Detrick, Randall Blum, Jonny Getting
Technical fouls: PCM-None. Sioux Center-None.
Attendance:
Score by Periods                1st  2nd  3rd  4th   Total
PCM...........................    8   10    4    5  -   27
Sioux Center..................   18   22   19   12  -   71
Fouled Out: PCM - #45 K. Townsend (5:10-4th)