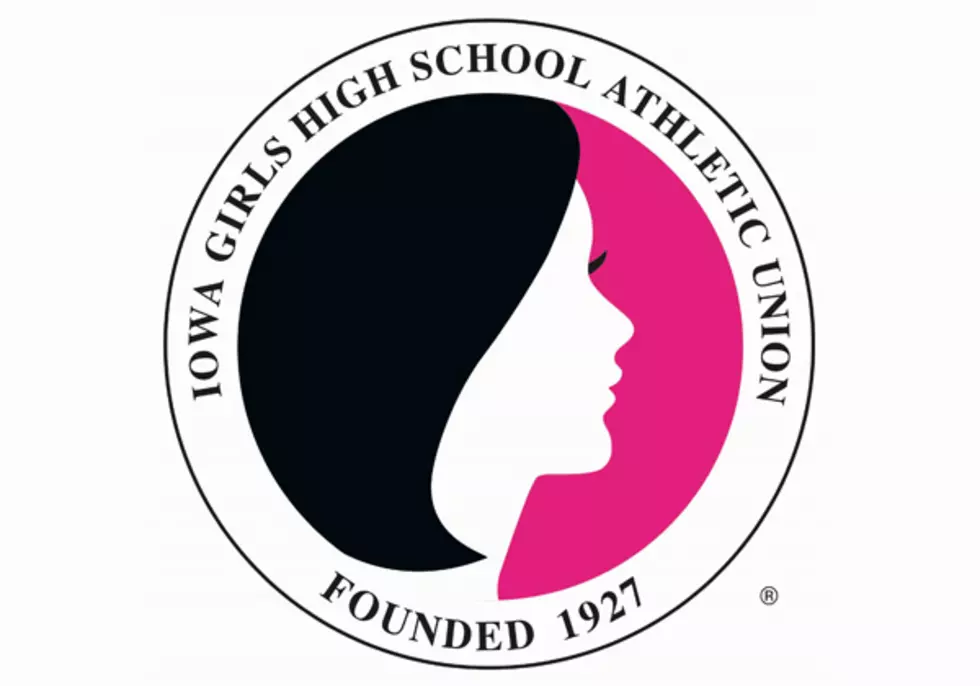 Top-Ranked Marion Survives Feisty Boone's Upset Bid
Source: Iowa Girls High School Athletic Union
Top-ranked Marion has passed its first state tournament test -- and it was a stern one.
Chloe Rice added 12 points for Marion, which held Boone without a basket for the first quarter and a half but could never put the 14th-ranked Toreadors way.
Junior guard Caitlynne Shadle led Boone with 21 points and Madyln Danner added eight. Laura Anderson grabbed 14 rebounds for the Toreadors and Claire Sandvig pulled down seven.
Marion did a good job keeping the ball away from the 6-foot-3 Sandvig, Boone's leading scorer with a 15.5 average. The Indians limited her to three shots and three points.
Boone fell behind 12-2 and didn't find success offensively until Shadle and Danner started driving the ball to the basket. The Toreadors trailed just 36-32 entering the fourth quarter but was unable to put a run together. They kept threatening but never got closer than that four-point spread.
Rice got a key bucket for Marion on a drive that made it 41-34 and the Indians made five of six free throws to finish it off.
Marion will take a 23-1 record into a semifinal game at 11:45 a.m. Friday. The Indians' only loss was to Class 5A Linn-Mar.
Boone had an historic season, reaching the state tournament for the first time since 1989, winning its first Raccoon River Conference championship and putting up a school record 19 victories. The Toreadors finish 19-6.
---

Boone vs Marion
03/01/17 10 a.m. at Des Moines, Iowa - Wells Fargo Arena

--------------------------------------------------------------------------------
VISITORS: Boone 19-6
                          TOT-FG  3-PT         REBOUNDS
## Player Name            FG-FGA FG-FGA FT-FTA OF DE TOT PF  TP  A TO BLK S MIN
10 Danner, Madlyn...... *  2-6    0-2    4-4    0  1  1   3   8  0  4  0  0  31
12 Shadle, Caitlynne... *  7-15   0-4    7-9    1  2  3   2  21  2  0  0  2  30
20 Rouse, Emma......... *  1-6    0-2    0-0    0  1  1   4   2  1  4  0  0  30
32 Anderson, Laura..... *  1-5    0-2    1-4    5  9 14   3   3  0  2  1  1  30
40 Sandvig, Claire..... *  1-3    0-1    1-2    1  6  7   4   3  0  0  1  0  21
14 Behrendt, Ashley....    0-0    0-0    0-0    0  0  0   0   0  0  0  0  0  0+
22 Graham, Aliyah......    0-0    0-0    0-0    0  0  0   1   0  0  1  0  0   6
24 Calkins, Lauren.....    0-1    0-1    1-2    1  1  2   1   1  0  1  0  0  12
30 Borsh, Morganne.....    0-0    0-0    0-0    0  0  0   0   0  0  0  0  0  0+
44 Osborn, Megan.......    0-0    0-0    0-0    0  0  0   0   0  0  0  0  0  0+
   TEAM................                         3  1  4             1
   Totals..............   12-36   0-12  14-21  11 21 32  18  38  3 13  2  3 160

TOTAL FG% 1st Half:  2-19 10.5%   2nd Half: 10-17 58.8%   Game: 33.3%  DEADB
3-Pt. FG% 1st Half:  0-10  0.0%   2nd Half:  0-2   0.0%   Game:  0.0%   REBS
F Throw % 1st Half:  7-7  100 %   2nd Half:  7-14 50.0%   Game: 66.7%    3


--------------------------------------------------------------------------------
HOME TEAM: Marion 23-1
                          TOT-FG  3-PT         REBOUNDS
## Player Name            FG-FGA FG-FGA FT-FTA OF DE TOT PF  TP  A TO BLK S MIN
04 Rice, Chloe......... *  3-5    1-2    5-7    0  2  2   3  12  2  1  1  1  25
05 Smith. Caitlyn...... *  0-3    0-2    2-2    1  1  2   0   2  0  1  0  1  24
10 Wright, Randi....... *  1-6    0-0    2-3    2  2  4   4   4  0  1  0  0  17
21 Laube, Mia.......... *  1-6    0-2    3-4    1  4  5   3   5  0  1  0  2  23
24 Laube, Kayba........ *  4-6    4-6    5-8    0  3  3   3  17  0  2  0  1  26
03 Knapp, Maddie.......    0-1    0-1    0-2    0  0  0   1   0  1  0  0  0  12
12 Nielsen, Sydney.....    0-0    0-0    0-0    0  0  0   0   0  0  0  0  0   3
22 Willette, Sophie....    2-6    0-1    0-0    1  2  3   1   4  0  2  0  0  13
23 Herold, Elle........    0-0    0-0    0-0    0  0  0   2   0  0  0  0  0   3
32 Sade, Isabella......    1-1    0-0    0-0    1  2  3   1   2  0  1  2  1  14
   TEAM................                         1  1  2
   Totals..............   12-34   5-14  17-26   7 17 24  18  46  3  9  3  6 159

TOTAL FG% 1st Half:  6-19 31.6%   2nd Half:  6-15 40.0%   Game: 35.3%  DEADB
3-Pt. FG% 1st Half:  3-9  33.3%   2nd Half:  2-5  40.0%   Game: 35.7%   REBS
F Throw % 1st Half:  4-8  50.0%   2nd Half: 13-18 72.2%   Game: 65.4%    3


--------------------------------------------------------------------------------
Officials: Marlin Schoonhoven, Jason Slaughter, Royce Ranniger
Technical fouls: Boone-Danner, Madlyn. Marion-None.
Attendance:
Score by Periods                1st  2nd  3rd  4th   Total
Boone.........................    2    9   21    6  -   38
Marion........................    9   10   17   10  -   46