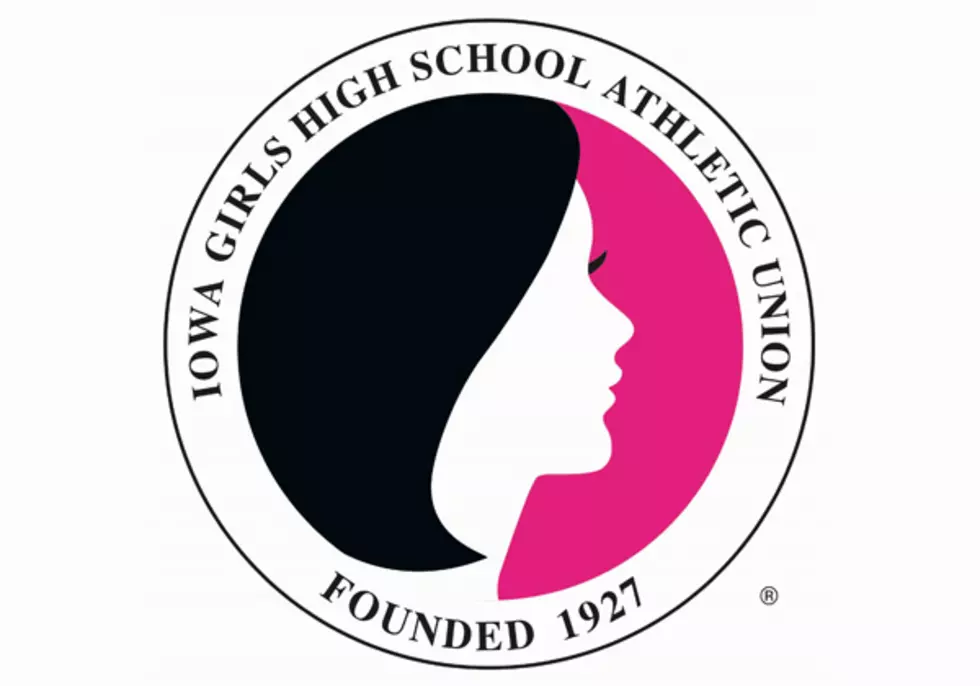 Ruffridge Leads Pocahontas Area To Another Title
Source: Iowa Girls High School Athletic Union
Ruffridge scored 22 points and her Pocahontas Area teammates all made major contributions as the Indians beat Sioux Center 61-38 to win their second straight Class 3A state championship.
And what a career it was a Ruffridge, a 5-foot-4 guard who'll take her dynamic game to Missouri State next season.
She finished with 2,951 points, 802 assists and 466 3-pointers -- all state records. Plus, she scored 250 points in nine state tournament games, which also is a record. Her 157 3-pointers this season are a state record and her 840 points are the second most in a season.
Ruffridge finished her final game 7-for-12 from the field, including 6-for-8 from 3-point range. She also grabbed seven rebounds, handed out four assists and made two steals and was voted captain of the all-tournament team for the third straight year.
Pocahontas finished second at the 2015 state tournament and went 79-3 over the last three seasons, including a 27-1 mark this season.
Payton Hjerleid added 12 points for Pocahontas, Faith Meyer scored 11 and Ashlyn Weidauer had eight. The second-ranked Indians made 12 3-pointers in all and held top-ranked Sioux Center scoreless in the fourth quarter.
Jessica Harald led Sioux Center with nine points, while Shayla Post and Victoria Rensink scored eight each. Lexi Toering had eight rebounds and four points for the Warriors, who finished 26-1.
Pocahontas led 20-19 after the first eight minutes, then broke it open in the second quarter. The Warriors tried trapping Ruffridge on the perimeter, but she usually dribbled her way out of it and found a shot for herself or a teammate. She swished a 3-pointer from the right corner and did the same from the left corner during a 16-3 run that pulled the Indians into a 38-24 halftime lead.
Post's 3-pointer drew Sioux Center to 40-29 early in the third quarter, but Pocahontas responded with a 15-7 run to go up 55-36.
Grace Meyer of Pocahontas, Harald and Toering joined Ruffridge on the all-tournament team, which also had Paityn Hagberg of Cherokee and Allison Wooldridge of Center Point-Urbana.
---

Pocahontas Area vs Sioux Center
03/04/17 4:00 PM at Wells Fargo Arena, Des Moines, IA

--------------------------------------------------------------------------------
VISITORS: Pocahontas Area 26-1
                          TOT-FG  3-PT         REBOUNDS
## Player Name            FG-FGA FG-FGA FT-FTA OF DE TOT PF  TP  A TO BLK S MIN
03 Meyer, Faith........ *  4-6    1-2    2-2    2  4  6   3  11  2  7  0  2  29
04 Hjerleid, Payton.... *  4-8    2-5    2-2    1  3  4   4  12  1  0  0  1  22
05 Ruffridge, Elle..... *  7-12   6-8    2-2    0  7  7   2  22  4  4  0  2  30
10 Meyer, Grace........ *  1-4    1-4    1-2    1  6  7   2   4  3  1  0  0  30
25 Ahlers, Olivia...... *  2-7    0-1    0-0    4  2  6   1   4  0  2  0  0  22
11 Berte, Katie........    0-0    0-0    0-0    0  0  0   0   0  0  0  0  0   1
12 Weidauer, Ashlyn....    3-6    2-4    0-0    0  2  2   0   8  2  2  0  0  15
14 Johnson, Jocelyn....    0-1    0-1    0-0    0  0  0   0   0  0  0  0  0   3
15 Neumann, Danielle...    0-0    0-0    0-0    0  0  0   0   0  0  0  0  0   2
20 Vainreb, Bailey.....    0-1    0-1    0-0    0  0  0   0   0  0  0  0  0   2
23 Aljets, Leah........    0-0    0-0    0-0    0  0  0   0   0  0  0  0  0   1
32 Vonnahme, Jill......    0-1    0-1    0-0    0  0  0   0   0  0  1  0  0   1
35 Shivers, Kaylee.....    0-0    0-0    0-0    0  0  0   0   0  0  0  0  0  0+
40 Ricke, Elizabeth....    0-0    0-0    0-0    0  0  0   0   0  0  0  0  0  0+
45 Sullivan, Kenzie....    0-0    0-0    0-0    0  0  0   0   0  0  0  0  0   2
   TEAM................                         1  3  4
   Totals..............   21-46  12-27   7-8    9 27 36  12  61 12 17  0  5 160

TOTAL FG% 1st Half: 12-23 52.2%   2nd Half:  9-23 39.1%   Game: 45.7%  DEADB
3-Pt. FG% 1st Half:  7-15 46.7%   2nd Half:  5-12 41.7%   Game: 44.4%   REBS
F Throw % 1st Half:  7-8  87.5%   2nd Half:  0-0   0.0%   Game: 87.5%    0


--------------------------------------------------------------------------------
HOME TEAM: Sioux Center 26-0
                          TOT-FG  3-PT         REBOUNDS
## Player Name            FG-FGA FG-FGA FT-FTA OF DE TOT PF  TP  A TO BLK S MIN
04 Harald, Jessica..... *  4-9    0-3    1-4    2  2  4   1   9  3  4  1  4  25
12 Dykshorn, Hannah.... *  2-3    1-1    0-0    0  1  1   1   5  1  1  0  0  21
20 Van Maanen, Jordyn.. *  2-9    0-4    0-0    1  1  2   4   4  1  5  0  0  24
24 Post, Shayla........ *  3-8    2-7    0-0    0  2  2   2   8  1  0  0  0  22
31 Toering, Lexi....... *  1-6    0-0    2-2    0  8  8   2   4  1  3  0  2  28
02 Sandbulte, Aubrey...    0-1    0-1    0-0    1  0  1   0   0  0  0  0  0   4
03 Fritz, Lindi........    0-1    0-0    0-0    0  0  0   0   0  0  0  0  0   2
05 Verburg, Andrea.....    0-0    0-0    0-0    0  0  0   0   0  0  0  0  0   2
10 Winterfeld, Asha....    0-1    0-1    0-0    0  0  0   1   0  0  0  0  0   3
11 Bomgaars, Kayla.....    0-2    0-2    0-0    0  0  0   0   0  0  0  0  0   2
21 Harshbarger, Olivia.    0-0    0-0    0-0    0  0  0   0   0  0  0  0  0   2
22 Cleveringa, Camryn..    0-2    0-1    0-0    0  0  0   2   0  0  1  0  1  13
32 Rensink, Victoria...    3-3    2-2    0-0    0  1  1   0   8  0  1  0  0  12
   TEAM................                            1  1
   Totals..............   15-45   5-22   3-6    4 16 20  13  38  7 15  1  7 160

TOTAL FG% 1st Half: 10-25 40.0%   2nd Half:  5-20 25.0%   Game: 33.3%  DEADB
3-Pt. FG% 1st Half:  3-10 30.0%   2nd Half:  2-12 16.7%   Game: 22.7%   REBS
F Throw % 1st Half:  1-4  25.0%   2nd Half:  2-2  100 %   Game: 50.0%   2,1


--------------------------------------------------------------------------------
Officials: Jared Rahe, Chad Slagle, Rich Collison
Technical fouls: Pocahontas Area-None. Sioux Center-None.
Attendance:
Score by Periods                1st  2nd  3rd  4th   Total
Pocahontas Area...............   20   18   17    6  -   61
Sioux Center..................   19    5   14    0  -   38