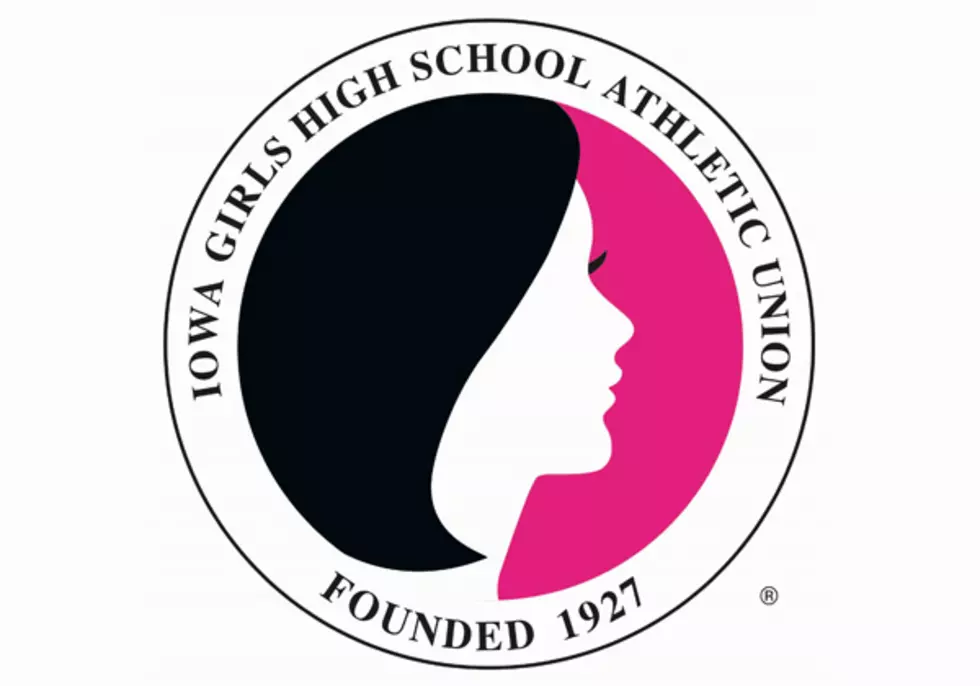 North Scott Celebrates First State Championship
Source: Iowa Girls High School Athletic Union
After falling short in two previous trips to the state finals, North Scott finally celebrated a championship, even if it did take an extra four minutes.
North Scott rallied from six points down in the fourth quarter, then outscored Marion 13-1 in overtime to win going away.
It was just the second overtime in a five-player championship game. The five-player tournament began in 1985 and North Scott had two runner-up finishes in those early years, in 1986 and 1987. The Lancers did not make the finals again until this year.
Rucker's younger sister, Rylie, added nine points for North Scott, while two freshmen -- Presley Case and Grace Boffeli -- each scored seven. Boffeli also grabbed 10 rebounds, including seven on the offensive end.
North Scott finished with 20 offensive rebounds in all, leading to a 13-4 edge in second-chance points. The Lancers also collected 22 points off turnovers.
Mia Laube led Marion with 11 points and Chloe Rice scored nine.
North Scott rallied after trailing 33-27 in the first minute of the fourth quarter. Boffeli's two free throws gave the Lancers a 38-37 lead and Karli Rucker hit one of two to make it 39-37 with 37.6 seconds remaining.
Laube was fouled on a putback attempt with 17.4 seconds left and made both free throws to tie it and Kayba Laube stole the ball before North Scott could get a final shot, resulting in overtime.
Boffeli scored inside to put North Scott up 41-39 and they led the rest of the way. Karli Rucker flipped in a layup on a drive down the left side of the lane for a 45-40 lead and the Lancers finished off their first title with free throws, making seven of eight.
North Scott finishes 21-5, with four of those losses to Class 5A schools. Marion finishes 24-2.
Rylie Rucker joined her sister on the all-tournament team along with Rice, Kayba Laube, Kiara Bradley of Pella and Lexi Noonan of Cedar Rapids Xavier.
---
 
Marion vs North Scott
03/04/17 6:00 PM at Wells Fargo Arena, Des Moines, IA

--------------------------------------------------------------------------------
VISITORS: Marion 24-2
                          TOT-FG  3-PT         REBOUNDS
## Player Name            FG-FGA FG-FGA FT-FTA OF DE TOT PF  TP  A TO BLK S MIN
04 Rice, Chloe......... *  3-9    0-1    3-4    0  1  1   4   9  1  4  1  1  36
05 Smith. Caitlyn...... *  0-9    0-8    2-2    1  4  5   2   2  1  0  0  0  27
10 Wright, Randi....... *  3-4    0-0    0-0    2  2  4   3   6  0  4  0  2  21
21 Laube, Mia.......... *  4-8    1-1    2-2    3  3  6   2  11  2  2  0  0  32
24 Laube, Kayba........ *  3-6    3-6    0-0    0  3  3   5   9  0  3  0  3  27
03 Knapp, Maddie.......    1-3    1-3    0-0    0  0  0   0   3  0  1  0  0   9
22 Willette, Sophie....    0-2    0-1    0-0    0  2  2   3   0  0  4  0  0  13
23 Herold, Elle........    0-0    0-0    0-0    0  0  0   1   0  0  1  0  0   2
32 Sade, Isabella......    0-0    0-0    0-0    0  4  4   1   0  0  0  4  0  13
   TEAM................                         1  5  6             1
   Totals..............   14-41   5-20   7-8    7 24 31  21  40  4 20  5  6 180


TOTAL FG% 1st Half:  8-16 50.0%   2nd Half:  6-19 31.6%   OT:  0-6   0.0%   Game: 34.1%  DEADB
3-Pt. FG% 1st Half:  4-10 40.0%   2nd Half:  1-7  14.3%   OT:  0-3   0.0%   Game: 25.0%   REBS
F Throw % 1st Half:  2-2  100 %   2nd Half:  4-4  100 %   OT:  1-2  50.0%   Game: 87.5%   1,1



--------------------------------------------------------------------------------
HOME TEAM: North Scott 21-5
                          TOT-FG  3-PT         REBOUNDS
## Player Name            FG-FGA FG-FGA FT-FTA OF DE TOT PF  TP  A TO BLK S MIN
02 Case, Presley....... *  1-4    1-3    4-4    0  3  3   1   7  0  2  0  0  17
04 Rucker, Karli....... *  8-17   4-7    4-6    1  5  6   3  24  2  5  0  1  34
10 Loussaert, Erica.... *  2-8    1-5    0-0    0  0  0   5   5  0  0  0  1  20
20 Rucker, Rylie....... *  3-14   0-4    3-4    2  1  3   0   9  2  2  0  3  35
42 Boffeli, Grace...... *  1-6    0-0    5-6    7  3 10   3   7  2  1  0  1  31
14 Bogner, Savannah....    0-4    0-1    0-0    2  2  4   1   0  0  0  0  1  12
24 Perrin, Alyssa......    0-0    0-0    0-0    0  0  0   0   0  0  0  0  0   1
40 Moeller, Hannah.....    0-3    0-1    0-0    2  5  7   3   0  1  2  0  1  30
   TEAM................                         5  1  6
   Totals..............   15-56   6-21  16-20  19 20 39  16  52  7 12  0  8 180


TOTAL FG% 1st Half:  6-27 22.2%   2nd Half:  7-23 30.4%   OT:  2-6  33.3%   Game: 26.8%  DEADB
3-Pt. FG% 1st Half:  4-13 30.8%   2nd Half:  2-7  28.6%   OT:  0-1   0.0%   Game: 28.6%   REBS
F Throw % 1st Half:  3-4  75.0%   2nd Half:  4-6  66.7%   OT:  9-10 90.0%   Game: 80.0%    1



--------------------------------------------------------------------------------
Officials: Keith Lehrman, Josh Mara, Drew Matzen
Technical fouls: Marion-None. North Scott-None.
Attendance:
Score by Periods                1st  2nd  3rd  4th   OT   Total
Marion........................   11   11    9    8    1  -   40
North Scott...................    8   11    8   12   13  -   52
Fouled Out: NS: #10 Loussart @ 17.4 (4th); Marion: #24 Laube @ 31:5 (OT)