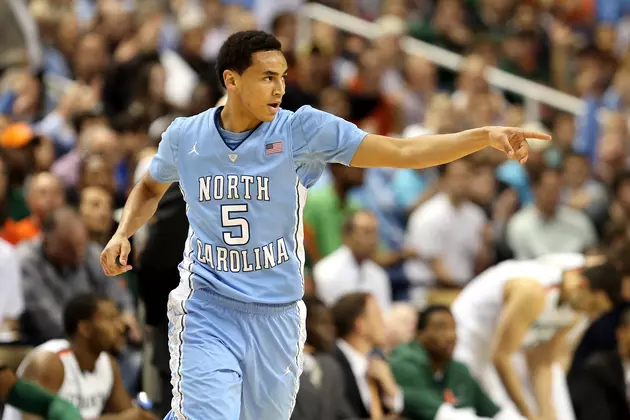 North Carolina's Leading Scorer To Miss Game At UNI
Marcus Paige / Photo By: Streeter Lecka - Getty Images
Marcus Paige will likely miss his Homecoming when top-ranked North Carolina plays the UNI Panthers in Cedar Falls later this month.
An injury is expected to keep the Tar Heels' senior guard out of action for the next three to four weeks. The preseason Atlantic Coast Conference (ACC) co-player of the year broke a bone is in his non-shooting (right) hand during practice this week, University of North Carolina athletic officials announced on Wednesday (Nov. 4, 2015).
The recovery time will sideline Paige for several games, including the one against UNI at the McLeod Center on Nov. 21. The game figured to be a special event for Paige, an Iowa native who grew up an hour away from the UNI campus. He was a star player at Linn-Mar High School in Marion and was named Iowa's Mr. Basketball his senior season in 2012.
"I hate it for Marcus," North Carolina coach Roy Williams said. "He's such a wonderful young man – one of the most outstanding people I have been lucky to coach. I know he'll handle this with the same level of maturity and responsibility that he does everything else."
Paige has received a number of first-team preseason All-America honors and has led UNC in scoring in each of the past two seasons. A two-time captain, the 6-foot-2 guard has averaged 13.2 points for the Tar Heels and has 474 assists. Paige has connected on 225 three-point field goals and needs only nine to become North Carolina's all-time three-point leader.
"Our team will certainly be challenged in his absence," Williams said. "We will need everyone up and down the roster to step up their games and take care of each other and our team until he gets back."
The Tar Heels open regular-season play against Temple in Annapolis, Md., in the Veterans Day Classic on Nov. 13. A four-week absence would have Paige close to returning for a big matchup with No. 3 Maryland in the ACC/Big Ten Challenge on Dec. 1.
Paige has missed only one game in his first three seasons at North Carolina. He did not play against Alabama-Birmingham (UAB) his freshman season due to a strained left shoulder.