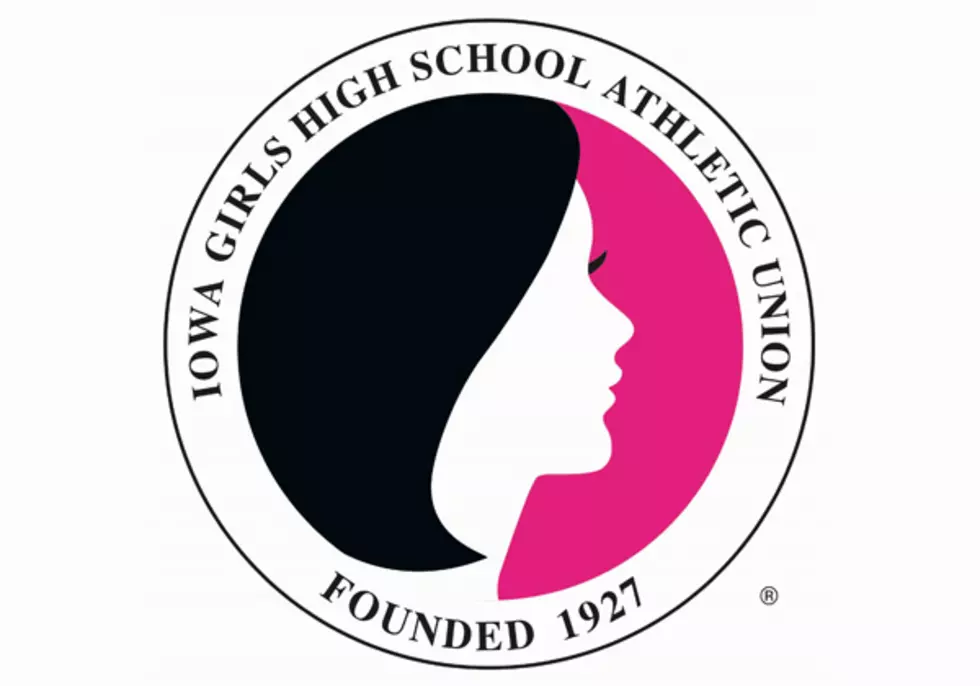 Kingsley-Pierson Gets First State Tournament Win
Source: Iowa Girls High School Athletic Union
Kingsley-Pierson overcame a slow start and a record scoring performance to win at the Iowa High School Girls State Basketball Tournament for the first time.
Junior center Addison Hirschman put up a double-double and Kingsley-Pierson beat Marquette Catholic of Bellevue 65-61 in a
Class 1A quarterfinal game at Wells Fargo Arena in Des Moines Monday afternoon (Feb. 27, 2017).
Marquette's Marissa Schroeder scored 38 points, the most ever in a 1A game since the tournament went to five classes, but it wasn't quite enough.
Hirschman, a 6-foot-2 junior who has committed to South Dakota State, scored 22 points, pulled down 10 rebounds, handed out seven assists and blocked four shots in a solid all-around effort. Teammate Bri Jensen added 18 points and seven rebounds to help send the seventh-ranked Panthers into a semifinal game at 10 a.m. Thursday against top-ranked and defending state champion Springville.
Kingsley-Pierson had been 0-3 at state and immediately fell into a big hole, falling behind 10-0. But Hirschman began finding the range on mid-range jumpers and the Panthers clawed back.
They never trailed after taking a 24-22 lead midway through the second quarter and got the breathing room they needed with a brief burst in the final four minutes.
Kingsley-Pierson led 54-52 when Jensen's 3-point shot from the left corner kissed off the glass and dropped through. A couple of free throws pushed the lead to 59-52 and Jensen helped the Panthers wrap it up by sinking six of eight from the line in the finale 1:06.
Teona Richman added 13 points and 10 rebounds for sixth-ranked Marquette, which finishes 21-4. Kingsley-Pierson moves on with a 24-1 record.
Schroeder had 18 points by halftime and finished 13-of-24 from the field and 12-for-14 on free throws. The old 1A record was 27 points by Burlington Notre Dame's Taylor Hickey in 2014.
---

Kingsley-Pierson vs Marquette Catholic
02/27/17 11:45 am at Wells-Fargo Arena, Des Moines, Iowa

--------------------------------------------------------------------------------
VISITORS: Kingsley-Pierson 24-1
                          TOT-FG  3-PT         REBOUNDS
## Player Name            FG-FGA FG-FGA FT-FTA OF DE TOT PF  TP  A TO BLK S MIN
15 Harvey, Bradi....... *  1-3    0-2    2-2    1  1  2   1   4  2  4  0  3  30
21 Jensen, Bri......... *  4-9    2-4    8-10   0  7  7   3  18  1  3  3  2  32
25 Goodwin, Madison.... *  3-9    2-6    0-0    1  1  2   2   8  2  3  0  2  29
43 Bailey, Allison..... *  2-5    0-0    5-7    2  2  4   4   9  0  7  3  1  23
53 Hirschman, Addison.. *  9-16   3-5    1-2    3  7 10   4  22  7  3  4  1  28
31 Wurth, Madison......    0-1    0-1    0-0    0  0  0   0   0  0  1  0  0   3
33 Barto, Jayde........    1-3    0-1    2-2    1  2  3   3   4  0  1  0  0  15
   TEAM................                         1  2  3
   Totals..............   20-46   7-19  18-23   9 22 31  17  65 12 22 10  9 160

TOTAL FG% 1st Half: 13-24 54.2%   2nd Half:  7-22 31.8%   Game: 43.5%  DEADB
3-Pt. FG% 1st Half:  3-9  33.3%   2nd Half:  4-10 40.0%   Game: 36.8%   REBS
F Throw % 1st Half:  6-6  100 %   2nd Half: 12-17 70.6%   Game: 78.3%   2,1


--------------------------------------------------------------------------------
HOME TEAM: Marquette Catholic 21-4
                          TOT-FG  3-PT         REBOUNDS
## Player Name            FG-FGA FG-FGA FT-FTA OF DE TOT PF  TP  A TO BLK S MIN
12 Banowetz, Taylor.... *  0-1    0-0    0-0    0  1  1   1   0  0  0  0  0   6
22 Frank, Annika....... *  2-7    0-1    1-2    2  4  6   4   5  1  5  0  1  32
24 Schroeder, Marissa.. * 13-24   0-1   12-14   4  7 11   3  38  1  2  3  3  32
44 Michels, McKenna.... *  1-8    1-4    0-2    1  2  3   2   3  2  3  0  2  27
50 Richman, Teona...... *  5-9    0-0    3-4    7  3 10   3  13  1  4  0  0  29
32 Parker, Lizzy.......    0-0    0-0    0-0    0  0  0   2   0  0  0  0  0   2
34 Koos, Ashley........    1-2    0-0    0-1    0  0  0   0   2  2  3  0  5  26
42 Hingtgen, McKenna...    0-2    0-0    0-0    1  0  1   0   0  0  1  0  1   4
54 Michel, Tori........    0-2    0-0    0-0    0  1  1   0   0  0  0  0  0   2
   TEAM................                            2  2
   Totals..............   22-55   1-6   16-23  15 20 35  15  61  7 18  3 12 160

TOTAL FG% 1st Half: 12-27 44.4%   2nd Half: 10-28 35.7%   Game: 40.0%  DEADB
3-Pt. FG% 1st Half:  1-4  25.0%   2nd Half:  0-2   0.0%   Game: 16.7%   REBS
F Throw % 1st Half:  6-9  66.7%   2nd Half: 10-14 71.4%   Game: 69.6%    2


--------------------------------------------------------------------------------
Officials: Todd Thompson, Kurt Walderbach, Ben Hauge
Technical fouls: Kingsley-Pierson-None. Marquette Catholic-None.
Attendance:
Score by Periods                1st  2nd  3rd  4th   Total
Kingsley-Pierson..............   13   22   12   18  -   65
Marquette Catholic............   16   15   13   17  -   61