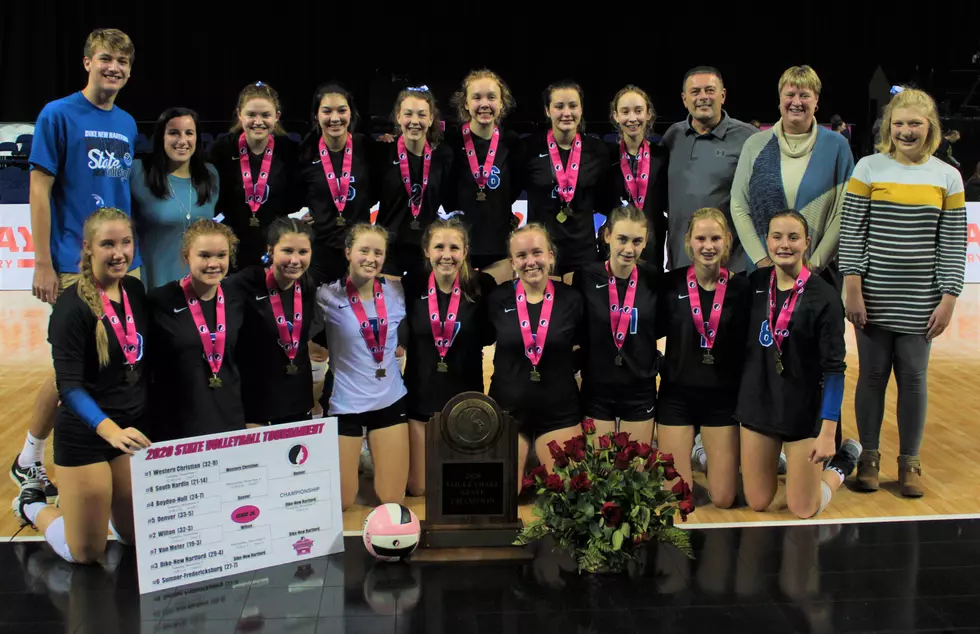 Dike-New Hartford Wins 14th Title; Denver Takes Second [PHOTOS]
Photo By: Elwin Huffman - Townsquare Media
In a battle of North Iowa Cedar League East Division rivals, Dike-New Hartford captured the Class 2A state championship by sweeping Denver in the title match Thursday night.
The championship is the 14th in program history for the Wolverines, who had three players named to the all-tournament team. Madelyn Norton and twin sisters Jadyn and and Payton Petersen earned the honors. Payton Petersen, who recorded a double-double in the final match (17 kills and 10 digs) was named captain of the seven-member squad.
Denver also placed two players on the All-Tournament team, Allison Bonnette and Reese Johnson. Johnson recorded a team-high 16 assists and had 11 digs.
The 2020 season was a memorable one for the Cyclones. The qualified for the state tournament for the first time in program history, under the leadership of first-year Head Coach Jamie Johnson. Denver's first-ever appearance in the Iowa High School Girls State Volleyball Tournament ended with a second-place finish.
Below are some photos of the championship match, played at Alliant Energy PowerHouse in Cedar Rapids.
Enter your number to get our free mobile app
Class 2A State Championship: Dike-New Hartford vs. Denver (2020)