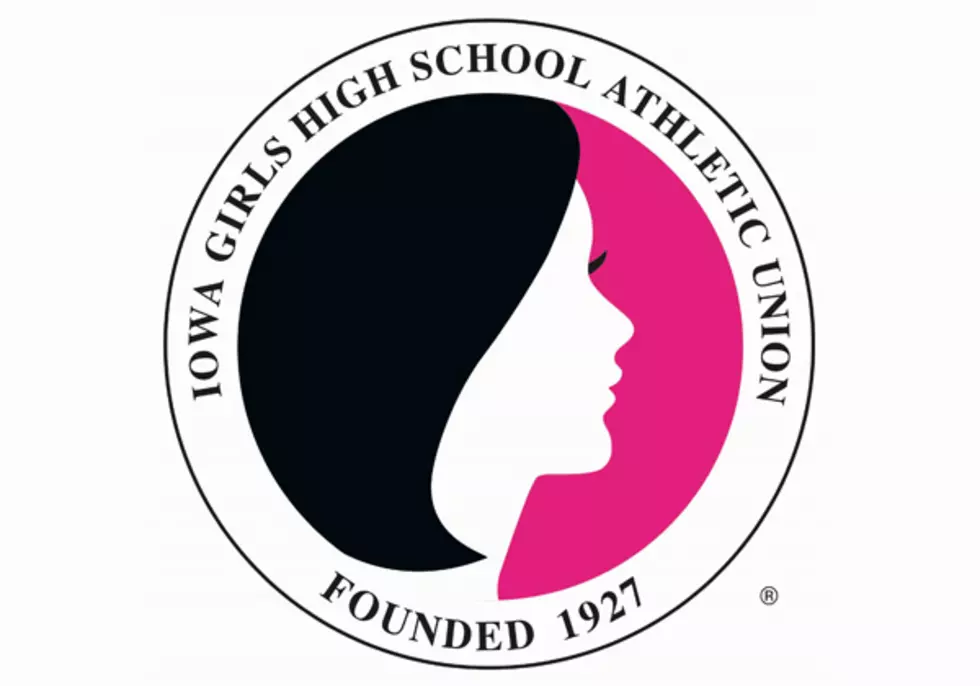 Cherokee Escapes Crestwood With Late Rally, 70-61
Source: Iowa Girls High School Athletic Union
A year ago, the Braves lost to eventual Class 3A champion Pocahontas Area 102-91 in a wild semifinal game. This time it was a stirring comeback that carried Cherokee to a 70-61 victory over Crestwood in a 3A quarterfinal matchup.
The fifth-ranked Braves trailed by 15 points in the first half and were down 11 midway through the third quarter before finishing the game with a 16-1 run to move into a semifinal game with top-ranked Sioux Center at 5 p.m. Thursday.
Paityn Hagberg led Cherokee with 23 points and MaKenna Carver scored 13. The Braves also got a solid performance from Payton Slaughter, who finished with 11 points, 12 rebounds and six steals. Olivia Dagel added nine points and 12 rebounds in the victory and sophomore Kassidy Pingel came off the bench to contribute eight points and seven rebounds.
Shannon Pisney led fourth-ranked Crestwood with 20 points and 11 rebounds. Brynn Boderman scored 14, while Ellie Friesen had 11 points, six rebounds and seven assists.
Trailing 47-36, Cherokee began chipping away by driving to the basket. Ten of the Braves final 12 baskets came on drives or layups and they also converted their free throws at the right time, making eight straight in the final 1:08.
Hagberg drove for the go-ahead bucket with 2:31 remaining and a key moment occurred a little more than a minute later with Cherokee holding a 62-61 lead. Slaughter missed two free throws with 1:12 to play, but she stole the ball right back, got fouled and swished a pair, starting the Braves' final flurry at the line.
Cherokee advances with a 21-3 record while Crestwood finishes 22-2. It was a second straight disappointing finish against Cherokee for Friesen and her sister Emily. The two Crestwood guards played last season at Osage, which lost to Cherokee 72-67 in the opening round.
---

Cherokee vs Crestwood
02/28/17 1:30 pm at Wells-Fargo Arena, Des Moines, Iowa

--------------------------------------------------------------------------------
VISITORS: Cherokee 21-3
                          TOT-FG  3-PT         REBOUNDS
## Player Name            FG-FGA FG-FGA FT-FTA OF DE TOT PF  TP  A TO BLK S MIN
11 Slaughter, Payton... *  4-16   0-5    3-6    4  8 12   4  11  2  3  0  6  31
13 Hagberg, Paityn..... *  8-18   3-10   4-5    0  1  1   4  23  1  0  0  3  32
14 Carver, MaKenna..... *  5-16   1-6    2-4    3  1  4   2  13  1  4  0  1  29
52 Williams, Lindsay... *  1-4    0-0    1-2    4  0  4   4   3  0  2  0  0  16
54 Dagel, Olivia....... *  1-2    0-0    7-7    3  9 12   3   9  0  2  1  0  25
22 Sleezer, Brianna....    1-3    1-1    0-0    1  3  4   0   3  0  1  0  0   5
30 Pingel, Kassidy.....    3-7    1-2    1-4    2  5  7   4   8  0  1  0  1  22
   TEAM................                         1  2  3
   Totals..............   23-66   6-24  18-28  18 29 47  21  70  4 13  1 11 160

TOTAL FG% 1st Half:  9-34 26.5%   2nd Half: 14-32 43.8%   Game: 34.8%  DEADB
3-Pt. FG% 1st Half:  4-14 28.6%   2nd Half:  2-10 20.0%   Game: 25.0%   REBS
F Throw % 1st Half:  7-11 63.6%   2nd Half: 11-17 64.7%   Game: 64.3%    4


--------------------------------------------------------------------------------
HOME TEAM: Crestwood 22-2
                          TOT-FG  3-PT         REBOUNDS
## Player Name            FG-FGA FG-FGA FT-FTA OF DE TOT PF  TP  A TO BLK S MIN
10 Friesen, Emily...... *  0-7    0-6    4-6    5  1  6   4   4  0  1  1  0  27
14 Pisney, Shannon..... *  8-16   1-3    3-4    2  9 11   4  20  3  8  1  3  32
22 Boderman, Brynn..... *  4-8    3-7    3-8    1  2  3   4  14  2  5  0  1  32
23 Friesen, Ellie...... *  4-14   2-4    1-1    1  5  6   4  11  7  6  0  2  32
32 Martinek, Tracey.... *  2-3    0-0    1-2    2  4  6   2   5  0  0  0  1  12
12 Thomas, Kaylee......    1-4    0-1    0-0    0  1  1   1   2  1  0  0  0   6
40 Goodman, Sharon.....    2-3    0-0    1-4    2  7  9   4   5  1  1  0  1  19
   TEAM................                            2  2
   Totals..............   21-55   6-21  13-25  13 31 44  23  61 14 21  2  8 160

TOTAL FG% 1st Half: 15-30 50.0%   2nd Half:  6-25 24.0%   Game: 38.2%  DEADB
3-Pt. FG% 1st Half:  4-10 40.0%   2nd Half:  2-11 18.2%   Game: 28.6%   REBS
F Throw % 1st Half:  3-5  60.0%   2nd Half: 10-20 50.0%   Game: 52.0%    4


--------------------------------------------------------------------------------
Officials: Randy Wiggins, Tim Osterhaus, Bryant Abel
Technical fouls: Cherokee-None. Crestwood-None.
Attendance:
Score by Periods                1st  2nd  3rd  4th   Total
Cherokee......................   17   12   15   26  -   70
Crestwood.....................   26   11   14   10  -   61