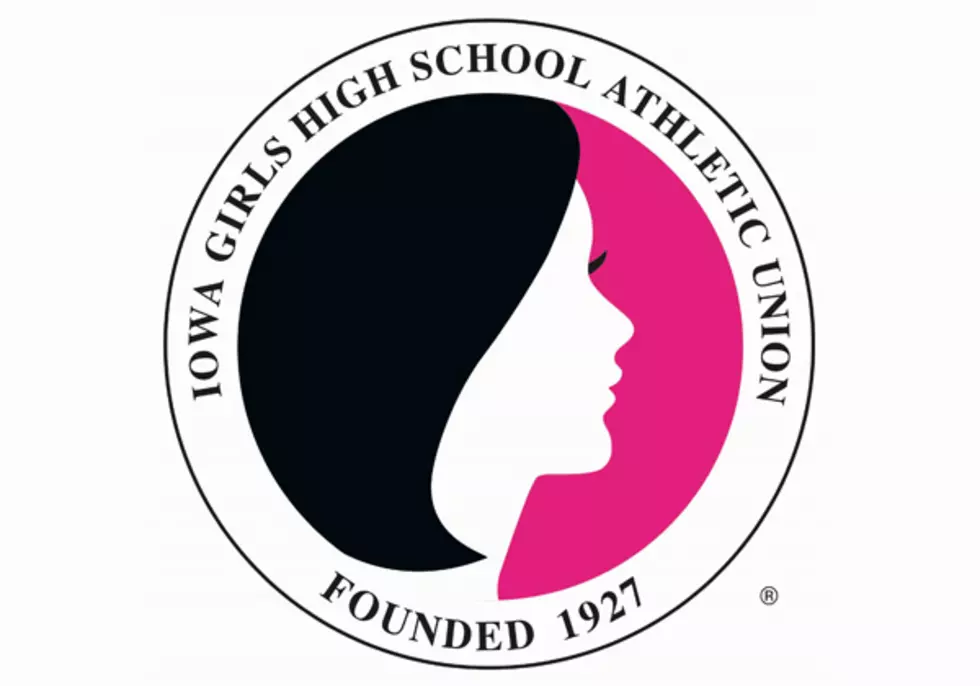 Center Point-Urbana Holds Off Assumption's Comeback
Source: Iowa Girls High School Athletic Union
Center Point-Urbana is back in the Class 3A semifinals, but it sure wasn't easy.
The third-ranked Stormin' Pointers had to hold off a late charge by No. 7 Davenport Assumption to pull out a 56-50 quarterfinal victory at the 2017 Iowa High School Girls State Basketball Tournament. An 18-point lead for the Pointers shrank to five before they steadied and knocked down the free throws they needed at the end.
Allison Wooldridge, who has committed to Wisconsin-Green Bay, had another strong game to spark the victory. The 6-foot junior put up 13 points, 12 rebounds, six assists and five blocks. She leads the team in all of those categories for the season, along with steals.
Olivia Brecht added 12 points for the Pointers, while Adrianna Katcher, LaMia Sisk and Callyn Fox each scored eight.
Brecht and Sisk are juniors, Fox is a sophomore and Katcher is a freshman. The Pointers have only one senior.
Jasmine Harris led Assumption with 24 points -- 22 in the second half. Harris, who has signed with Sioux Falls University, missed all eight of her shots in the first half, then went 8-for-14 from the field over the final two quarters.
Grace Jacobson added 10 points for the Knights and Bailey Brown scored nine.
Assumption made things interesting after trailing 40-22 late in the third quarter. With Harris finally starting to connect, the Knights drew to 50-45 with less than a minute to play. But the Pointers sank six of eight free throws to keep the Knights from getting any closer.
Center Point-Urbana takes a 22-3 record into a semifinal game at 6:45 p.m. Thursday. Assumption finishes 16-8, with five of those losses coming to Class 5A teams and two others at the hands of 4A state tournament qualifiers.
---

Davenport Assumption vs Center Point-Urbana
02/28/17 3:15 pm at Wells-Fargo Arena, Des Moines, Iowa

--------------------------------------------------------------------------------
VISITORS: Davenport Assumption 16-8
                          TOT-FG  3-PT         REBOUNDS
## Player Name            FG-FGA FG-FGA FT-FTA OF DE TOT PF  TP  A TO BLK S MIN
24 Wislander, Hannah... f  0-4    0-0    0-0    1  1  2   3   0  1  0  0  0  18
02 Brown, Bailey....... g  3-10   2-6    1-2    0  3  3   4   9  0  2  0  0  25
05 Gervase, Molly...... g  1-1    1-1    0-0    0  0  0   2   3  0  3  0  0  20
10 Fennelly, Liz....... g  1-3    0-0    0-0    1  2  3   0   2  1  0  0  0  15
12 Harris, Jasmine..... g  8-22   2-7    6-6    2  3  5   0  24  0  0  0  3  29
03 Crosby, Caroline....    0-0    0-0    0-0    0  0  0   0   0  0  0  0  0   1
13 Rohif, Grace........    0-2    0-1    0-0    1  2  3   0   0  0  1  0  0   8
20 Brown, Carlye.......    0-2    0-1    2-2    0  1  1   2   2  1  1  0  0   7
23 Timmons, Allie......    0-6    0-2    0-0    2  2  4   4   0  0  0  1  1  14
33 Jacobsen, Grace.....    4-9    0-2    2-2    4  4  8   2  10  0  2  0  3  23
   TEAM................                         3     3             1
   Totals..............   17-59   5-20  11-12  14 18 32  17  50  3 10  1  7 160

TOTAL FG% 1st Half:  4-27 14.8%   2nd Half: 13-32 40.6%   Game: 28.8%  DEADB
3-Pt. FG% 1st Half:  1-8  12.5%   2nd Half:  4-12 33.3%   Game: 25.0%   REBS
F Throw % 1st Half:  4-4  100 %   2nd Half:  7-8  87.5%   Game: 91.7%   1,1


--------------------------------------------------------------------------------
HOME TEAM: Center Point-Urbana 22-3
                          TOT-FG  3-PT         REBOUNDS
## Player Name            FG-FGA FG-FGA FT-FTA OF DE TOT PF  TP  A TO BLK S MIN
34 Wooldridge, Allison. f  2-6    0-1    9-12   2  9 11   2  13  6  6  5  0  26
44 Fox, Callyn......... f  3-7    0-0    2-2    2  3  5   1   8  0  1  0  1  23
04 Katcher, Adrianna... g  2-8    1-3    3-4    1  5  6   1   8  0  0  1  0  26
23 Sisk, LaMia......... g  3-3    2-2    0-0    1  3  4   4   8  0  3  0  0  20
25 Brecht, Olivia...... g  3-6    2-4    4-6    0  2  2   1  12  1  0  0  2  21
05 Milliken, Karly.....    1-2    0-1    0-0    1  3  4   0   2  2  2  0  0  16
10 Dufoe, Raegan.......    0-0    0-0    2-2    0  0  0   3   2  0  1  0  0   9
22 Willson, Madie......    1-5    1-3    0-0    0  0  0   1   3  0  3  0  2  11
32 Boevers, Sydney.....    0-1    0-0    0-0    0  1  1   1   0  0  0  0  0   8
   TEAM................                            2  2
   Totals..............   15-38   6-14  20-26   7 28 35  14  56  9 16  6  5 160

TOTAL FG% 1st Half:  7-17 41.2%   2nd Half:  8-21 38.1%   Game: 39.5%  DEADB
3-Pt. FG% 1st Half:  4-9  44.4%   2nd Half:  2-5  40.0%   Game: 42.9%   REBS
F Throw % 1st Half:  6-8  75.0%   2nd Half: 14-18 77.8%   Game: 76.9%    3


--------------------------------------------------------------------------------
Officials: Josh Mara, Drew Matzen, Keith Lehrman
Technical fouls: Davenport Assumption-None. Center Point-Urbana-None.
Attendance:
Score by Periods                1st  2nd  3rd  4th   Total
Davenport Assumption..........    5    8   15   22  -   50
Center Point-Urbana...........    8   16   16   16  -   56