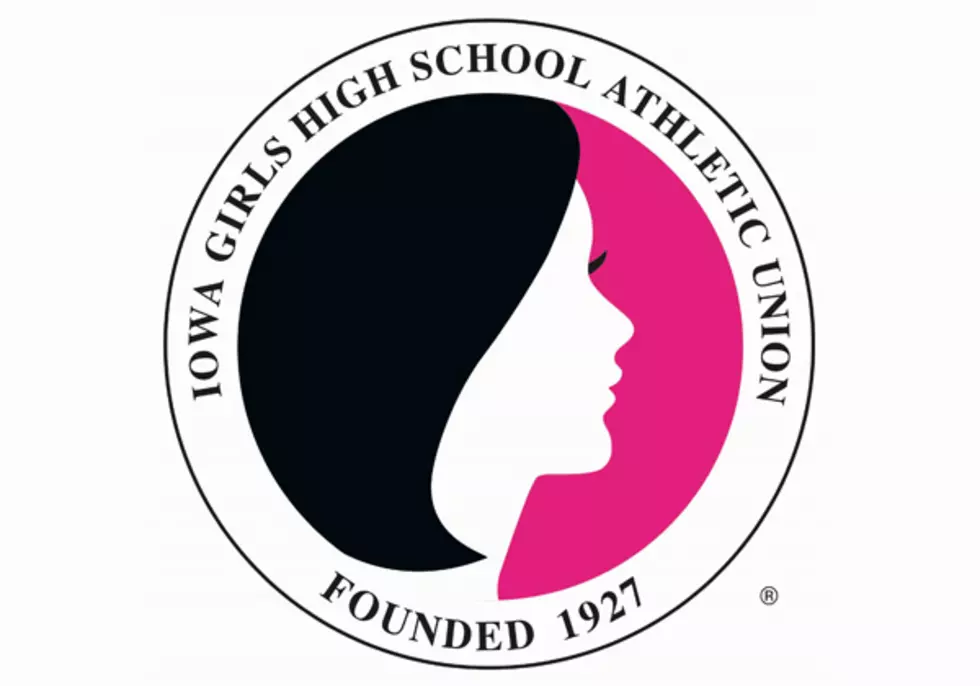 Cedar Falls Stuns Indianola For Berth In Title Game
Source: Iowa Girls High School Athletic Union
Rebounding and defense can do a lot for a basketball team and those two areas were critical in a big upset for Cedar Falls.
It will be the fifth time in the finals for Cedar Falls, which won titles in 1991 and 2001. The Tigers will try for No. 3 at 8 p.m. Saturday.
The victory comes two weeks after Cedar Falls lost to Indianola 57-47 in the regular season finale.
Ally Conrad led Cedar Falls with 11 points, six rebounds and five steals. Cynthia Wolf also scored 11 and did a good job defensively on Indianola junior Grace Berg, who has committed to Missouri. Hailey Paup scored 10 for the Tigers, who built a 32-23 rebounding edge and outscored the Indians 12-0 on second-chance points.
The Tigers held Berg and sophomore Maggie McGraw, an Iowa State commit, to a combined 19 points -- half what they usually produce. Berg scored 11 and McGraw finished with eight. Madie Sorensen also had 11 for the Indians, who lost for the first time in 25 games.
Cedar Falls went ahead for good late in the first quarter, stretched its lead to 10 with a 5-0 second-quarter burst, then fended off every Indianola challenge.
Indianola cut the lead to one in the third quarter, only to have the Tigers go back up by nine. The Indians made one more charge and twice got within two points, the second time at 46-44 when Berg drove for a hoop with 2:01 remaining.
But Cedar Falls, now 23-2, choked off the Indians the rest of the way. The 6-foot-3 Wolf blocked Indianola's final shot and Conrad sank two free throws with nine-tenths of a second left to finish it off.
---

Cedar Falls vs Indianola
03/03/17 1:30 p.m. at Des Moines, Iowa - Wells Fargo Arena

--------------------------------------------------------------------------------
VISITORS: Cedar Falls 23-2
                          TOT-FG  3-PT         REBOUNDS
## Player Name            FG-FGA FG-FGA FT-FTA OF DE TOT PF  TP  A TO BLK S MIN
11 Johnson, Reilly..... *  0-0    0-0    0-0    0  3  3   2   0  1  1  0  0   9
15 Johnson, Calli...... *  2-5    2-5    0-0    0  1  1   2   6  1  0  0  0  19
25 Conrad, Ally........ *  2-9    0-1    7-8    3  3  6   1  11  1  1  0  5  32
33 Barney, Kiana....... *  3-12   0-3    0-0    2  3  5   0   6  2  6  1  0  32
51 Wolf, Cynthia....... *  5-6    1-2    0-1    0  5  5   2  11  2  0  1  0  25
03 Green, Emerson......    1-7    0-1    0-0    0  1  1   3   2  2  2  0  2  23
13 Remmert, Olivia.....    1-3    0-0    0-0    0  3  3   0   2  0  0  0  0  13
41 Paup, Hailey........    4-5    0-0    2-3    4  1  5   1  10  0  0  0  0   7
   TEAM................                         3     3
   Totals..............   18-47   3-12   9-12  12 20 32  11  48  9 10  2  7 160

TOTAL FG% 1st Half:  9-31 29.0%   2nd Half:  9-16 56.3%   Game: 38.3%  DEADB
3-Pt. FG% 1st Half:  1-7  14.3%   2nd Half:  2-5  40.0%   Game: 25.0%   REBS
F Throw % 1st Half:  2-3  66.7%   2nd Half:  7-9  77.8%   Game: 75.0%   0,1


--------------------------------------------------------------------------------
HOME TEAM: Indianola 24-1
                          TOT-FG  3-PT         REBOUNDS
## Player Name            FG-FGA FG-FGA FT-FTA OF DE TOT PF  TP  A TO BLK S MIN
13 McGraw, Maggie...... *  3-9    2-4    0-0    0  0  0   2   8  1  5  1  1  30
14 Sorensen, Madie..... *  3-5    3-5    2-2    0  5  5   3  11  5  1  0  1  28
15 Kuehl, Carrington... *  2-3    2-3    0-0    0  0  0   3   6  1  1  0  0  27
34 Vesey, Haley........ *  2-8    1-5    1-2    2  3  5   2   6  0  2  1  1  30
43 Berg, Grace......... *  3-10   1-2    4-6    2  4  6   3  11  3  4  0  0  32
31 Hoyman, Anna........    0-1    0-0    0-0    0  3  3   0   0  0  1  0  0   4
32 Jensen, Ellie.......    1-1    0-0    0-0    0  0  0   2   2  1  0  0  0   9
   TEAM................                            4  4
   Totals..............   14-37   9-19   7-10   4 19 23  15  44 11 14  2  3 160

TOTAL FG% 1st Half:  6-16 37.5%   2nd Half:  8-21 38.1%   Game: 37.8%  DEADB
3-Pt. FG% 1st Half:  4-7  57.1%   2nd Half:  5-12 41.7%   Game: 47.4%   REBS
F Throw % 1st Half:  1-2  50.0%   2nd Half:  6-8  75.0%   Game: 70.0%   1,1


--------------------------------------------------------------------------------
Officials: Royce Ranniger, Jason Slaughter, Marlin Schoonhoven
Technical fouls: Cedar Falls-None. Indianola-None.
Attendance:
Score by Periods                1st  2nd  3rd  4th   Total
Cedar Falls...................   12    9   16   11  -   48
Indianola.....................    7   10   14   13  -   44