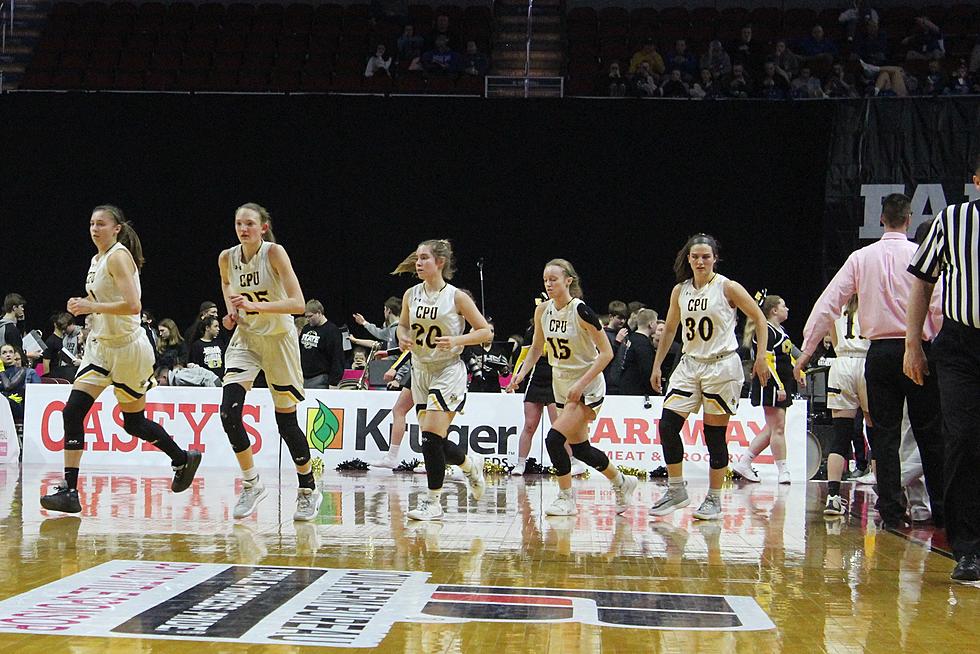 Battle Of Defending State Champions: North Scott Beats CPU
Photo By: Elwin Huffman - Townsquare Media
Grace Boffeli and Presley Case delivered.
The two seniors combined for 12 straight North Scott points in the second half to produce an insurmountable lead and the unbeaten Lancers went on to beat Center Point-Urbana 40-32 in a matchup of state champions from last year.
North Scott, the defending champion, will take a 25-0 record into Saturday's 3 PM final with a chance to win its third title in four years. Center Point-Urbana moved up a class after winning the 3A crown a year ago and battled the top-seeded Lancers to a draw before the late surge by Boffeli and Case. Boffeli, who'll play at Northern Iowa next season, finished with 17 points on 8-for-10 shooting, grabbed 14 rebounds, blocked two shots and made two steals. The 5-foot-4 Case, a quick and steady playmaker, scored 10 points while playing all 32 minutes.
Sophomore Ryley Goebel led Center Point-Urbana with 15 points and nine rebounds. Bryn Hadsall scored six for the Stormin' Pointers and Adrianna Katcher, a Southern Illinois recruit, closed out an outstanding high school career with three points, four rebounds and three assists.
North Scott was clinging to a 25-24 lead in the third quarter when Boffeli caught the ball in the low post and converted a three-point play off a turnaround shot. Katcher answered with her only basket, a 3-pointer just before the buzzer ending the quarter to make it a one-point game again. But that was the last time it was that close. Case buried a 3 from well beyond the arc at the top of the key, Adriane Latham fed Boffeli for a basket inside, Case drove for a bucket and Boffeli scored again in the paint. That made it 37-30 and all the Lancers had to do after that was made their free throws, which they did.
Center Point-Urbana kept the game at the pace it needed but managed only 11 field goals and went too many long stretches without a basket. The Stormin' Pointers, who finish 22-3, made the tournament for the fifth straight year and reached the semifinals each time.
Story By: Chuck Schoffner - Iowa Girls High School Athletic Union

Enter your number to get our free mobile app