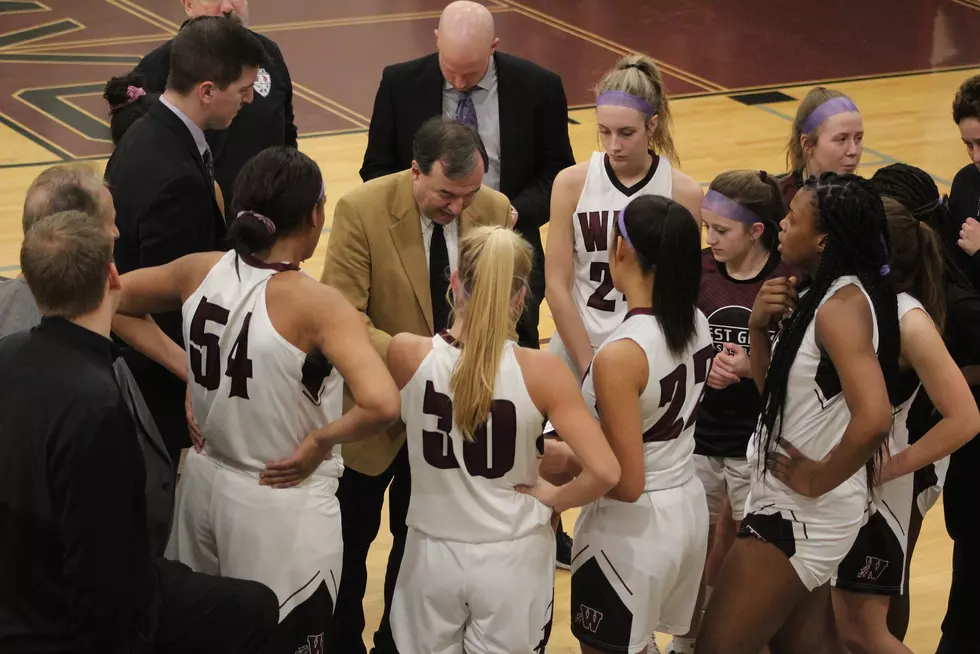 2019-20 Iowa High School Girls Basketball Rankings – Poll 10
Photo By: Elwin Huffman - Townsquare Media
Here is this week's Iowa Girls High School Athletic Union (IGHSAU) basketball poll.
The 10th rankings of the season feature eight teams from the Cedar Valley and northeast Iowa.
Dike-New Hartford (17-1) held on to the top spot in the Class 3A poll for a fourth-straight week and clinched the North Iowa Cedar League West Division championship with a victory Monday night. Crestwood (15-3) suffered its third loss of the season in the past week and fell from No. 2 to No. 5.
In Class 5A, there was no movement for either Cedar Falls (13-4) or Waterloo West (14-4). The Tigers and Wahawks stayed at No. 7 and No. 8, respectively.
There was some movement for the two area teams ranked in Class 4A. Waverly-Shell Rock (15-2) jumped three spots from No. 9 to No. 6. Previously unbeaten Center Point-Urbana (17-1) fell one spot from No. 3 to No. 4 after suffering its first loss of the season.
Other rated teams from northeast Iowa are Central Community (17-3), which fell one spot from No. 14 to No. 15 in Class 1A, and MFL-Mar-Mac (18-2), which moved up one position in Class 2A, climbing from No. 5 to No. 4
Two teams ranked last week, East Buchanan (No. 11, Class 1A) and Jesup (No. 14, Class 3A), both dropped out of the top 15 this week.
The latest poll was released by the IGHSAU Wednesday afternoon (Feb. 5, 2020).
---
| | | | |
| --- | --- | --- | --- |
| | School | Record | LW |
| 1 | Newell-Fonda | 18-0 | 1 |
| 2 | Marquette Catholic | 17-1 | 2 |
| 3 | North Mahaska | 15-2 | 3 |
| 4 | Algona Bishop Garrigan | 18-1 | 4 |
| 5 | Montezuma | 17-1 | 5 |
| 6 | MMCRU | 18-0 | 6 |
| 7 | Saint Angsar | 16-2 | 7 |
| 8 | Exira/Elk Horn-Kimballton | 18-1 | 8 |
| 9 | Kingsley-Pierson | 16-3 | 13 |
| 10 | Springville | 16-3 | 15 |
| 11 | Burlington Notre Dame | 16-3 | 9 |
| 12 | Woodbury Central | 14-4 | 10 |
| 13 | Colo-Nesco | 15-3 | NR |
| 14 | Central Decatur | 14-3 | NR |
| 15 | Central Elkader | 17-3 | 14 |
Dropped Out: East Buchanan (11), Council Bluffs St. Albert (12)
| | | | |
| --- | --- | --- | --- |
| | School | Record | LW |
| 1 | Cascade | 18-0 | 1 |
| 2 | West Hancock | 21-0 | 2 |
| 3 | North Linn | 17-1 | 3 |
| 4 | MFL-Mar-Mac | 18-2 | 5 |
| 5 | Osage | 16-2 | 4 |
| 6 | West Branch | 16-3 | 9 |
| 7 | Mediapolis | 18-1 | 10 |
| 8 | Western Christian | 12-7 | 7 |
| 9 | Maquoketa Valley | 16-3 | 12 |
| 10 | Van Buren | 18-3 | 6 |
| 11 | Logan-Magnolia | 16-2 | 14 |
| 12 | AHSTW | 16-2 | 8 |
| 13 | Panorama | 15-2 | 13 |
| 14 | Emmetsburg | 14-4 | 15 |
| 15 | Nodaway Valley | 17-2 | NR |
Dropped Out: Mount Ayr (11)
| | | | |
| --- | --- | --- | --- |
| | School | Record | LW |
| 1 | Dike-New Hartford | 17-1 | 1 |
| 2 | Bishop Heelan | 14-3 | 3 |
| 3 | Roland-Story | 15-2 | 5 |
| 4 | Clear Lake | 16-2 | 4 |
| 5 | Crestwood | 15-3 | 2 |
| 6 | Des Moines Christian | 17-1 | 7 |
| 7 | Red Oak | 15-3 | 8 |
| 8 | North Polk | 13-5 | 6 |
| 9 | Okoboji | 18-1 | 9 |
| 10 | Davenport Assumption | 12-5 | 12 |
| 11 | West Liberty | 16-3 | 12 |
| 12 | Monticello | 14-4 | 15 |
| 13 | Cherokee | 14-5 | NR |
| 14 | West Marshall | 15-2 | 13 |
| 15 | Hampton-Dumont-CAL | 16-2 | NR |
Dropped Out: West Burlington (10), Jesup (14)
| | | | |
| --- | --- | --- | --- |
| | | | |
| | North Scott | | |
| | Marion | | |
| | Glenwood | | 4 |
| | Center Point-Urbana | 17-1 | 3 |
| | Ballard | 16-1 | 5 |
| | Waverly-Shell Rock | 15-2 | 9 |
| | Lewis Central | 12-5 | 7 |
| | Gilbert | | 8 |
| | Cedar Rapids Xavier | 16-6 | 6 |
| | Central DeWitt | 15-1 | 10 |
| | Grinnell | | 11 |
| | Clear Creek-Amana | 14-3 | |
| | Mason City | 9-9 | 12 |
| | Keokuk | 14-3 | 15 |
| | Knoxville | 17-1 | NR |
Dropped Out: Bondurant-Farrar (14)
| | | | |
| --- | --- | --- | --- |
| | | | |
| | Iowa City High | | 1 |
| | Dowling Catholic | 16-3 | 2 |
| | Johnston | | 4 |
| | Waukee | 15-2 | 5 |
| | Southeast Polk | 17-1 | 6 |
| | Cedar Rapids Prairie | | 3 |
| | Cedar Falls | | 7 |
| | Waterloo West | | 8 |
| | Urbandale | | 9 |
| | Davenport North | | |
| | West Des Moines Valley | 11-7 | 11 |
| | Ankeny Centennial | 9-9 | 13 |
| | Ames | 9-9 | 12 |
| | Council Bluffs Abraham Lincoln | 14-4 | 14 |
| | Sioux City East | 13-5 | 15 |
Enter your number to get our free mobile app