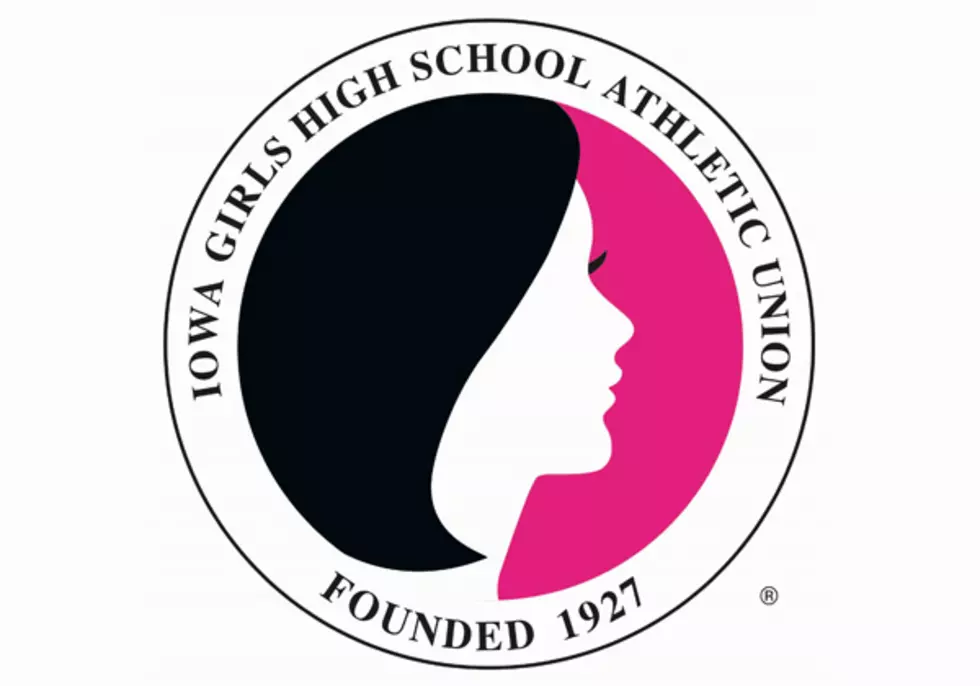 North Scott Beats Xavier; Advances To 4A Title Game
Source: Iowa Girls High School Athletic Union
Freshman Grace Boffeli scored 17 points, senior Karli Rucker had 14 and the eighth-ranked Lancers used a big advantage at the free throw line to beat No. 6 Cedar Rapids Xavier 58-49 to start the 4A semifinal round.
Another youngster, sophomore Rylie Rucker, added 11 points to help North Scott reach the finals for the first time since consecutive appearances in 1986 and 1987, when it was a single-class tournament.
The Lancers attacked the basket aggressively and crashed the boards to snare 20 offensive rebounds, often drawing fouls on putback attempts. North Scott made 28 of 34 free throws, with the Rucker sisters combining to go 16-of-19.
Xavier went 9-for-11 on free throws.
North Scott finished with a 38-21 rebounding edge and outscored the Saints 18-8 in second-chance points.
Lexi Noonan scored 18 of Xavier's final 22 points and finished with 20. Amelia Ivester added eight points for the Saints and Kylie Brown scored seven.
North Scott led by as many as 10 points in the first half but did not take the lead for good until Boffeli converted a three-point play on a putback, making it 37-36 heading into the fourth quarter.
The Lancers then steadily pulled away, getting a couple of key baskets and making 17 of their last 18 free throws.
North Scott lost in its two previous trips to the finals. The Lancers will try for their first title when they take a 20-5 record into the championship game at 6 p.m. Saturday. Xavier finishes 18-7 after its 12th state tournament trip. Five of the Saints' losses were to qualifiers in the Class 5A state tournament.
---

Cedar Rapids Xavier vs North Scott
03/03/17 10:00 AM at Wells Fargo Arena, Des Moines, IA

--------------------------------------------------------------------------------
VISITORS: Cedar Rapids Xavier 18-7
                          TOT-FG  3-PT         REBOUNDS
## Player Name            FG-FGA FG-FGA FT-FTA OF DE TOT PF  TP  A TO BLK S MIN
01 Stanek, Kiana....... *  0-5    0-3    1-2    0  1  1   5   1  1  2  0  2  31
03 Daniels, Caitlynn... *  2-4    1-3    0-0    0  1  1   2   5  5  5  2  5  29
12 Brown, Kylie........ *  3-7    1-3    0-0    1  3  4   4   7  2  4  0  0  28
13 Noonan, Lexi........ *  7-13   2-2    4-4    0  4  4   4  20  3  6  2  3  25
34 Ivester, Amelia..... *  4-6    0-0    0-0    2  0  2   4   8  0  0  4  0  17
02 Hoffman, Addy.......    0-1    0-1    0-0    1  0  1   0   0  0  0  0  0  0+
10 Cooling, Lauren.....    0-1    0-0    0-0    0  0  0   0   0  0  0  0  0   1
23 Steffen, Maria......    1-1    0-0    2-2    0  2  2   3   4  0  0  0  0   7
24 Callahan, Jess......    0-0    0-0    0-0    0  0  0   0   0  0  0  0  0  0+
32 Stovie, Maddix......    1-3    0-0    2-3    2  1  3   2   4  2  1  0  0  14
40 Jasper, Emily.......    0-2    0-1    0-0    1  1  2   0   0  0  0  0  0   8
   TEAM................                         1  1  2
   Totals..............   18-43   4-13   9-11   8 14 22  24  49 13 18  8 10 160

TOTAL FG% 1st Half:  8-20 40.0%   2nd Half: 10-23 43.5%   Game: 41.9%  DEADB
3-Pt. FG% 1st Half:  2-5  40.0%   2nd Half:  2-8  25.0%   Game: 30.8%   REBS
F Throw % 1st Half:  5-7  71.4%   2nd Half:  4-4  100 %   Game: 81.8%   0,1


--------------------------------------------------------------------------------
HOME TEAM: North Scott 20-5
                          TOT-FG  3-PT         REBOUNDS
## Player Name            FG-FGA FG-FGA FT-FTA OF DE TOT PF  TP  A TO BLK S MIN
02 Case, Presley....... *  1-6    0-2    0-0    2  3  5   1   2  3  1  0  0  24
04 Rucker, Karli....... *  3-12   1-2    7-8    0  3  3   3  14  4  3  0  4  32
14 Bogner, Savannah.... *  0-2    0-0    0-0    1  0  1   3   0  0  2  0  0   8
20 Rucker, Rylie....... *  1-9    0-4    9-11   5  3  8   1  11  0  2  0  1  31
42 Boffeli, Grace...... *  6-8    0-0    5-7    7  2  9   1  17  0  4  0  0  30
10 Loussaert, Erica....    2-5    1-3    4-4    0  2  2   3   9  0  2  1  1  18
40 Moeller, Hannah.....    1-4    0-3    3-4    1  1  2   4   5  1  2  1  1  17
   TEAM................                         4  4  8
   Totals..............   14-46   2-14  28-34  20 18 38  16  58  8 16  2  7 160

TOTAL FG% 1st Half:  8-26 30.8%   2nd Half:  6-20 30.0%   Game: 30.4%  DEADB
3-Pt. FG% 1st Half:  2-7  28.6%   2nd Half:  0-7   0.0%   Game: 14.3%   REBS
F Throw % 1st Half: 10-15 66.7%   2nd Half: 18-19 94.7%   Game: 82.4%   3,1


--------------------------------------------------------------------------------
Officials: Brett Johnson, Curt Strouth, Blake Reinke
Technical fouls: Cedar Rapids Xavier-None. North Scott-None.
Attendance:
Score by Periods                1st  2nd  3rd  4th   Total
Cedar Rapids Xavier...........   12   11   13   13  -   49
North Scott...................   11   17    9   21  -   58
FOULED OUT: XAVIER #1 Stanek at 21.9 in the 4th