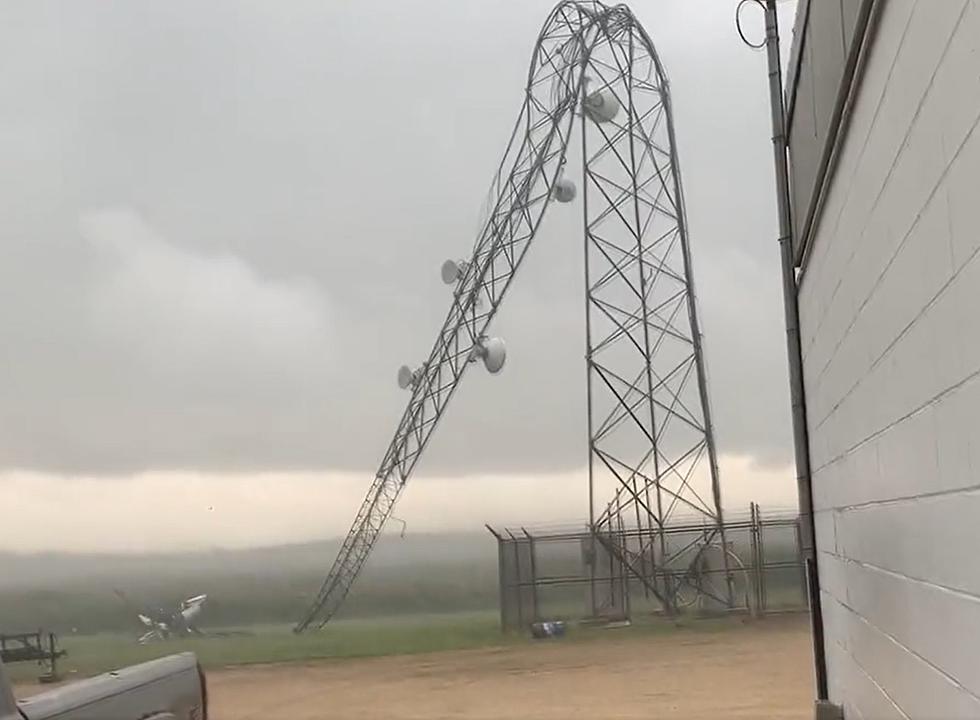 (WATCH) Tower in Iowa was Bent in Half During Tuesday's Storms
ISCN via Twitter
Strong thunderstorms that moved across northeast Iowa on Tuesday afternoon caused damage to homes, knocked down power lines, and even toppled over a tower.
Iowa Environmental Mesonet
The winds on Tuesday were strong enough to knock over this internet tower on Highway 151 between Monticello and Cascade. This lattice tower measured at 134.5 tall.  Jerry Pasker was filming the storm at the time the tower was bent in half:
Very strong wind gusts were observed along Highway 20 from Fairbank to Hazelton and to Manchester, where numerous reports of damage to trees, homes, and power outages were received.
At 2:50 PM on Tuesday, 70 MPH winds were reported Southeast of Hazleton, uprooting several trees. Golf ball-sized hail was observed near the Manchester airport. 100 MPH winds were reported from the Oelwein airport where a hog confinement building sustained roof significant damage
The most rain reported from these storms came from Williamsburg with 3.45".
Straight-line winds appear to have caused plenty of damage at Wapsie Valley High School, where bleachers behind home plate at the Warriors' baseball field were left mangled and bent. Other bleachers along the third-base line were blown nearly 200 feet over the fence in center field.
North of the school's rural campus, Iowa Highway 3 was closed for a time after high winds overturned a semi.
In Fairbank, the storm knocked down multiple trees and power lines throughout the city and at Island Park. Fayette County sheriff's officials reported that multiple trees were also knocked down in and around the city of Oran.
More photos of Tuesday's storm damage can be seen below or HERE.
Northeast Iowa Storm Damage - Tuesday, Aug. 24, 2021
Strong thunderstorms that moved across northeast Iowa caused damage and knocked down power lines and trees Tuesday afternoon. Areas of Bremer and Fayette counties appear to have been hit the hardest.
Another UFO Sighting in Evansdale, Iowa - Photos
Keep scrolling and see what you think - is it a UFO or not?