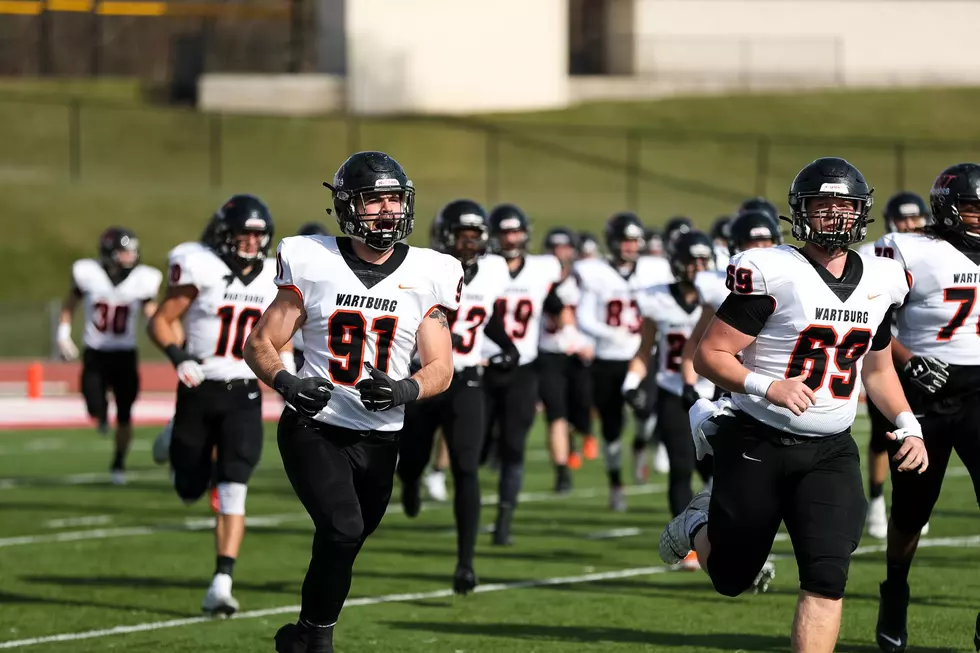 Wartburg Releases 2021 Football Schedule
Courtesy: Wartburg Athletics (Julie Drewes)
When Wartburg opens its 2021 football season this fall, more than 21 months -- or 540 days -- will have passed between games.
The Knights haven't played since Nov. 30, 2019, when they dropped a 41-28 decision at Wisconsin-Whitewater in the second-round of the NCAA Division III playoffs. Wartburg's 2020 schedule was postponed to the spring of this year, but all three of the team's American Rivers Conference games were canceled due to health and safety concerns related to COVID-19.
Wartburg finished 2019 with its 27th consecutive winning season while earning a share of its third consecutive A-R-C championship, going 7-1 in league play. The Knights were unbeaten in Waverly and ended the season with a 10-2 overall mark, reaching the NCAA playoffs for the 14th time in program history.
This week, Wartburg athletic director and football head coach Rick Willis released his team's 2021 football schedule. It shows the Knights opening their upcoming campaign with a night game at home on Sept. 4 against Monmouth (Ill.).
In the years they've opened their home schedule in an illuminated Walston-Hoover Stadium, the Knights have been unbeatable. Wartburg is 12-0 in night games played at the facility, since it was built in 2001.
The Knights play their other non-conference game on the road the following week. On Sept. 11, they face Gustavus Adolphus in St. Peter, Minn.
Wartburg's third game of the season against Coe on Sept. 25 is the conference opener. The Knights' annual Homecoming game is Oct. 9 against Loras.
WARTBURG'S 2021 FOOTBALL SCHEDULE
Sept. 4
vs. Monmouth (Ill.) (Community Night)
7:00 PM
Sept. 11
at Gustavus Adolphus
1:00 PM
Sept. 25
vs. Coe*
 
 
 
1:00 PM
Oct. 2
at Central*
1:00 PM
Oct. 9
vs. Loras* (Homecoming)
 
1:00 PM
Oct. 16
at Luther*
1:00 PM
Oct. 23
vs. Dubuque*
 
 
1:00 PM
Oct. 30
at Buena Vista*
1:00 PM
Nov. 6
vs. Nebraska Wesleyan*
 
1:00 PM
Nov. 13
at Simpson*
1:00 PM
BOLD:
Home Games
( * )
American Rivers Conference Games
Iowa Born Sports Stars
What do each of these stellar athletes have in common? They all hail from the Hawkeye State.
TACKLE THESE: Check Out the Best Uniforms In Each NFL Team's History