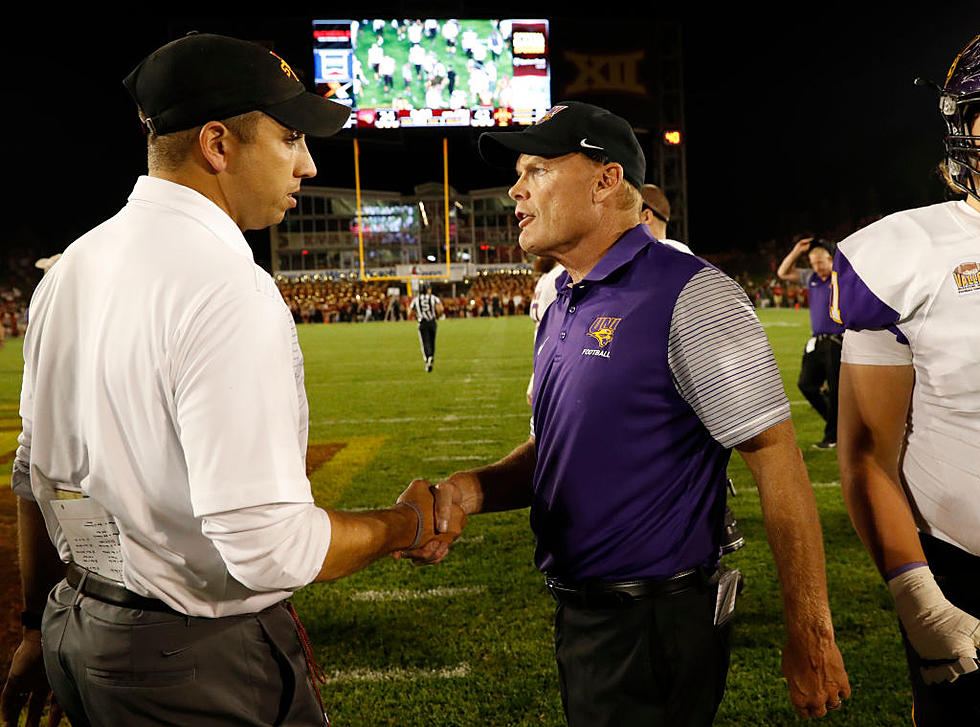 UNI Senior Who Never Quit Has Earned A Starting Role [VIDEO]
Getty Images
While some college football games have already been played for the 2023-2024 season, this weekend is when a vast majority of colleges around the country begin their college football seasons.
This Saturday (Sept 2), the Iowa Hawkeyes will take on Utah State and the UNI Panthers will head into Ames to take on the Cyclones. This Saturday will be a monumental moment for a 6th year senior at UNI, who has finally earned a starting role for the Panthers.
When Chase Arends arrived on the UNI campus 5 years ago, he was not the prototypical starting offensive linemen college coaches are looking for. Mark Farley, head coach of the UNI Panther football team, recalls 5 years ago when he went to watch Chase at a high school camp workout. He told KWWL that even tho Chase might've been undersized, he never got beat.
So I'm looking at him going, 'Too short, too small, too whatever,' you know, and you're always looking for the Spencer Browns, the Trevor Pennings of the world. Well, there's Chase. Chase never got beat. We had pass rush after pass and here's this little guy from Dike. I shouldn't call him that, because he'll be mad I called him a little guy. He's a big guy now. He never got beat in camp.
Chase earned a spot on the UNI football program as a walk-on and for the past 5 years, he's been waiting for his chance to join the starting lineup. This season, the time has come as Chase will be the opening day starter, at center, for the Panthers. Not bad for a walk-on, 6th-year senior, from Dike, Iowa.
Could you imagine waiting year after year after year to finally get your chance? After all of that time has passed, you might never know if you're going to be added to the starting lineup. I don't think any of his teammates, coaches, family, or friends would've blamed him if he just wanted to graduate and move on from his college football career. Chase never gave up and his hard work has finally paid off.
It appears as if Chase has a pretty good head on his shoulders. He spoke to KWWL and all he cared about was the team winning games. He said
A couple of years ago I called Farley because I had this same question about playing. I told Farley I don't care if I play left cheerleader. As long as we win games, that's all I care about.
Chase is the definition of working hard, being patient, and being a good teammate. Most athletes who go on to play college sports are normally some of the best high school athletes to come out of their state. When you play high-level college sports, you're used to playing all of the time and being one of the best players on your team. It can be a pretty big reality check when you get to college and there are players bigger, faster, stronger, and better than you.
That never stopped Chase. He put his head down, worked hard in the weight room, and is a fabulous example for anyone about what being a good teammate means. To make things even sweeter, not only has Chase been named the starting center, but he has also been elected a team captain.
Congratulations Chase! Good luck to the Panthers this season.
Iowa Born Sports Stars
What do each of these stellar athletes have in common? They all hail from the Hawkeye State.
10 Commandments of Living in the Cedar Valley
It doesn't matter if you're here for good, just visiting, or a former resident. You know these 10 C.V. commandments.