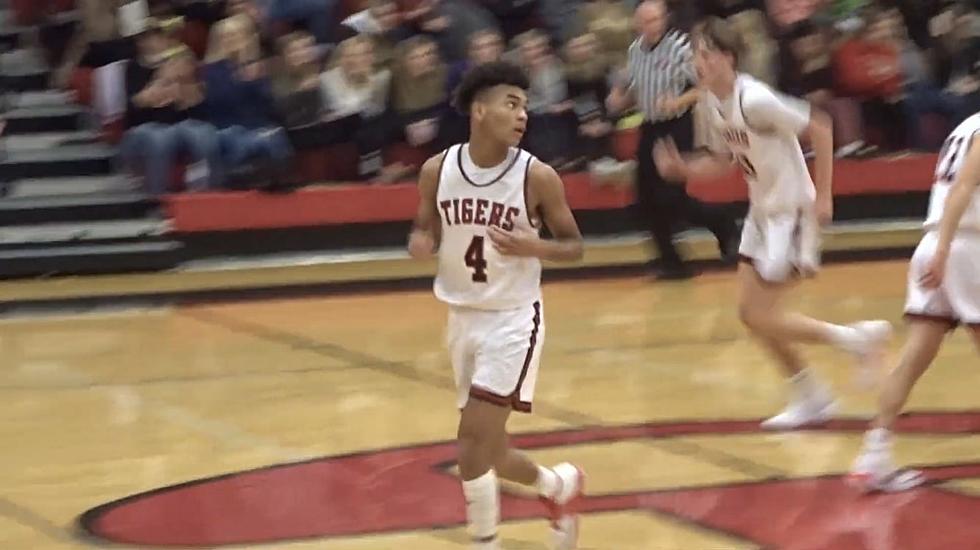 UNI Commit Leads Cedar Falls to Fifth Straight State Tournament
Mike Sorenson YouTube Channel
Trey Campbell decided in August of last year that he'd join the recent list of Cedar Falls High School basketball products to stay home and play for the UNI Panthers.
The greatest player to come out of the program is AJ Green, who has since been followed to UNI by players like Logan Wolf (who now strictly plays football at UNI), Landon Wolf, and Chase Courbat.
With Campbell deciding to don the purple and gold for his collegiate career, the future remains bright for the Panther basketball squad in years to come.
There are many reasons to be excited about what Campbell will bring to the program at UNI, but one thing Panther fans can be assured of is that the point guard knows how to win.
Like head coach for UNI Ben Jacobson said in a press release when Trey signed:
Trey plays the game with terrific pace, great timing, and a high level of skill. His ability to make the game easier for teammates is one of his best qualities and one that we look forward to adding to our team. Trey also has become a guy who can score at all three levels. ... Trey has done a lot of winning at Cedar Falls High School, and we are fortunate to be adding him and his family today.
As of two nights ago, the Tigers punched their fifth consecutive ticket to the high school state tournament, largely on the back of Campbell, who has been a part of the last three runs.
In a 39-36 victory over West Des Moines Valley on Tuesday night, the son of Terrance and Kici Campbell put up 23 points.
Not only that but he's been scoring in bunches all season. He ranked second in all of Class 4A in scoring -- putting up 24.4 points per game -- only trailing Pryce Sandfort of Waukee Northwest who scored 27.5 points per contest. Sandfort has received scholarship offers from Iowa, Drake, and Washington State.
Over the 22 games he's played, Campbell has shot 54.4% from the field, 40% from three, and 85% from the free-throw line. He also hauls in six rebounds, dishes out 2.9 assists, and snags 2.2 steals per game.
The second-ranked Tigers will take on seventh-ranked Cedar Rapids Prairie in the state quarterfinals on Wednesday, March 9.
Iowa Born Sports Stars
What do each of these stellar athletes have in common? They all hail from the Hawkeye State.
The Funniest Lies Iowa Parents Have Told Their Kids
We took to Facebook to ask parents share with us some of the funny lies they've told their children over the years. Here are some of our favorite responses!