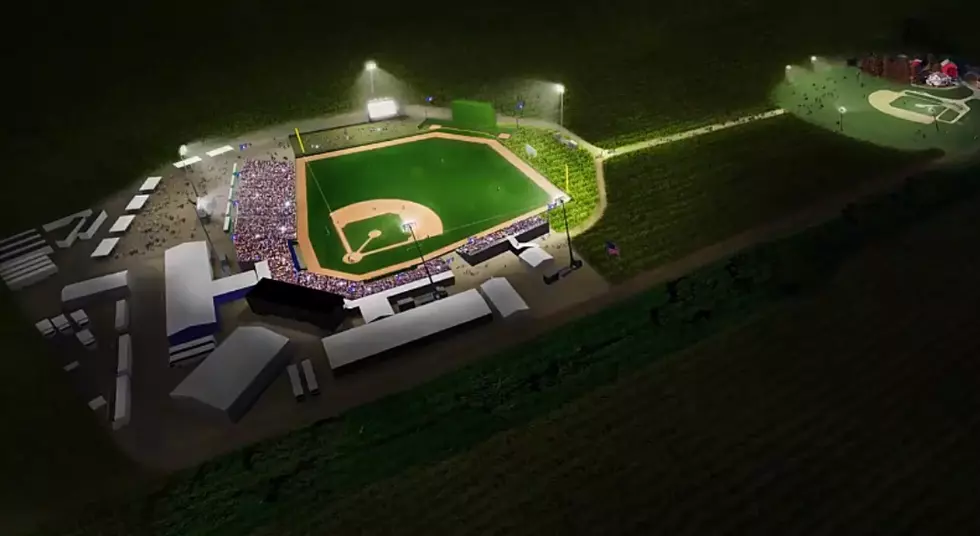 Tickets for 'Field of Dreams' Game Finally On Sale…Sort Of
MLB Communications, Twitter
Okay, I've got good news and bad news about the highly anticipated 'Field of Dreams' MLB game this August.

First things first, here's the good news. Tickets for the New York Yankees and Chicago White Sox game could be in your hands as soon as August 2nd. The bad news is that the only way to get a hold of these highly coveted tickets is to enter into a lottery system.
There has been little word up until now on how people can get tickets to this game. It has remained an utter mystery for fans all over the world. The closest to the game some fans thought they'd get was participating in a charity auction. For about $15,000, four fans could spend a night in the iconic farmhouse from the movie and watch the MLB game.
Now, the MLB has announced that the public has a chance to get tickets to the game. As previously mentioned these fans must enter into a ticket lottery to be considered. There are certain criteria for people to meet in order to be entered.
1. Must Be An Iowa Resident
Only fans who live in Iowa and have Iowa zip codes will be eligible to be entered into the lottery. This is an exclusive prize for residents of the Hawkeye State.
2. Must Be 18+
If you want to be entered into the lottery you have to be at least 18 years old when you register.
3. One Application Per Person
Any additional entries will not be taken into consideration.
How Do I Register For the Lottery?
The very first thing you have to do is create an MLB account in order to register. Then you must submit a completed registration form that's located on the official MLB website.
You have one week to enter into the lottery, so there is no need to rush.
For more information about the game and how to enter the ticket lottery, check out the official MLB website. The ticket lottery opens up at 9 am Friday, July 16th. This is a field of dreams, so at least a few Iowans will have this amazing dream realized very soon.
Snake Alley in Burlington, IA
Burlington, IA is just one hundred and fifty miles away from Waterloo and a hundred miles away from Cedar Rapids is one of the most see attractions for tourists. Ripley's Believe It or Not! voted Snake Alley as the #1 Odd Spot in America.
Iowa Born Sports Stars
What do each of these stellar athletes have in common? They all hail from the Hawkeye State.