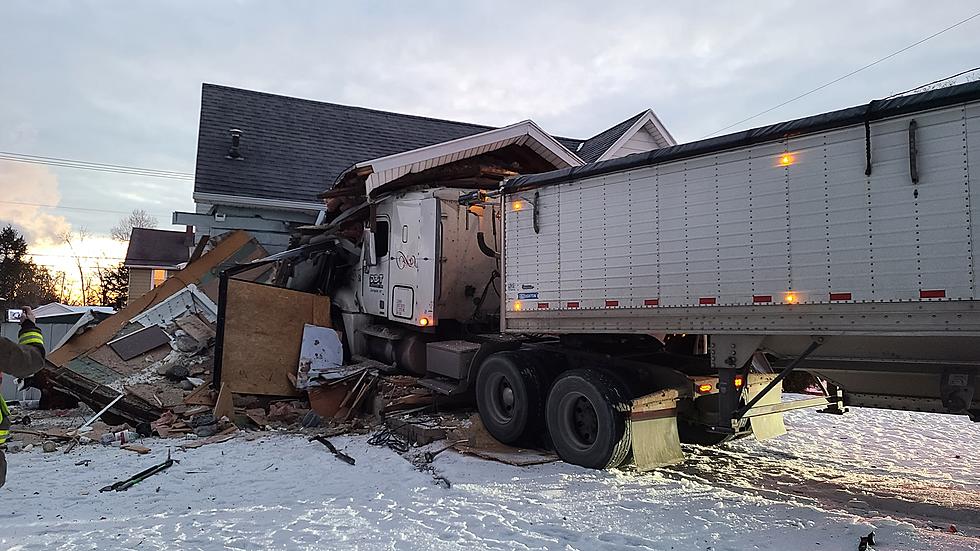 Maybe Knock Next Time? Semi Crashes Into Home's Front Door in Wisconsin
Belleville, WI Fire Department (Facebook)

Talk about a rude awakening! That's what this Wisconsin family got when a semi-truck crashed into their front door recently.
It's just like the lyrics from that Garth Brooks song 'Papa Loved Mama'-- where a truck driver plows his rig into a hotel where his wife is having an affair with another guy-- but this really just happened over in my home state of Wisconsin.
The pictures posted by the Belleville, Wisconsin Volunteer Fire Department on their Facebook page last Friday show the amazing image of a big 'ol 18-wheeler, with its nose buried in the front door of a local home.
Belleville is a small community of about 3,000 in south-central Wisconsin, just a few miles southwest of Madison. It's about three-and-a-half hours away from Rah-Rah-Rochester. Its volunteer fire department responded to an early-morning call at around 6:20 Friday morning of a semi-truck that had crashed into a home along Main Street.
As the Facebook post notes, when crews got there, "all parties in the home, as well as the semi driver, were out of harm's way." However, the post also said that two people were taken to a local hospital for non-life-threatening injuries. It also said the crash caused fuel from the semi as well as an affected trailer to leak into the house.
Why the truck accident happened is still a bit of a mystery, as the post doesn't explain what happened that caused the leave main street and barrel through the front door (or is that the garage?) of the house.
Can you imagine a huge semi plowing into YOUR house?!? Yikes. Maybe we should just chalk it up to being a Wisconsin thing. Kind of like all the things Wisconsinites think about people who live here in Minnesota. Keep scrolling to check out what they think of us!
Listen to Curt St. John in the Morning
weekdays from 6 to 10 a.m. on Quick Country 96.5
10 Things Every Person From Wisconsin Thinks About Minnesota