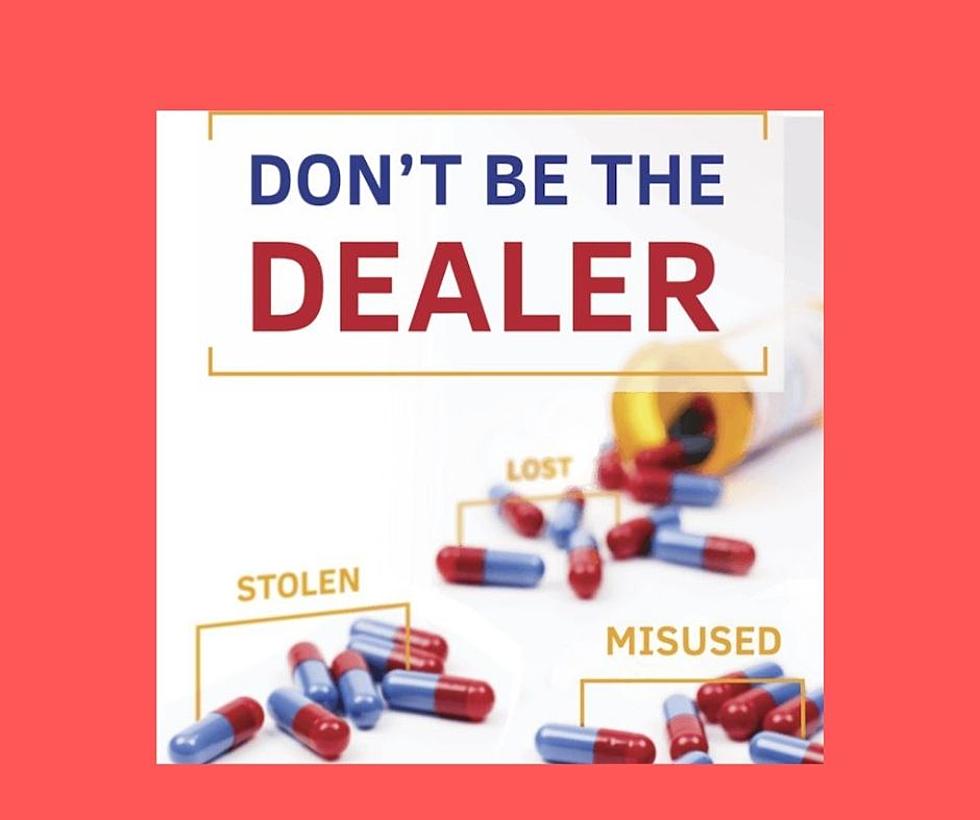 National Drug Take-Back Day is Sat. [Find a Location in Iowa]
Credit: Takebackday.dea.gov
When you think of illicit drugs, most people think of movies, where they show the stereotypical drug dealers on the corner. Nowadays, these sort of drugs can also be obtained on the internet. But the most common source to find potentially dangerous drugs is your very own bathroom.
As the Drug Enforcement Administration says (in the photo above), "Don't Be The Dealer", too often, unused prescription drugs find their way into the wrong hands. Studies have shown that the majority of abused prescription drugs are obtained from family and friends, including from the home medicine cabinet.
National Drug Take-Back Day lets patients and their families dispose of unwanted, unused or expired medications. The service is free and anonymous, no questions asked.  - ***scroll down for a list of Saturday area drop-off locations***
According to the Governor's Office of Drug Control website, "prescription drug abuse is a growing concern in Iowa, due to the misuse of prescription painkillers (opioids), anti-depressants, anti-anxiety medicines, stimulants, and others medicines.  When not used as directed, controlled substances can lead to behavioral disorders, addiction and even death." 
Proper disposal of prescription drugs is key in this battle. Do NOT throw drugs away in the trash and do NOT flush them down the toilet (unless so directed by your pharmacist), besides possibly saving someone's life, you are protecting Iowa's water supply.
Last fall, Americans turned in 492.7 tons (985,392 pounds) of prescription drugs at  4,587 sites operated by the DEA and 4,153 of its state and local law enforcement partners.
Hours of the Saturday, April 24th event are 10 AM to 2 PM. Find a location near you by clicking here or see our list below. A reminder that all Hy-Vee Pharmacy locations in Iowa will be participating in this spring's event. They also have permanent year-round drug take-back receptacles in each store.
List of Participating Agencies and Drop-off Sites in Northeast Iowa:
Black Hawk County Sheriff's Dept.- Greenwood Pharmacy - 2104 Kimball Ave. Waterloo
Cedar Falls Public Safety – 4600 South Main St.
Bremer County Sheriff's Dept. - (lobby) 111 4TH St. NE in Waverly
Buchanan County Sheriff's Dept. – Walmart – 302 Enterprise Dr. in Independence
NE Iowa Drug Task Force - Protivin fire department – 132 Larson St.
NE Iowa Drug Task Force - Calmar-Ossian Police Dept. 101 S. Washington St.
Charles City Police Dept. – 105 Milwaukee Mall
Franklin County Sheriff's Dept. – 105 5th St. SW in Hampton
NE Iowa Drug Task Force - Waukon Police Dept. – 11 1ST St. NE #565
NE Iowa Drug Take Force – Donlon's Pharmacy – 201 W. Water St. in Decorah
NE Iowa Drug Take Force – Thrifty White Pharmacy – 702 Montgomery St. in Decorah
NE Iowa Drug Take Force - Decorah Police Dept. – 400 Clairborne Dr.
More than 306 local law enforcement centers and community pharmacies have established permanent year-round Take Back collection boxes, see the map below for one near you.