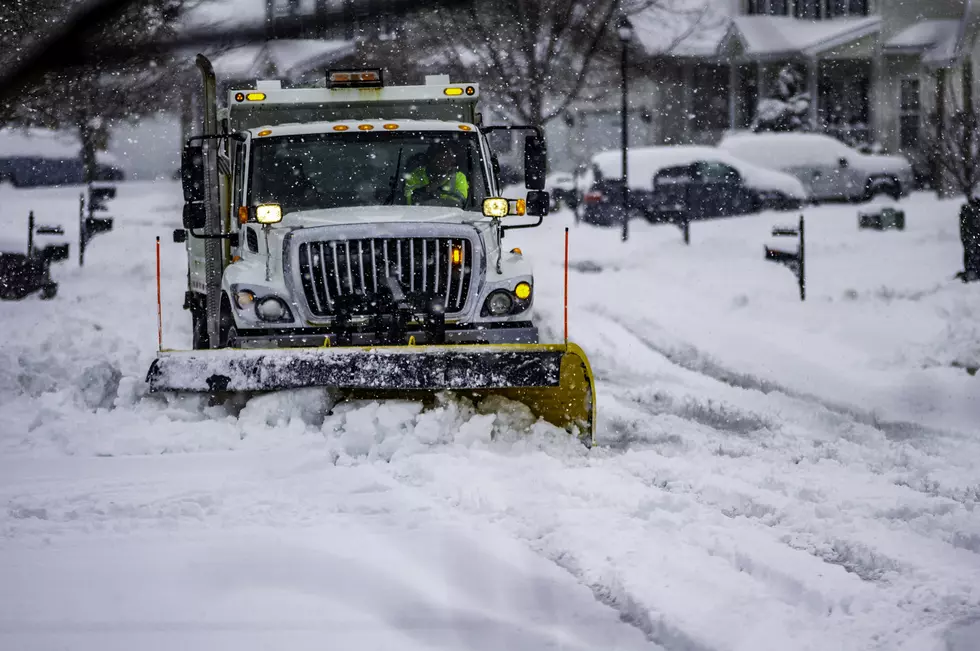 You Can Name A Snow Plow In Minnesota! Is Iowa Next?
Courtesy: Philip Rozenski - ThinkStock
One of the winter staples for the Midwest is snow, and lots of it. The entire United States is breaking a record for the most amount of snow in...forever. We are currently experiencing the highest percentage of coverage since we actually started keeping track of this sort of thing.
On February 16th, 73% of the entire country was covered in snow. We started keeping count of snowfall through the National Snowfall Analysis in 2003, and we are currently experiencing the most encompassing amount of snow coverage since.
We are all pretty used to this by now, right? Midwesterners are familiar with the entire process of snow cleanup; the salting of the roads, snow emergencies, and even plowing.

Well, Minnesota wants to give people a chance to...familiarize themselves with the snowplow machines. Recently, the Minnesota Department of Transportation put out a call for people to help name some of the Snowplow vehicles in use. There were more than 24,000 name nominations for these vehicles, according to Minnesota DOT officials.
They have narrowed it down to forty-nine names. Here are all of them:
1. Ain't Snow Stopping Us Now
2. Babe the Orange Plow
3. Blizzard Blaster
4. Blizzard Wizard
5. Blizzard of Oz
6. Buzz Iceclear
7. C-3PSnow
8. Cold Enough for Ya?
9. Darth Blader
10. Dontcha Snow
11. Duck Duck Orange Truck
12. Edward Blizzardhands
13. F. Salt Fitzgerald
14. Fast and the Flurry Less
15. Flake Superior
16. For Your Ice Only
17. Frostbite
18. Frosty the Snowplow
19. Giiwedin (Ojibwe word for 'north wind')
20. Goldy Snow-pher
21. Ičamna (Dakota word for 'blizzard')
22. Joe Plow-er
23. Justin Moresnow
24. Kent Brrr-bek
25. King of the North
26. L'Plow du Nord
27. Lake SnowBeGone
28.  Live, Laugh, Plow
29. Luke Snowalker
30. Mary Tyler More Snow
31. Minnesota nICE
32. No Business Like Snow Business
33. Oh Snow You Didn't!
34. Ope, Just Gonna Plow Right Past Ya
35. Plow Bunyan
36. Plowabunga!
37. Plowy McPlowFace
38. Plowin' in the Wind
39. Princess Kay of the Snowy Way
40. Purple Snow
41. Raspberry Brrr-et
42. Road Carew
43. Sir Plows A Lot
44. Snowbi Wan Kenobi
45. Snow Place like Home
46. Tator Tot Hotdish
47. Spirit of '91
48. The Truck Formerly Known as Plow
49. The Winterstate
My top three on this list are Justin Moresnow, Plowy McPlowface, and Edward Blizzardhands. You can pick up to eight of your favorite names for a snowplow. Voting for this HIGHLY prestigious contest closes on February 26th. After that, MnDOT will announce the winners of the contest and name eight snowplows; one in each of the MnDOT Districts.
So, maybe you'll be driving by Plowy McPlowFace one day if you happen to be going through Minnesota.
."}" data-sheets-userformat="{"2":33554688,"11":4,"28":1}">
The 100 Best Places to Live in the Midwest