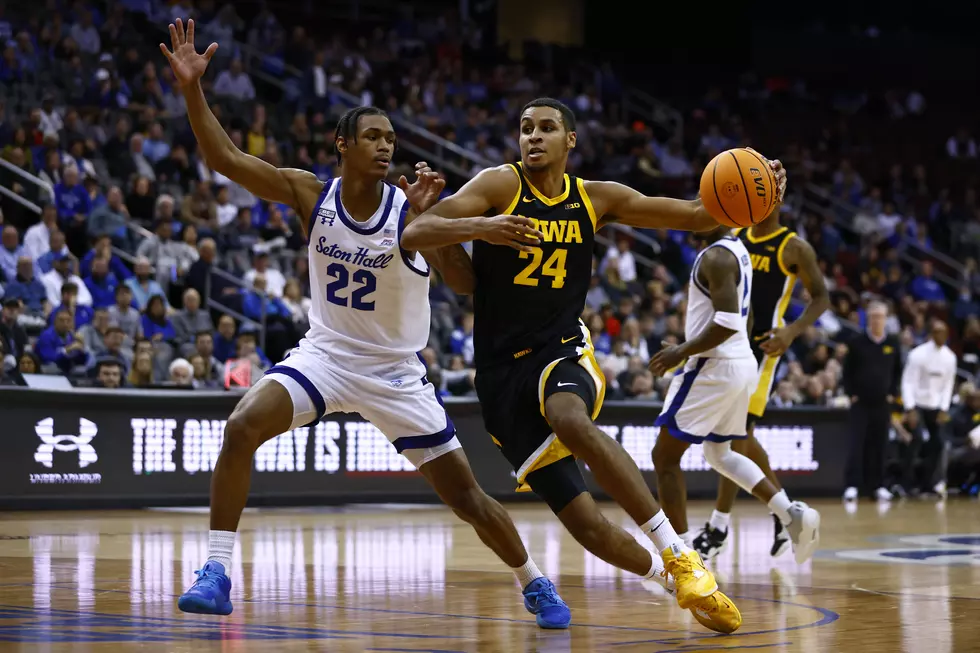 Murray Shines For The Hawkeyes In Big Road Win
Getty Images
Iowa head coach Fran McCaffery has put together the most difficult non-conference schedule in his 13 years at Iowa. He believes that much in this veteran Iowa team. Last night was the first real test of the season, a road game at Seton Hall. The Hawkeyes passed with flying colors.
Seton Hall was an NCAA Tournament team last year and figures to be again this spring. They're ranked #35 in the KenPom standings. Iowa got down early but pulled away in the second half for the 83-67 victory. Every time Iowa needed a basket, it turned to a familiar name. Murray. Except this year it isn't Keegan. It's Kris. Kris Murray led the way for Iowa with 29 points and 11 rebounds on the night.
But Murray was far from the only Hawkeye to contribute last night. Tony Perkins proved again to be the heart of this Iowa team, taking over the point guard position. The Des Moines Register points out that Perkins has had at least five assists in all three games starting at the point. Last night he was a slashing scorer too, finishing with 18 points, 5 assists, and 3 steals. This team feeds off his toughness and energy. Speaking of tough, how about the game from Filip Rebraca. The post player had 10 points, 11 rebounds, and 4 blocked shots.
But perhaps the biggest difference I saw last night in this Iowa team is on the defensive end. Iowa has struggled with defensive intensity but this team looks determined to break that trend. The Register reports that Iowa held Seton Hall to 35% shooting and forced 16 turnovers. In the first half alone, they held Seton Hall to 20% from the floor. That is the kind of defensive effort it will take to win, especially on the road during the Big Ten season.
The ABCs of Iowa
I know Iowa may not be the most popular state to visit, but we still have plenty to offer! Using countless article, websites, lists, and maps, we put together a list of some of Iowa's best and biggest events, venues, and attractions using every letter of the alphabet (which wasn't easy)! Unfortunately, we couldn't include EVERY awesome place in the state (there aren't enough letters!), but here are our Iowa ABCs:
Biggest Winners in the History of the Lottery in Iowa
These are the people who have cashed the biggest checks since the Iowa Lottery debuted in the summer of 1985.