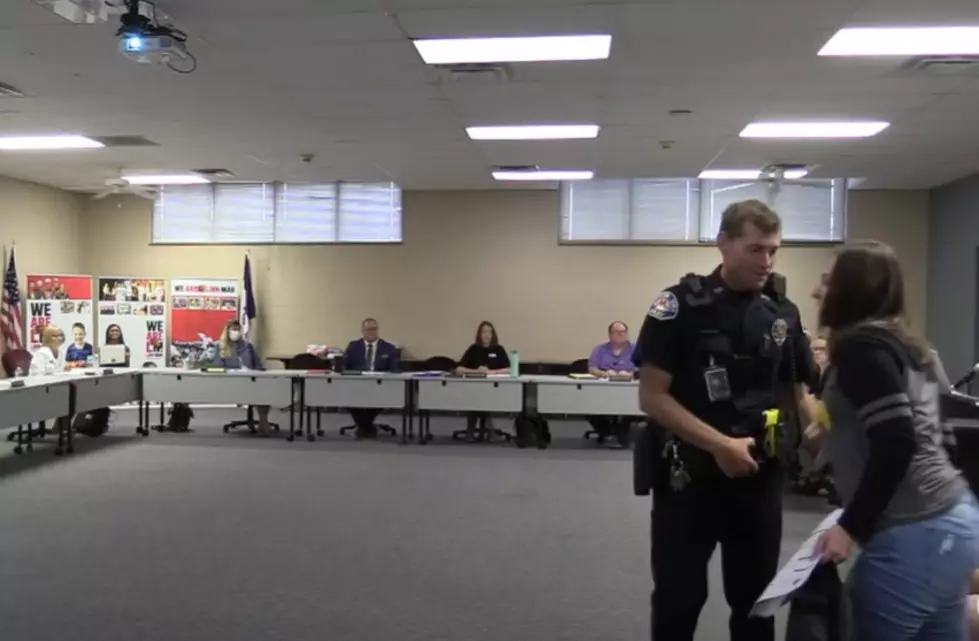 Marion Woman Suing Linn-Mar For Banning Her From Board Meetings
YouTube via The Cedar Rapids Gazette
A Marion woman is suing the Linn-Mar School District saying that she has been banned from school board meetings for the next 12 months because she disrupted a board meeting in August, according to the Cedar Rapids Gazette.
The Gazette reports that Amanda Pierce Synder, who lives in the Linn-Mar district, was removed from a school board meeting on August 29th after she disrupted members' discussion and was asked to stop speaking by the school board president. When Synder refused to stop speaking the board asked a Marion police officer to remove her from the meeting. Iowa law allows the public to speak only during designated public comment periods. Video of Synder being removed from the meeting has been obtained by the Gazette. 
Synder says that she received a letter from the school board on August 31st. The Gazette reports that the letter stated that she had violated board policy related to the conduct of visitors to the school and participation in school board meetings. The letter informed Synder she was banned from attending board meetings for 12 months. In her lawsuit, Synder argues that there is nothing listed in school board policy that allows the school board or district officials to ban people from attending meetings.
Synder's lawyer is Alan Ostergren, who according to the Gazette, is also suing the Linn-Mar district over its transgender policy. Linn-Mar communications director Kevin Fry told the Gazette that the school district does not comment on any pending litigation.
10 Things That Shock Folks During Their First Year in Iowa
For anyone moving to Iowa from... well, anywhere, there are a few things that will surprise you.
You Know You're From the Midwest When...
We asked listeners to complete the sentence: "You know you're from the Midwest when..." and we got some very accurate responses! Here's a look at some of our favorites.