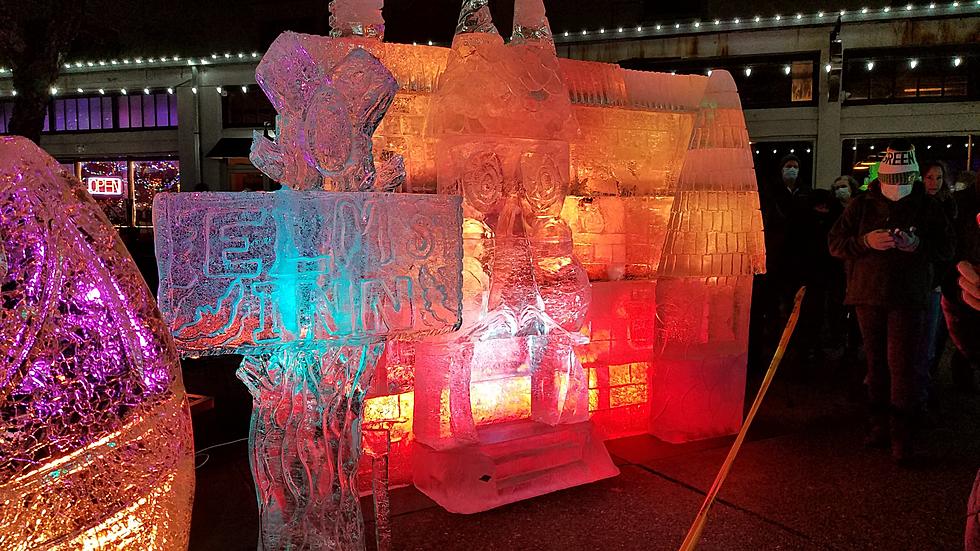 January Event in Eastern Iowa to Feature Amazing Ice Sculptures [PHOTOS]
Jenny Schwarz
January is the coldest month of the year in the state of Iowa, making it the perfect time for the creation of ice sculptures!
One eastern Iowa community is hoping Mother Nature delivers those cold temperatures next month as they prepare for a popular event that will return for the ninth year. It's perfectly named Icestravaganza.
The 3-day event will be held from January 14 through January 16 at the Freight House & LeClaire Park in downtown Davenport. This year's theme is A Zoo Animal Safari. According to Visit Quad Cities, that means "your favorite zoo animals carved out of ice!"
There will be a ton of ice for those ice carvers... 12 tons, actually. They'll be using more than 24,000 pounds of ice to create their beautiful spectacles! And each evening from dusk until 10 p.m., the sculptures are lit. Already awe-inspiring, they become absolutely gorgeous.
The free event is held from 5 p.m. to 10 p.m. each of the three days (January 14 through 16) and if the cold weather on the boardwalk is a little much for you, this year there's a drive-through display. That will be on Beiderbecke Drive in LeClaire Park, on the banks of the Mississippi River in downtown Davenport. If you're driving through, you'll want to enter LeClaire Park from Harrison Street and exit on Ripley Street.
The final two days of the event, January 15 and 16, Farmers' Markets will be happening in the same area, with local beer and food available for purchase. You can see photos from past Icestravaganza creations below and learn more about this year's event in Davenport here.
Eastern Iowa Holiday Light Displays 2021
No matter how you celebrate the holidays this season, one thing remains the same: your chance to show your holiday spirit and cheer. Here's to Lighting Up our community in 2021.
Weird Things Iowa Kids Have Asked for for Christmas
Has your child ever put something unusual on their Christmas list? If so, you're not alone! Here are some of the strange things that Iowa kids have asked for!