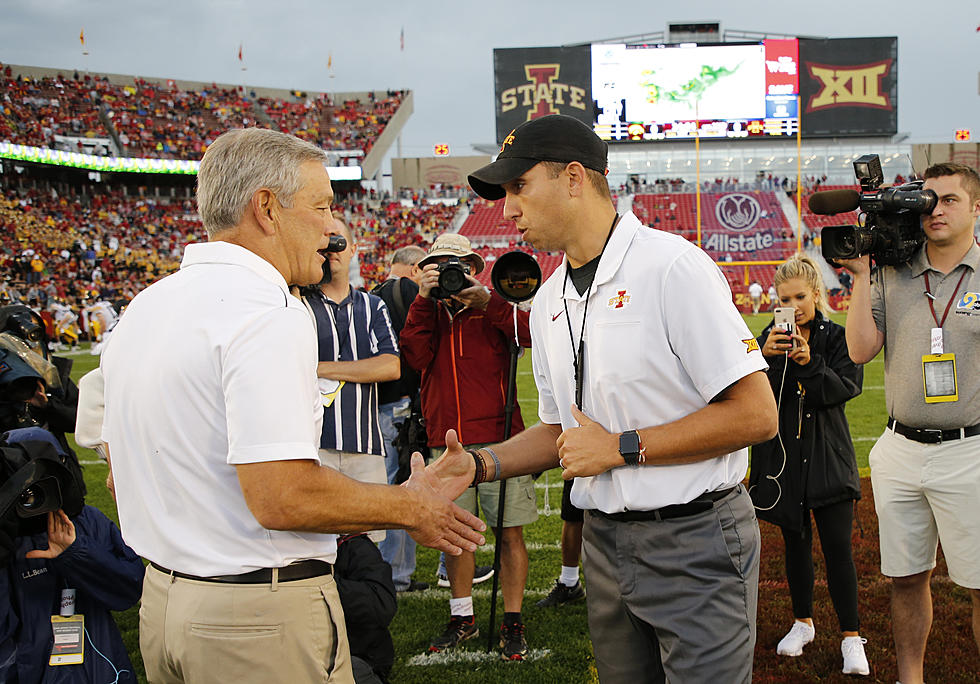 Iowa State and Iowa Have Lofty Rankings in Preseason Football Poll
Getty Images
The Iowa State Cyclones and Iowa Hawkeyes will meet on the gridiron in 26 days. This year's matchup promises to be one of the most-anticipated in the storied rivalry... especially after today's release of the preseason AP college football poll.
The excitement level of Iowa State Cyclone fans is sky-high after the Cyclones defeated Oregon in the Fiesta Bowl in January. Turn up the hype meter even more. Iowa State is ranked #7 in the AP poll!
According to Chris Fallica, the Cyclones have been ranked a total of four times in the AP preseason poll, including the last three seasons. Prior to today, Iowa State had never been ranked higher than #8 in the country, according to KCCI.
Wanna add a little more anticipation for the Iowa State season? Brett McMurphy reports that in 15 of the last 17 seasons, the eventual national champion was ranked in the AP Top 7 in the preseason.
The Iowa Hawkeyes are ranked #18 to start the season. Black Heart Gold Pants reports this is Iowa's 26th AP ranking to start a college football season. The Hawkeyes' highest preseason ranking came 60 years ago. They were ranked #1 in the nation in the 1961 preseason but would finish unranked after a 5-4 season. It was Jerry Burns' first year as the head coach.
Both Iowa and Iowa State will open the season with big games, prior to their head-to-head matchup in Ames. The Cyclones will start the season against the Northern Iowa Panthers on September 4 at 3:30 p.m. (ESPN+). Iowa will open play that same day against #17 Indiana on Big Ten Network. The kickoff at Kinnick Stadium is scheduled for 2:30 p.m.
If both teams win their openers, get ready for the Iowa-Iowa State hype machine to reach a fevered pitch leading up to the September 11 meeting in Ames. The kickoff that day is at 3:30 p.m. on ABC-TV.
A Look Inside Iowa City's New Hotel Across from Kinnick Stadium
10 Great Restaurants Outside of CR