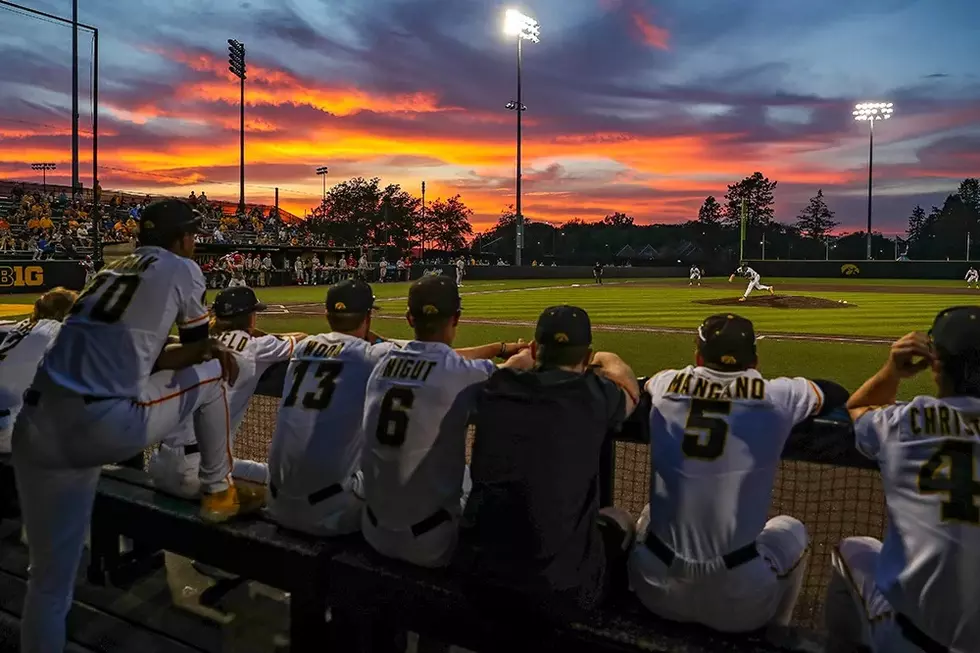 Why the Iowa Baseball Team is the Talk of the Sports World
Stephen Mally, Hawkeyesports.com
Sports teach you many things. One of those is to never quit. Thursday night, the average fan would've probably left the Iowa baseball game in Iowa City. For those that stuck around, they saw a game and comeback for the ages. One that is now the talk of the sports world.
The Iowa baseball team is having another solid season under coach Rick Heller. They're 31-17 and 15-7 in the Big Ten. Thursday evening, it looked like the Hawkeyes would suffer their 18th loss. After 3 1/2 innings at Duane Banks Field in Iowa City, the Indiana Hoosiers had hit four home runs and led Iowa 13-2. Nearly 1,200 fans were in attendance. For those that went home at that point, they made a gigantic mistake.
The Hawkeyes absolutely went off offensively over a 5-inning period, scoring... are you ready for this... 28 runs. Ten of those runs came in the 4th inning when Iowa hit three home runs.
Kyle Huckstorf (below) hit a 3-run homer to start Iowa's 10-run outburst in the 4th inning.
Huckstorf, a redshirt sophomore, also ended Iowa's 10-run inning with another 3-run homer.
You may not believe this, but Huckstorf also hit a grand slam in the 5th inning. That's 3 home runs and 10 runs driven in over two innings. Huckstorf also drove in a pair with an 8th-inning single. For the game, the Iowa center fielder was 6 for 7 with 3 home runs, 4 runs scored, and 12 RBI (runs batted in). The 12 driven in is not only a University of Iowa record, it's a Big Ten record for a single game.
Left fielder Sam Petersen also had a big game, going 3 for 6 with 3 runs scored and 5 driven in. That's him leaping into his celebratory teammates after his 3-run homer in the 7th inning. Petersen is a freshman.
When it was over last night in Iowa City, the Hawkeyes had scored more runs than they had in any previous Big Ten game in history. The scoreboard read Iowa-30 Indiana-16. A baseball game with a score that read like it was played at Kinnick Stadium instead of Duane Banks Field.
Iowa scored so many runs last night that it takes nearly a full minute to show them all:
Iowa and Indiana play twice more in Iowa City this weekend. Friday night at 6:05 p.m. and Saturday night at 8:02 p.m. Stop by Duane Banks Field and you'll likely see even more offensive fireworks.
Iowa, Iowa State, and UNI Football Players Headed to the NFL
Young men from all three state schools are getting their opportunities to play at the next level, whether they were drafted or picked up as free agents. Here's where they landed!
LOOK: MLB history from the year you were born
Stacker
compiled key moments from Major League Baseball's history over the past 100 years. Using a variety of sources from Major League Baseball (MLB) record books, the Baseball Hall of Fame, and audio and video from events, we've listed the iconic moments that shaped a sport and a nation. Read through to find out what happened in MLB history the year you were born.
A Breakdown of UNI's 2022 Football Schedule
The Panthers will embark on their 2022 season in September of this year. Let's take a look at who they'll face, including some of the best in the Missouri Valley Football Conference.