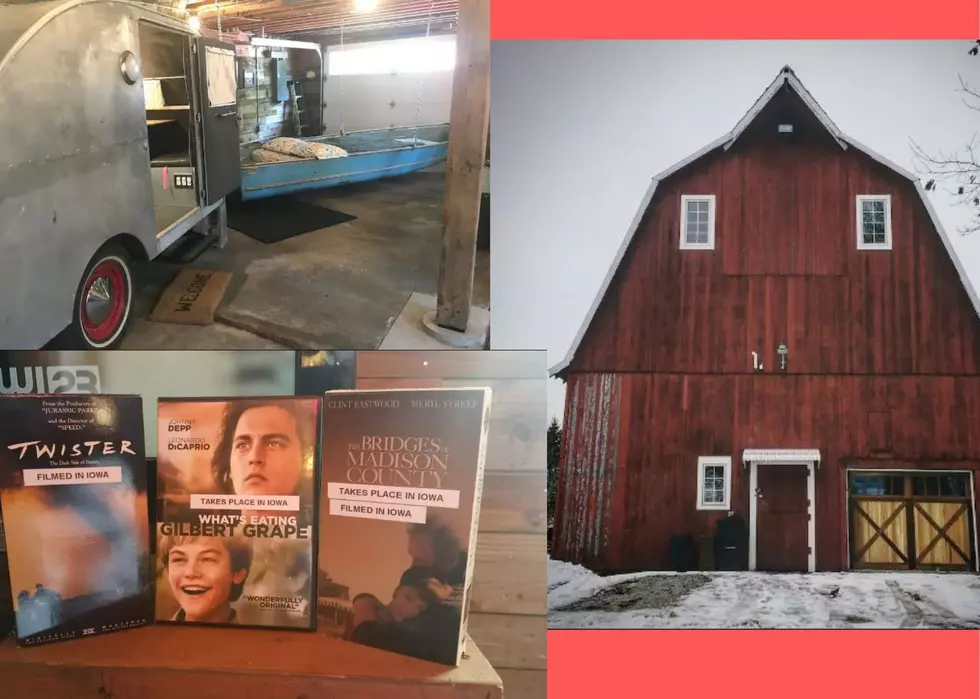 Have Your Dream Farmhouse Stay in this Artsy, Renovated Barn Airbnb in Iowa
Airbnb/Kissing Hens
We may have stumbled across one of the most Iowa Airbnb's ever.
A renovated barn just outside of Ames, IA has been made into an eclectic Airbnb that is really what happens when glamping meets farmhouse.
The Airbnb has 3 beds, 1 bath, and can fit 4 guests. Its listing describes it as a "cabin style with modern comforts" (like fast wifi, a necessity) and is only 10 minutes away from Iowa State.
Now as to why this place is so Iowa: the beds are a literal retro camper and an old-school boat suspended from the ceiling (if you're a tall human, you'll be sleeping in the boat). It is solar-powered (the panels are on the roof of the barn). There are 7 roaming chickens on the property. They have a collection of movies that were either set in Iowa and/or filmed in Iowa. And also the fact that it's a giant red barn.
The listing has a lot of good ratings on Airbnb. The barn also has a porch and things like air conditioning, heat, clean towels and sheets, and coffee. If you like to play piano (or like to try anyway) there's a piano in the barn too. You can see the farmhouse design reflected in the bathroom and kitchen especially.
Do you think you would like to go on a glamping farmhouse stay this summer? Scroll down to see the pics! And here's the link for the listing on Airbnb if you want more details or to see the availability.
Have Your Dream Farmhouse Stay in this Artsy, Renovated Barn Airbnb in Iowa
An Airbnb outside of Ames, IA is a converted barn with a bed you have to see!
New Doggy Resort Treats Your Pup Like The Royalty They Are
Here are some features from other K9 Resorts across the nation
EXCLUSIVE: Take A Look Inside The New Daiquiri Factory In Davenport
The Daiquiri Factory is opening up its new location in downtown Davenport on Thursday, May 19th, 2022. We got an exclusive sneak peek inside the DaqFac's new location and Davenport's soon-to-be hottest spot for drinks and food.