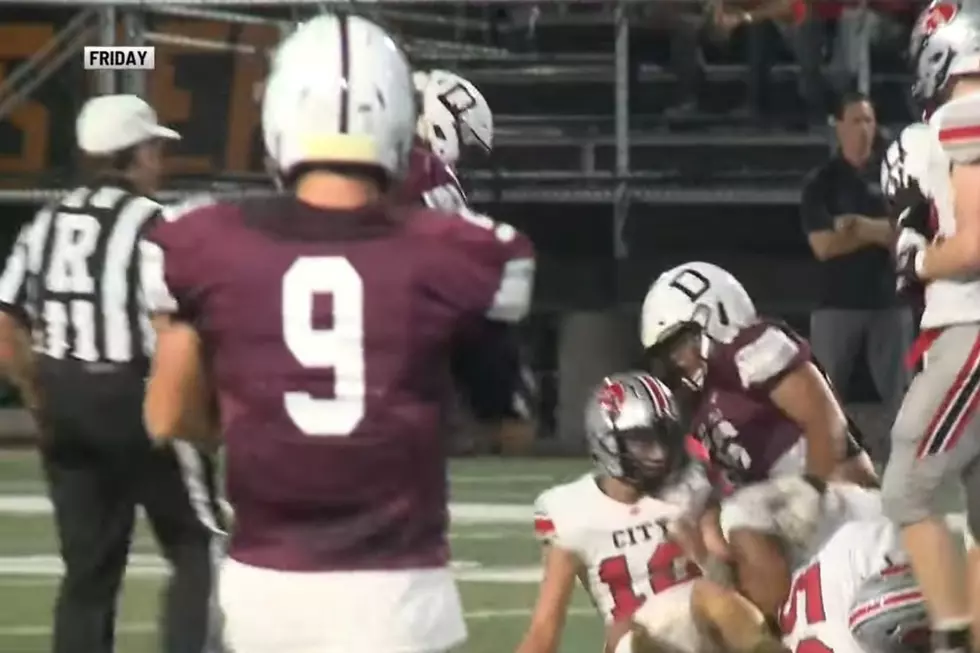 IHSAA Investigating Player Actions in Iowa City High-West Des Moines Dowling Game [VIDEO]
WHO13, YouTube
The happenings surrounding another Iowa high school football game played last week are now under the microscope. This time, the Iowa High School Athletic Association (IHSAA) is taking a second look at what happened during the game itself.
Let's begin with some background. Last year, Iowa City High beat West Des Moines Dowling on a trick play with just over a minute to go. The game was played at Bates Field in Iowa City. Here's that play:
When the two teams met in central Iowa last week, Dowling was ranked 3rd in Class 5A with City High ranked 10th. It would quickly turn into a one-sided affair with Dowling winning 34-0.
During the game, WHO reports there were four personal fouls called by officials. In the 3rd quarter, a West Des Moines Dowling player is involved in a tackle and then does something to warrant an ejection by one of the game officials. Later in the same quarter, a City High player appears to twist the leg of a Dowling running back who suffered an injury. You can see both of those plays in the video below.
The IHSAA has been asked to review the events that happened during the game.
Due to the varsity game, Monday night's junior varsity matchup between the two teams was canceled. You can watch the entire varsity game from Friday night in the video below.
Yesterday, we told you about a postgame celebration in a locker room that may have gone a little overboard. Videos surfaced of Ankeny celebrating in the visitors' locker room at Southeast Polk High School last week after an upset win. There were reports that damage may have occurred due to the celebration. More on that story is available here.
30 famous people you might not know were college athletes
Stacker
dug deep to find 30 celebrities who were previously college athletes. There are musicians, politicians, actors, writers, and reality TV stars. For some, an athletic career was a real, promising possibility that ultimately faded away due to injury or an alternate calling. Others scrapped their way onto a team and simply played for fun and the love of the sport. Read on to find out if your favorite actor, singer, or politician once sported a university jersey.
KEEP READING: Here are 50 of the most famous sports goofs