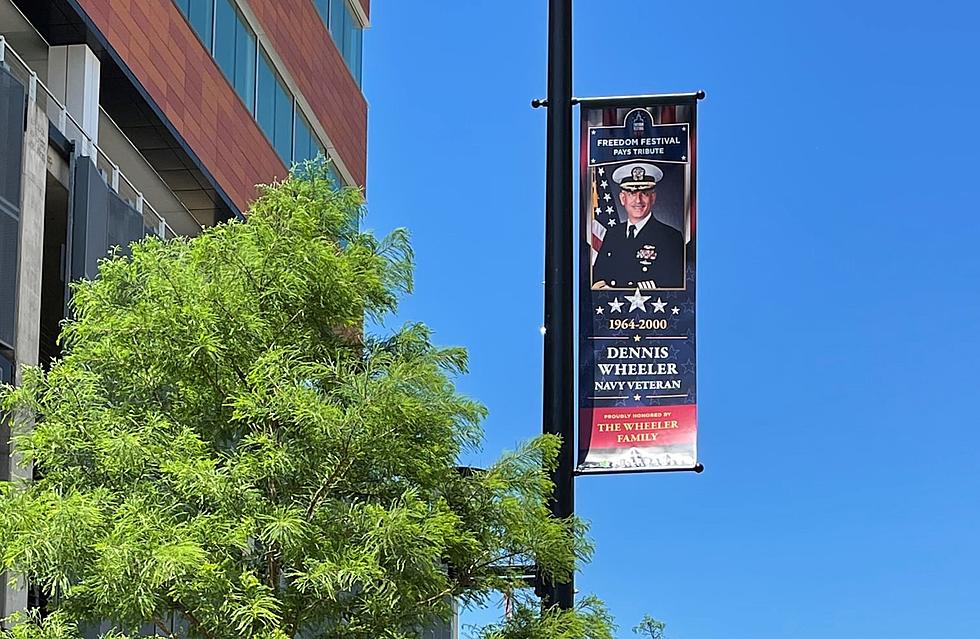 Cedar Rapids Freedom Festival Has Great Way to Honor Veterans
Cedar Rapids Freedom Festival
The Cedar Rapids Freedom Festival has announced that a popular program to honor veterans is back in 2022.
Known as the "Military Tribute Banner Program", it lets families purchase a banner to hang above a street in downtown Cedar Rapids throughout the summer of 2022. The family of Dennis Wheeler purchased the banner above in 2021.
The banners truly are a family affair. Below, a veteran is joined by his family and friends below a banner honoring him.
On Veterans Day last November, many of the banners were hung inside the Veterans Memorial Building on Mays Island in Cedar Rapids.
The full color banners can honor veterans or active-duty members of the military. When you purchase one, the cost of the banner's design, printing, and maintenance are all included in the price. It will also become a true family treasure, with the banner given to the recipient when the display period ends.
Once the banners are displayed, finding the one that honors your family member is made easy by the fact that the Cedar Rapids Freedom Festival provides a map of where each banner is located.
Each banner costs $250. You can get more information on purchasing one here.
The City of Marion also has a similiar program, but it has already sold out for 2022. However, if you'd like to get on the list to be notified when banners become available again in 2023, you can sign up here.
http://www.freedomfestival.com/military-tribute/
LOOK: 100 years of American military history
http://www.freedomfestival.com/military-tribute/
http://www.freedomfestival.com/military-tribute/