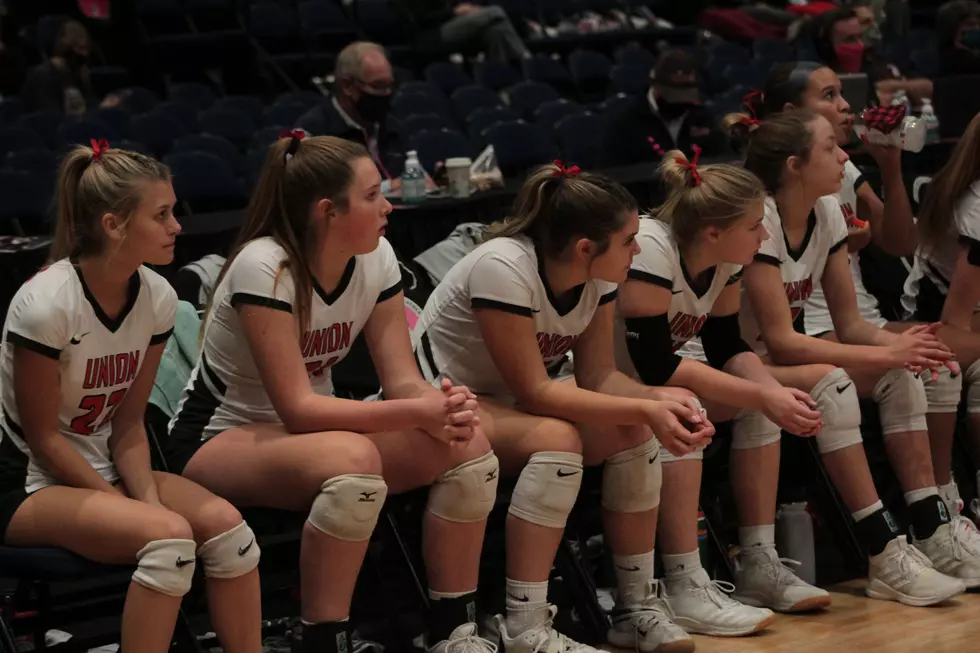 IGHSAU State Volleyball Tournament: Tuesday Recap
Photo By: Elwin Huffman - Townsquare Media
The second day of the 2020 Iowa High School Girls State Volleyball Tournament featured quarterfinal matches in three different classes.
Third-seeded Mount Vernon ended No. 6 La Porte City Union's season with a 3-1 victory in Class 3A play Tuesday morning. The Knights dropped the first two sets, 25-13 and 25-14, but rallied to win the third, 25-23. The Mustangs advanced to Wednesday's semifinals with a 25-15 win in the fourth set.
Belle Weber and Lexi Nolan led Union with 12 kills and 14 digs, respectively. Lauren Schrock had a match-high 17 digs and Kameron Brand recorded 19 digs for Mount Vernon.
***Scroll down for photo galleries** 
In the other 3A quarterfinal, Davenport Assumption defeated Unity Christian in four sets. Match scores were 25-20, 17-25, 25-18 and 25-22. Ava Schubert led Assumption with 28 digs and 20 kills.
Denver made history twice in the Class 2A quarterfinals. The Cyclones made their first state tournament appearance and recorded their first victory, beating Boyden-Hull in four sets to advance to the semifinals. Set scores were 25-22, 11-25, 25-22 and 26-24.
Under the guidance of first-year Head Coach Jamie Johnson, Denver was led by Allison Bonnette's 14 kills and Reese Johnson's 18 digs.
The Cyclones will face top-ranked Western Christian of Hull in Wednesday's semifinal. The Wolfpack rolled to a four-set win over South Hardin, the other tournament newcomer in the 2A field.
Jaidyn Teske led South Hardin with 23 digs. Emma Solvo had a team-high nine kills for the Tigers, who finished their season at 21-15.
The other 2A quarterfinal featured a pair of North Iowa Cedar League East Division rivals - Dike-New Hartford and Sumner-Fredericksburg. Dike-New Harford swept the Cougars for the second time this season, winning the sets 25-17, 25-12 and 25-13.
Payton Peterson led the Wolverines with 16 kills and her twin sister Jaydn recorded a team-high 12 digs. Isabelle Elliott registered a team-best 10 kills for Sumner-Fredericksburg, and Morgan Brandt had nine digs.
In Tuesday's other Class 2A quarterfinal, Wilton ended Van Meter's season with a straight-sets win. Kelsey Drake tallied 15 kills and Mallory Lange had 13 digs in the victory.
In Class 1A, the top two teams have both been eliminated from title contention. Wapsie Valley qualified for the tournament as the No. 2 seed, but withdraw from the tournament on Saturday after a player tested positive for the COVID-19. On Tuesday, No. 1 seed Janesville was upset by eighth-seeded Council Bluffs St. Albert in four sets. The Saintes defeated the Wildcats 25-20, 25-18, 18-25 and 26-24, rallying from five-point deficit near the end of the fourth set to secure the victory.
Pyper McCarville had a team-best 15 kills for Janesville, which ended its season at 28-5. Naomi Hovenga recorded 18 digs for the Wildcats.
In the last quarterfinals of the evening, Gladbrook-Reinbeck and Gehlen Catholic of LeMars both advanced to Wednesday's semifinals.
Gladbrook-Reinbeck earned its first trip to the semifinals by sweeping a depleted Springville squad that was missing two starters. Set scores were 25-9, 26-24 and 25-11. The Rebels, who scored the first 13 points of the final set, got 19 kills from Saari Kuehl and 12 digs apiece from Megan Cooley and Mahayla Olson.
Gehlen Catholic beat New London 25-19, 13-25, 25-18,15-25 and 15-12.
***Check back for more photos.**
Enter your number to get our free mobile app
Class 3A Quarterfinal: La Porte City Union vs. Mount Vernon
Class 1A Quarterfinal: Gladbrook-Reinbeck vs. Springville