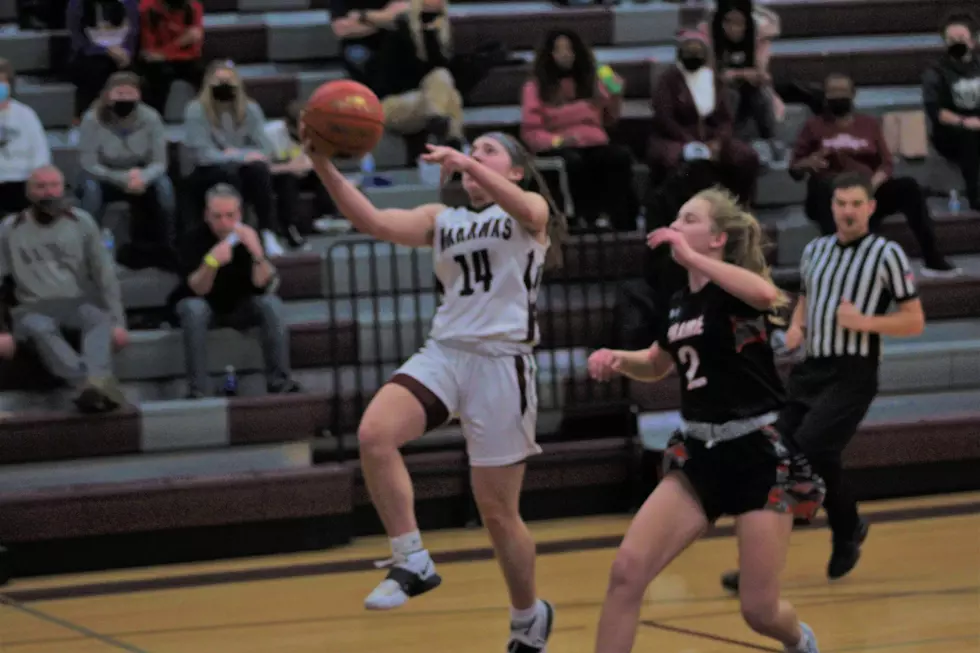 2020-21 Iowa High School Girls Basketball Rankings – Final Poll
Photo By: Elwin Huffman - Townsquare Media
The Iowa Girls High School Athletic Union released the final rankings of the season on Wednesday.
The 11th poll of the season lists only Class 4A and 5A teams, which began regional play Wednesday night. Three teams from the Cedar Valley are featured in this week's survey.
Waterloo West enters post-season play as a major contender to win a state championship. The Wahawks (17-1) are ranked No. 3 in Class 5A. Only three spots separate West from metro rival Cedar Falls (15-3), which is rated at No. 7.
The other area team ranked in the last poll of the 2020-21 season is Waverly-Shell Rock. The Go-Hawks (20-2) climbed one spot from last week, moving from No. 6 to No. 5.
Regional play is already well underway for Class 1A, 2A and 3A teams across the state. Final rankings for the state's three smallest classes were released a week ago.
| | | | |
| --- | --- | --- | --- |
| | | | |
| | Glenwood | 17-3 | 1 |
| | Ballard | 19-1 | 2 |
| | Dallas Center-Grimes | 18-2 | 3 |
| | Central DeWitt | 14-2 | 5 |
| | Waverly-Shell Rock | 20-2 | 6 |
| | North Scott | 13-2 | 4 |
| | Bondurant-Farrar | 14-5 | 7 |
| | Denison-Schleswig | 17-4 | 8 |
| | Harlan | 15-5 | 9 |
| | Gilbert | 15-6 | 10 |
| | North Polk | 14-7 | 11 |
| | Cedar Rapids Xavier | 10-6 | 12 |
| | Creston | 13-6 | 13 |
| | Clear Creek-Amana | 17-4 | 15 |
| | Grinnell | 14-7 | NR |
Dropped Out: Sergeant Bluff-Luton (14)
| | | | |
| --- | --- | --- | --- |
| | | | |
| | Waukee | 8-1 | 1 |
| | Johnston | 14-1 | 2 |
| | Waterloo West | 17-1 | 3 |
| | Southeast Polk | 13-3 | 4 |
| | Ankeny Centennial | 13-2 | 5 |
| | Iowa City West | 11-3 | 6 |
| | Cedar Falls | 15-3 | 7 |
| | Cedar Rapids Washington | 12-3 | 8 |
| | Dowling Catholic | 9-6 | 9 |
| | West Des Moines Valley | 9-6 | 10 |
| | Des Moines Roosevelt | 9-1 | 11 |
| | Iowa City High | 9-4 | 12 |
| | Davenport North | 10-1 | 13 |
| | Indianola | 17-4 | 14 |
| | Cedar Rapids Kennedy | 13-8 | NR |
Dropped Out: Sioux City East (15)
2020 Iowa High School Girls State Basketball Tournament
2020 Iowa High School Girls State Basketball Tournament