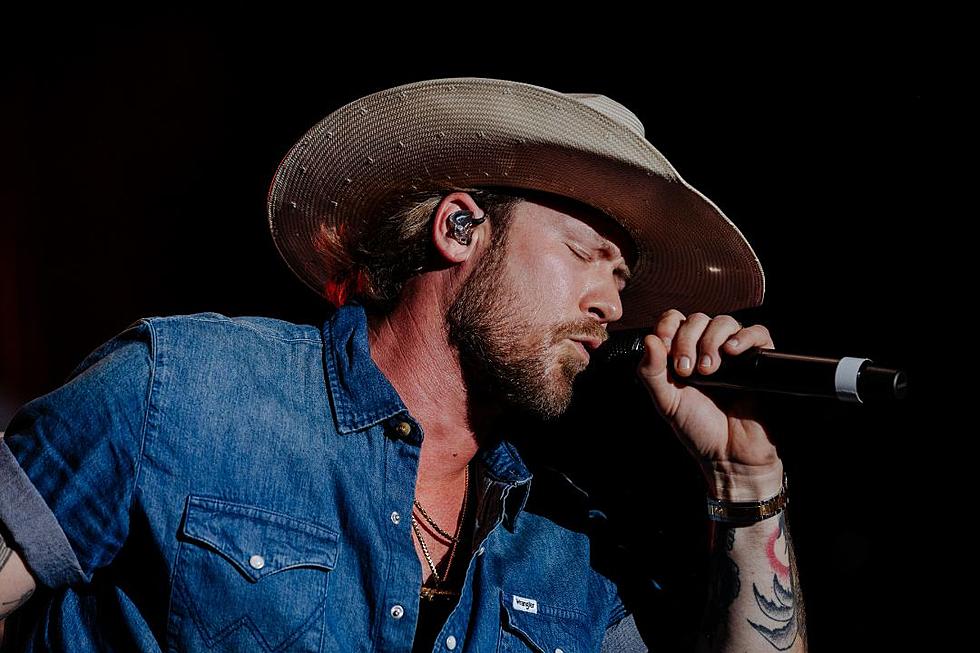 Brian Kelley Is 'Singing Like My Career Depends on It' — Taste of Country Nights, On Demand
Catherine Powell , Getty Images
I recently had a chance to sit down with Brian Kelley, the "Florida" of Florida Georgia Line, and he opened up about what he believes it will take for him to become a solo act that prospers in country music.
Kelley told me he realizes the odds are stacked against him — not many group members have gone on to have monumental careers as a solo act, so he is literally "singing like my career depends on it."
This week on Taste of Country Nights, On Demand, the "See You Next Summer" singer explains how he has been pushing himself even harder for his second solo project.
"Sonically and vocally, I'm just pushing. Just really trying to squeeze as much out of life as I can, as much out of myself as I can." he says, stressing how hard he's been working on his lead vocals.
It takes a lot of work to be a lead vocalist on a large tour, so Kelley says he's been warming up properly and cooling down his vocal cords afterwards.
"I'm driven, I'm competitive, and that's all intentional. It's super serious, it's like, I've got to stand on my own two feet now," he says.
After spending 20 or so minutes with Kelley, it's very apparent to me that he means business with his solo career. He totally understands what it will take, and with the past experience he is bringing with him as a hitmaking duo member, he already has a head start on new solo acts who are trying to make it in the country music world.
Check out my full interview with Brian Kelley in the latest episode of Taste of Country Nights, On Demand, on Spotify, Apple Podcasts or wherever you get your podcasts from.
Evan Paul is the host of Taste of Country Nights, a syndicated radio show heard on more than 120 country radio stations nationwide, every night from 7PM to midnight. He plays the best new country music and interviews today's top stars, like Luke Combs, Miranda Lambert, Dan + Shay, Keith Urban, Carrie Underwood, Luke Bryan, Chris Stapleton, Lady A, Morgan Wallen, + more! 
See Inside Jason Aldean's Spectacular Florida Beach House
Jason Aldean
's beach house in Santa Rosa, Fla., sits right on the Gulf of Mexico.
Aldean paid $4.1 million for the new 5-bedroom, 5-bathroom, 4,452-square-foot beach house. The spectacular property affords the singer and his family the opportunity to walk out their back door and down a bridge to their own private beach, and the exterior of the villa features a courtyard with iron gates that includes gas lanterns, a swimming pool and a fountain.
The home's interior includes a downstairs with an open floorplan and oversized windows, chiseled stone floors, a gourmet kitchen, a bedroom and study and a fireplace, with coffered ceilings throughout. The upstairs of the home includes two separate master bedrooms that both overlook the Gulf, as well as two more bedrooms that each have their own attached bathrooms.
The stunning home is also set for whatever weather might blow in from the Gulf. Built in 2005, the house features all-impact windows and doors, as well as Geo-Thermal heating and cooling, cellulose insulation, foam ceiling and floor insulation and more.
PICTURES: Look Inside Lisa Marie Presley's Oceanfront Florida Mansion
Lisa Marie Presley's former mansion in Florida is for sale, and pictures show a stunning oceanfront property fit for rock royalty.
PICTURES: See Inside Fox News Anchor Bret Baier's $16.5 Million Florida Estate
Fox News anchor Bret Baier is selling his 3-bedroom, 4.5-bathroom, 4,162-square-foot estate in Florida for just under $16.5 million, and pictures show a stunning residence with every top-line amenity.