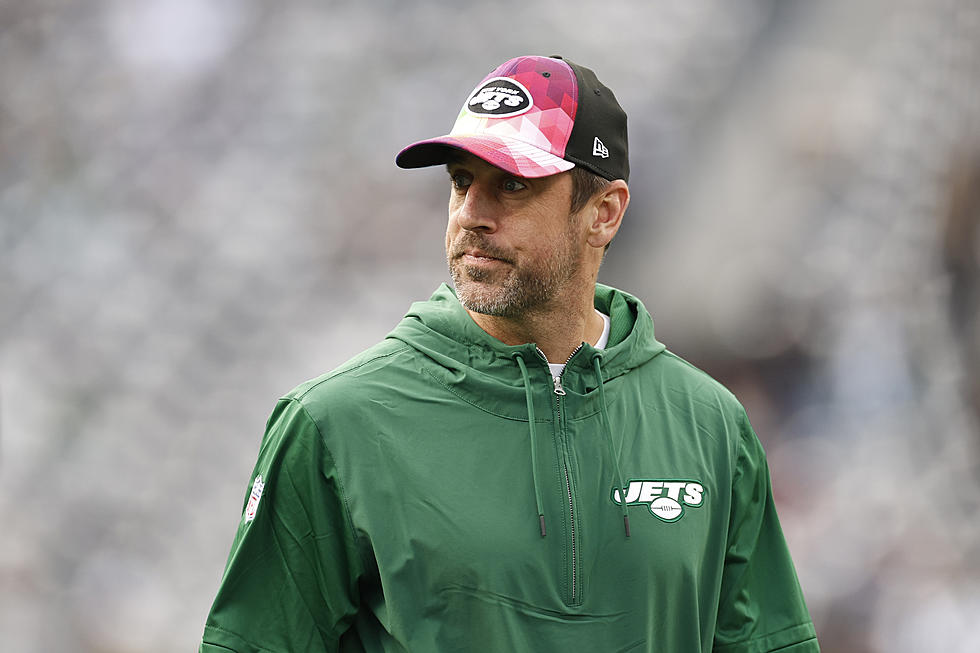 Aaron Rodgers Takes A Shot At Iowa Hawkeye Football [WATCH]
Getty Images
It's been a rough year for the Iowa Hawkeye football team. Sure, the team sits at 6-1 and in first place in the Big Ten West. Heck, the Hawkeyes even have the inside track on winning the West and making another appearance in the Big Ten Championship game. But the team has been hit hard by injuries, and then...there is the offense, which has been just plain bad in 2023. Well, you can add another name to the list of critics of Iowa football. Aaron Rodgers.
Rodgers must have plenty of free time rehabbing that Achilles injury if he is watching Big Ten West football. I mean who outside of the states of Iowa and Wisconsin watched last Saturday at Iowa knocked off the Badgers 15-6? Apparently, Rodgers, who took a subtle jab at Iowa during his weekly appearance on the Pat McAfee show according to ClutchPoints.com.
Listen, the Iowa offense is one of the easiest jokes in sports right now. Any Hawkeye fan will tell you we watch for the defense and our All-American punter. But as one X user cleverly pointed out, Rodger's current team, the New York Jets, isn't exactly lighting the football world on fire with the football either!
That's right. The Jets are trying to win games in the NFL the same way Iowa is right now in the Big Ten. With a great defense and an offense missing its biggest star players. Iowa fans shouldn't be too offended. It is possible that Rodgers was just giving Ty Schmidt of the Pat McAfee show a hard time for being an Iowa Hawkeye fan. Someone ask Aaron how Cal football is doing this season. Anyone?
30 famous people you might not know were college athletes
Stacker
dug deep to find 30 celebrities who were previously college athletes. There are musicians, politicians, actors, writers, and reality TV stars. For some, an athletic career was a real, promising possibility that ultimately faded away due to injury or an alternate calling. Others scrapped their way onto a team and simply played for fun and the love of the sport. Read on to find out if your favorite actor, singer, or politician once sported a university jersey.
Gallery Credit: Sophia Crisafulli
Highlights of Iowa's 2023 Opening Victory Over Utah State
Iowa won the opener 24-14 on Saturday, September 2.
Gallery Credit: Getty Images