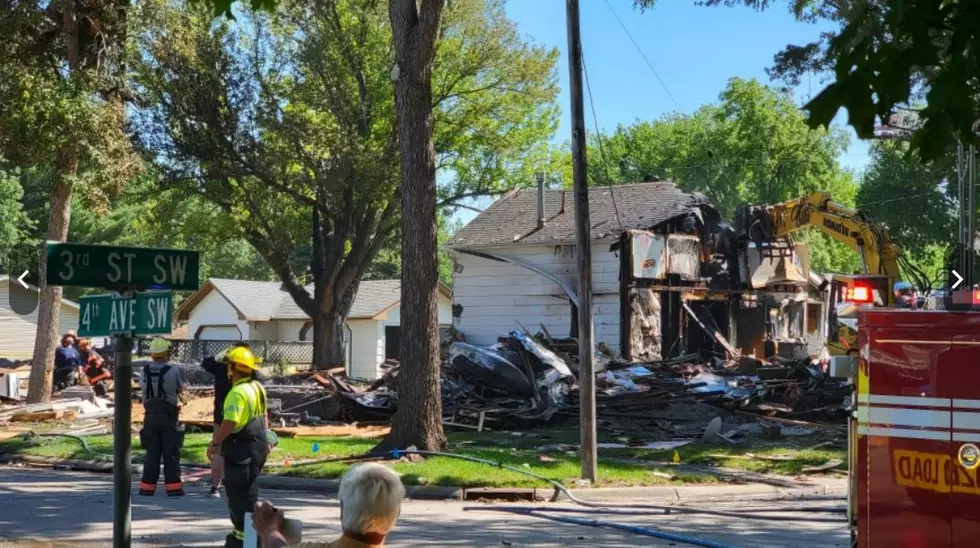 3 Injured in Morning House Explosion in Le Mars, IA
WHO13
An early morning house fire on Wednesday in Le Mars injured 3 people.
WHO13 reports that the explosion happened around 6:30 a.m. Wednesday at the corner of 3rd Street SW & 4th Ave. SW. After the house exploded, the fire spread to the house just east of the exploded home. Both houses are a total loss and a third home did catch fire on the outside but it was quickly put out.
One person who was injured was in the basement at the time of the explosion and was taken to a burn unit. A man and a woman were outside when the explosion happened and were taken to the hospital for a broken collarbone and a broken rib. There were no deaths.
The investigation into the explosion is still in the preliminary phase but it's believed that the cause was natural gas that prompted the roof of the building to blow off and land two houses down. They're still trying to figure out what started the spark.
Debris spread in the explosion so crews are doing a debris assessment. A man who lives a couple of blocks from the explosion thought it hit his house first. Robert Trobaugh told WHO13:
We could just see smoke and flames above the trees and we were like, "what is going on down over there?' And we were coming through the alley, we were seeing a house or two that exploded and one was on fire next door. This was so close… I don't know how to explain it. The impact was so hardcore. It rattled everything around here.
Other fire departments assisted Le Mars Fire Department.
Here Are QCA Restaurants You Can Take Your Dog To This Summer
Several restaurants in the QCA allow for puppers on their property. Scroll down to see a few!
Forget the Pedal Tavern: This QCA Floating Tiki Bar Is How to Summer
Meet Princeton's Tiki Tavern, a floating tiki bar that you can rent!