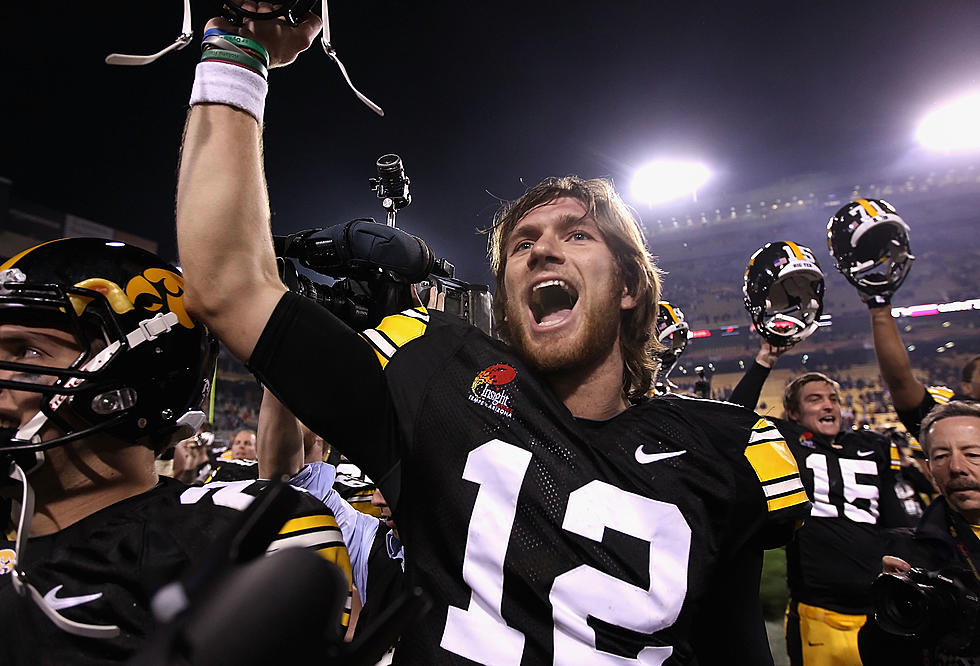 2023 Iowa Football Intro Video Features Fan Favorite QB [WATCH]
Getty Images
There is simply no better time of year than the start of the college football season. On Saturday, thousands of Hawkeye fans will return to Iowa City and Kinnick Stadium to cheer on the 2023-2024 Iowa Hawkeye football team. Each year, the University of Iowa releases an intro video played prior to Hawkeye home games. Former Iowa stars who recorded the intros include Mike Daniels and George Kittle. This year, a fan-favorite quarterback takes center stage!
Ricky Stanzi was at the helm of some of the best Iowa teams of the Kirk Ferentz era. In 2009, Iowa went 11-2 and topped Georgia Tech in the Orange Bowl. That led to a Stanzi moment that is still shouted at Hawkeye football games to this day!
Stanzi had a stellar senior year as Iowa went 8-5 and beat Missouri in the Insight Bowl. Stanzi threw for 25 touchdowns and just 6 interceptions his senior year and was 3rd in the nation in passing efficiency. He was drafted in the fifth round of the 2011 NFL Draft by the Kansas City Chiefs. He also spent time with the Jacksonville Jaguars, and in the Canadian Football League.
Stanzi was an honorary captain during the 2019 season, but this year is featured in the 2023 Iowa Football intro video. I love it when former Hawkeye greats talk about how special it is to be a Hawkeye. Will there be an Iowa player on this year's team who returns to inspire future Hawkeyes? We'll have to wait and see. The season kicks off this Saturday against Utah State! LET'S GO HAWKS!
Most Memorable Moments of the 2022 Iowa Football Season
Iowa finished the season 8-5, including a 21-0 shutout win over Kentucky in the Music City Bowl. The 2022 season will be remembered as one that was carried by the defense while its offense struggled mightily throughout the season.
University of Iowa ANF Wall of Honor Members
The University of Iowa's has now announced 10 members of the America Needs Farmers Wall of Honor at Kinnick Stadium.